The Bermuda Environmental Sustainability Taskforce [BEST] said they noted "two nuggets of environmental treasure" in the 2017 Throne Speech that they thought were worth highlighting and responding to.
A BEST spokesperson said, "While reviewing the 2017 Throne Speech, the Bermuda Environmental Sustainability Taskforce [BEST] noted two nuggets of environmental treasure found on pages 18 and 19 of the document that we thought worth highlighting and responding to.
"The first dealt with 'retroactive permission' where developers sometimes build first then apply for permission after.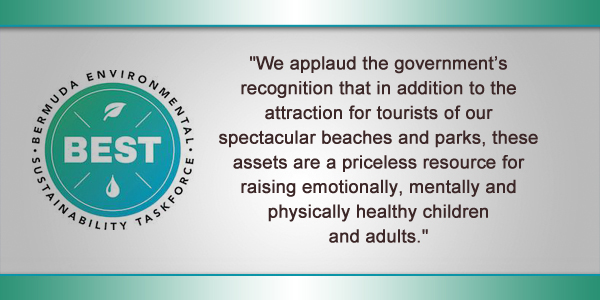 "On this point, the Throne Speech states: 'Bermuda's planning laws and regulations are in place to ensure that Bermuda's environment and beauty are not spoiled by rampant development and construction.
"Accordingly, as certain determined property owners construct at will and then apply for retroactive permission, legislation will be introduced to increase enforcement and introduce penalties for those who willfully violate planning policy and then seek retroactive approval.
"BEST has been pushing for stronger legislation and enforcement to curb this practice.
"The second of these Throne Speech items referred to 'open space' and states: 'As a further commitment to ensure Bermuda's future generations can also enjoy our dwindling amount of unspoiled beauty, the Government will identify the open spaces that must be protected for generations to come. Legislation will be introduced to take this protection beyond ministerial discretion.
"While the term 'beyond ministerial discretion' is somewhat vague [e.g. it could mean "beyond the reach of ministerial discretion", or "independent of ministerial discretion" or even "despite ministerial discretion"], the concept of protecting open spaces for generations to come is clear and worthy of our support.
"Bermuda doesn't have enough committed open space. We have only a few acres of real meadows and forests. Those that we do have are dwindling and under constant threat of development.
"However, there is immense value in having fields of green grass to run through and woods full of trees to climb, particularly for energetic young boys and girls. Access to the wilderness is a component of a healthy childhood that is missing for most of Bermuda's young people.
"Here at BEST, much of our effort goes toward protecting and preserving public open-space, in part for those children whose parents cannot afford to buy private open space.
"We applaud the government's recognition that in addition to the attraction for tourists of our spectacular beaches and parks, these assets are a priceless resource for raising emotionally, mentally and physically healthy children and adults.
"We are glad to hear of these intentions and look forward to their realisation," BEST concluded.

Read More About
Category: All, Environment, News, Politics