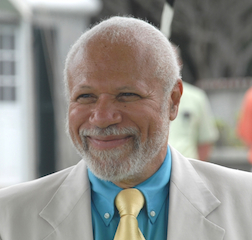 [Updated] "Bermuda has lost an exceptional champion for our environment with the passing of Stuart Hayward," Chair of Bermuda Environmental Sustainability Taskforce [BEST] Gail Miller said.
"His passion and energy raised awareness among residents of Bermuda on environmental concerns, decisions and impactful issues. Stuart 'talked softly but carried a big stick'. It was a true pleasure to work with him and know the man."
Kim Smith, Executive Director of BEST added, 'The news of Stuart's passing certainly saddens me greatly but he gave so much guidance to me personally, to BEST and to Bermuda and while his spirit and light will definitely be missed, it will continue to infuse all of our BEST work.
"We send our condolences to Jamie, his wife and life partner who took such great care of him especially in the recent years of his illness, and to all of his family and many friends."
Well known for his dedication to the environment and work within the community, Mr Hayward was recognized in the 2015 Queen's Birthday Honours, which noted that he "spearheaded numerous environmental pressure groups".
"In 1973 he co-founded the Admiralty House Park Association, which preserved the Admiralty House environs as a park for the people of Pembroke. In 1981 he cofounded Save Open Spaces. In 2006 he launched the Save-the-Gardens campaign that shielded Bermuda's Botanical Gardens from hospital construction."
Mr. Hayward also served as an MP, he was elected to Bermuda's legislature in 1989, where he served four years as an Independent Member of Parliament.
Update 4.16pm: A spokesperson said, "The Bermuda Entertainment Union extends our sincere condolences to the family of Stuart Jackson Hayward. We are deeply saddened by his loss.
"The BEU. Will forever be indebted to Stuart for his herculean efforts in 2005 when he was commissioned by the Ministry of Culture, to provide a report on musicians and the entertainment industry in Bermuda. He galvanized the then Bermuda Federation of Musicians and Variety Artists to have a long overdue general meeting to elect a new executive committee to move the union forward.
"We were pleased to note that along with his many accolades he was an accomplished musician.as well.
"We will truly miss our dear brother Stuart. May he rest in peace and rise in power."
Read More About
Category: All, Environment, News