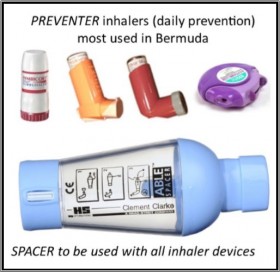 For children with asthma, there is more to getting ready for the new school year than a new backpack and a pencil case, including many precautions and actions that need to be taken in order to moderate the disease.
An Open Airways spokesperson said, "Many children with asthma have been free from asthma symptoms during the summer months. They have been in camps, swimming and enjoying plenty of outdoor activities and there are fewer viruses in the summer too. Many children stop taking their 'preventer' inhaler during the summer months.
"Once children go back to school at the beginning of the new school year there is a sharp rise in asthma peaking during the second and third week of term. Emergency room visits for children with asthma peak at this time of the year all around the world and not just in Bermuda.
"Most schools have been closed up during the long summer holiday and although they are cleaned thoroughly ready for the new term there is still mold in books and files etc.
"Also children will be returning to the Island from vacations all over the world bringing with them viruses, often picked up on planes – as soon as the children are in an enclosed space like a class room, the viruses spread and the children will asthma start to cough and wheeze.
"Children who have been prescribed a 'preventer' inhaler such as Becotide [brown inhaler] or Flixotide [orange inhaler] and have stopped taking it during the summer should restart it 1 to 2 weeks before the term starts. Don't wait until the asthma symptoms start in the second or third week and then end up in the emergency room.
"Remember the 'preventer inhaler takes 1 – 2 to weeks to be effective and it must be taken every day to keep asthma away.
"Let's make sure all of our children with asthma have a good start to the new school year."
For more information, call Open Airways on 232-0264 or e-mail nurse@openairways.com

Read More About
Category: All