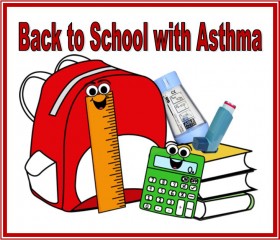 Tips are being shared with parents of children with asthma as the island continues to prepare for children to head back to school.
A spokesperson said, "Going back to school in September is an exciting and busy time for both students and parents, however if you are the parent of a child with asthma, it is important to be prepared.
"All over the world the start of the school year is known to bring a sharp rise in the number of asthma attacks and emergency room visits in the second and third weeks after the return to school.
"Students have been in camps enjoying the fresh air, swimming, etc. Classrooms have been closed during the summer and many students will have travelled overseas bringing a variety of different virus and cold infections back to Bermuda. The first few weeks can be challenging for a student with asthma.
"Preparation for back to school should start at least two weeks before school resumes.
"Over the summer, your child may have been well and not using their preventer inhaler but now is the time to ensure they are using their preventer inhalers daily as prescribed; prevention can take at least two weeks and even longer before the full protection is felt.
"Each child should always have a reliever inhaler such as Ventolin and a spacer available, either in the school bag or held by the teacher for younger children.
"Global Asthma Guidelines now recommend students over the age of 12 years should talk to their doctor about SMART Asthma Therapy, using one inhaler [such as Symbicort] instead of two to control asthma.
"Your child should have a written Asthma Action Plan; now is the time to review that plan with your pediatrician, a copy of the Asthma Action Plan should be given to your child's school.
"The 2022 / 2023 Bermuda Student Asthma Registry has just been released. Make sure to add your child to this registry so that asthma specialists as well as your child's teach will know the nature and severity of your child's asthma.
"The seasonal flu vaccine is recommended for all children with asthma; make sure you and your child get the flu shot as soon as it is available.
"Encourage your child to eat a healthy diet and get plenty of fresh air and exercise and wash their hands frequently.
"Let's be prepared for the new school year and make sure we do not see large numbers of children visiting the emergency room and missing time from school. We want all of our students to have a happy healthy school year and be able to participate in all school activities including sports.
"For more information please contact Open Airways via Holly Lavigne-Smith at nurse@openairways.com or call 536 6060 or Liz Boden at liz@openairways.com."

Read More About
Category: All