Following the 'Tribute to Fadda Dub' event at the Devonshire Recreation Club parking lot on Sunday, September 3, the groups behind the event – One Love Promotions in conjunction with Magnum Force Entertainment – have made a donation of $1,000 to Fadda Dub's son, Jahkim.
A spokesperson said, "The show featured some of Bermuda's finest old school DJ's / selectors playing the hottest tunes from the 80′s & 90′s on vinyl records. They included Dub City International; Magnum Force International; Jones Town International; Black Lion; Reality Sound; Lenky Boy; & Black Star. It was hosted by Irie FM's – Concious J.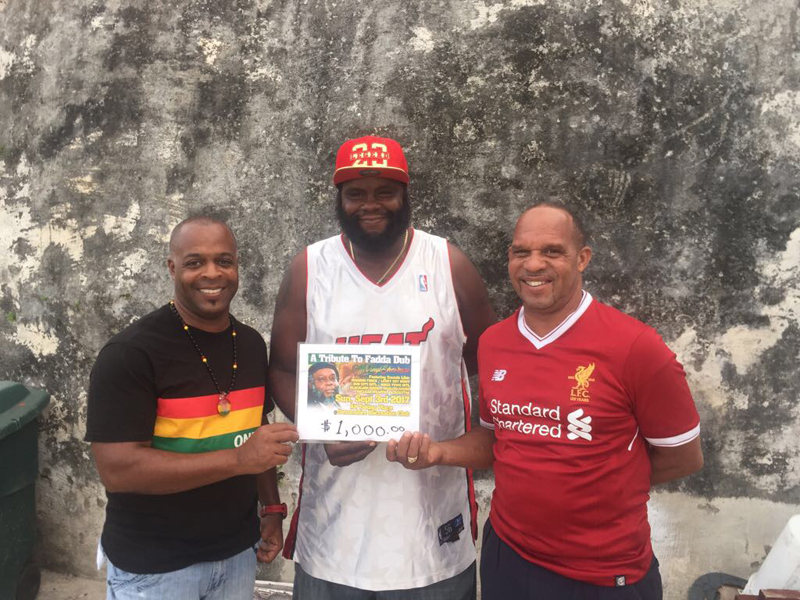 "Approximately 500 party goers all danced, sang and sucked up the positive vibrations that flowed in the air. A special appearance was made by original dub city recording artist Junior C who treated the crowd with his special style of deejaying.
"He was joined on stage by Ninja Cutty the Hott 107.5 & Reality Sound DJ who penned the song Johnny Barnes. Also appearing on stage was Shorta Ranks and Krucial.
"Part proceeds from the event were presented to Fadda Dubs son Jahkim on behalf of Dub City. Presenting the cheque for $1,000 was Jamal Hart [One Love Promotions], Jahkim Smith [Dub City] and Norman Godwin [Magnum Force Entertainment].
"Special thanks to all of the sponsors, including Gorham's Ltd, Island Construction Ltd, Ascendant Technologies Ltd; Brandit; Shaw Trucking; John Barritt's Ltd; Burrows & Lightbourn Ltd.; Ben Outerbridge and Bermuda Sanitation & Engineering Ltd.
"Last but not least, all of the DJ's who donated their time and talent in remembrance of Fadda Dub and the patrons who came out early and stayed late. One love."

Read More About
Category: All, Entertainment, Music, News