Hurricanes Irma and Maria left destructive paths of devastation throughout the Caribbean, and as the region recovers from both storms, the Clarien Bank hurricane donation drive continues to accept donations in support of Red Cross relief and recovery efforts.
Clarien Bank Chief Marketing Officer Michael DeCouto commented: "As thousands in the region have now faced the impact of two major hurricanes, the continued support of our community is urgently needed.
"Significant funds will be needed to provide critical resources, and it is our hope that these donations will help our friends in the Caribbean as they continue the difficult process of recovering and rebuilding."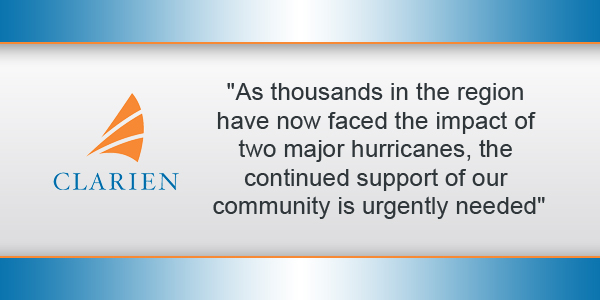 Clarien Bank will match total donations up to $10,000. Donations may be made to the Bermuda Red Cross account [4010035760] via iBank online, in-branch via teller and quick deposit.
Mr. DeCouto added: "We greatly appreciate the donations already received, and invite the entire Bermuda community to continue to give to this important effort."
For additional information, please visit www.clarienbank.com.

Read More About