Island Construction Services today [Sept 12] donated $10,000 to Shachkeil Burrows, who lost his leg as a result of a road collision in July of this year.
The 22-year-old was a keen football player, and is heading overseas in order to continue his education as a fitness trainer and coach.
Speaking today, Island Construction CEO Zane DeSilva said, "Shach, on behalf of Island Construction and all of our employees, we'd just like to let you know that between you and Khaeljah and Yan-xia, because of the determination that you all have shown; I think you've touched a lot of people with your grit and your determination after your loss."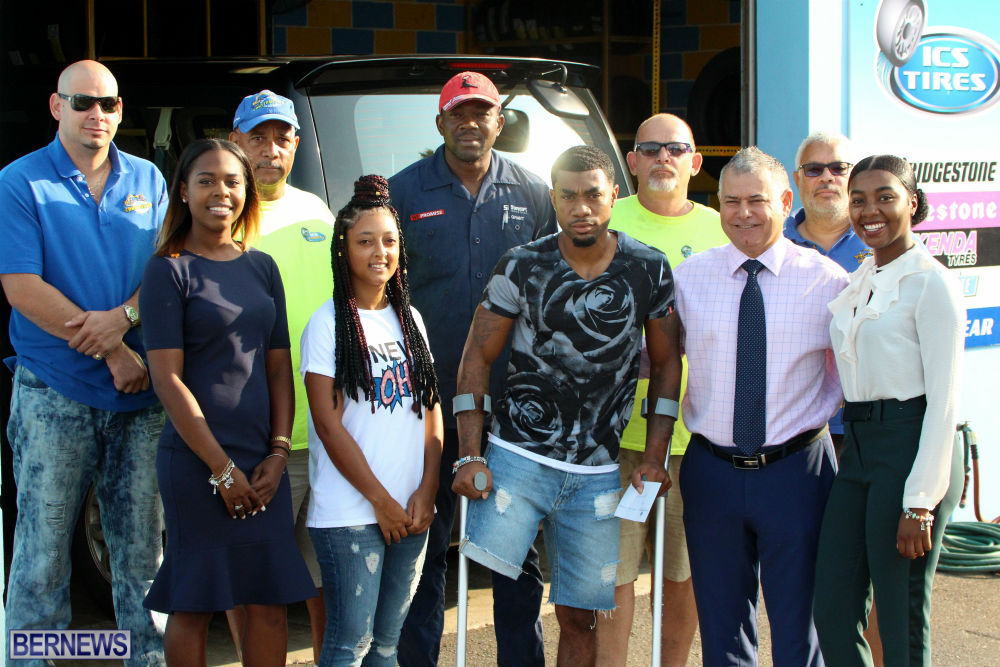 "But certainly of behalf of Island Construction and all of our staff, we just wanted to donate this cheque for $10,000," Mr DeSilva added.
On ongoing GoFundMe fundraiser aiming to raise money to buy Mr Burrows a prosthetic leg has proven successful to date, raising £26,894 of its £50,000 goal as of this writing, with wide community support shown for the fundraising.
The GoFundMe page says, "On July 30th, 2017, my son, Shachkeil Burrows was involved in a serious hit and run bike accident in Bermuda that resulted in his right leg being amputated from above his knee."
"At the time of the accident, all Shach could think about was keeping his eyes open and staying awake. And sure enough, the strong, brave, soldier that Shachkeil is, he is still with us today.
"Even without his leg, his spirit is still vibrant, his character is still loving and his attitude is still involved. With your help, this would only be a short pit stop in Shachs life. His constant attitude shows everyone that the best thing to do is to live life, to enjoy life, and to never take things for granted.
"Shach is in need of a prosthetic leg and in Shach's own words, 'this is not the end', so please help to keep Shach involved."
Mr Burrows said he is grateful for all the support everyone has showed him, saying that it has been really nice.
Read More About