Bermuda Aviation Services Limited [BAS] has donated $1,000 each to The Reading Clinic and The Bermuda Alumnae Chapter of Delta Sigma Theta Sorority Inc. 18th Annual Children's Reading Festival.
Belinda Cameron and Sierra Paynter, representatives of BAS, presented the $2,000 worth of donations to Reading Clinic Executive Director Dr Glenn Faries and Delta Sigma Theta Sorority, Inc. representatives Rosette Simmons and Andrea Daniels.
These donations come as part of the BAS's Corporate Social Responsibility Programme, part of the company's commitment to giving back to the community. BAS is particularly invested in the education of Bermuda's youth and was pleased to have the opportunity to support Bermuda's excellent literacy rate.
BAS Employee Belinda Cameron and Reading Clinic Executive Director Dr Glen Faries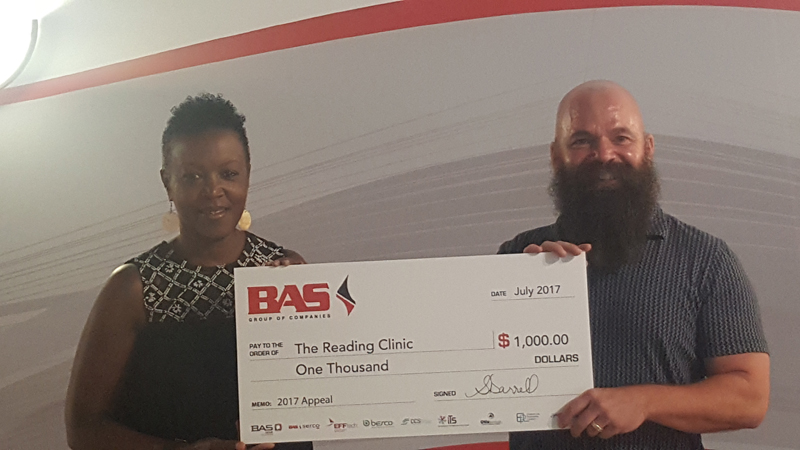 The Reading Clinic is a registered Bermudian charity that provides support to students who have a specific language based learning difference such as dyslexia.
In addition to Orton-Gillingham based tutoring sessions, they provide psychoeducational assessments, family consultations, teacher training and raise public awareness about dyslexia in Bermuda. They also provide tutoring for children with math learning differences and an early screening and intervention programme in four Government pre-schools.
The Bermuda Alumnae Chapter of Delta Sigma Theta Sorority's Annual Children's Reading Festival takes place annually, with the primary aim of promoting literacy in children. They have been a registered Bermudian charity for over 15 years.
The event provides free books to children who attend and creates excitement around reading by showcasing local authors and storytellers as well as a number of other activities. The event also allows parents to engage with educators and experts in the literacy field. Over the years they have provided free books to over 20,000 children.
Ian Cook, President and Chief Executive Officer at BAS Group of Companies, said: "At BAS Group of Companies, we are proud to support young Bermudians' education. With the right support, we believe every child can find a love of reading and learning, which will enable them to succeed throughout their lives."
Dr Glenn Faries, Executive Director of The Reading Clinic, said: "We are very grateful for this donation from the BAS Group of Companies. An important part of our mission is ensuring that all children who need help can get it, regardless of their financial circumstances. It is with the support like this that we are able to offer bursaries for testing and tutoring for those in financial need."
Rosette Simmons, President of the local chapter of Delta Sigma Theta Sorority Inc., said: "We are delighted to have received this kind donation from BAS. Their support will enable us to spread the joy of reading to all young Bermudians who attend our 18th Annual Children's Reading Festival."
Read More About