Clarien Bank is continuing to support The Reading Clinic, making a $50,000 donation through The Clarien Foundation to the organisation's I-PLAY pre-school programme.
I-PLAY [Interactive Phonological Literacy Activities for Youngsters], which presently operates in four Government preschools – Southampton, St. Paul, Lyceum and Victor Scott – is designed to improve pre-school literacy and reading ability by promoting phonological skills such as rhyming and recognising the sounds in words. Weaknesses in these areas can indicate possible future reading difficulties, including dyslexia.
According to the programme's latest Evaluation Report, I-PLAY delivered 710 sessions over 236 hours during the 2016-17 school year. A total of 120 children received screenings with 91 of them receiving additional small group instruction.
Students who required small group instruction showed impressive improvements of between 18 and 29 percentile points, based on U.K. standards. To read a full copy of the report, go to www.readingclinic.bm
Michael DeCouto, Chief Marketing Officer of Clarien Bank; Pamela Carr, I-PLAY Programme Coordinator; and Dr. Glenn Faries, Executive Director of The Reading Clinic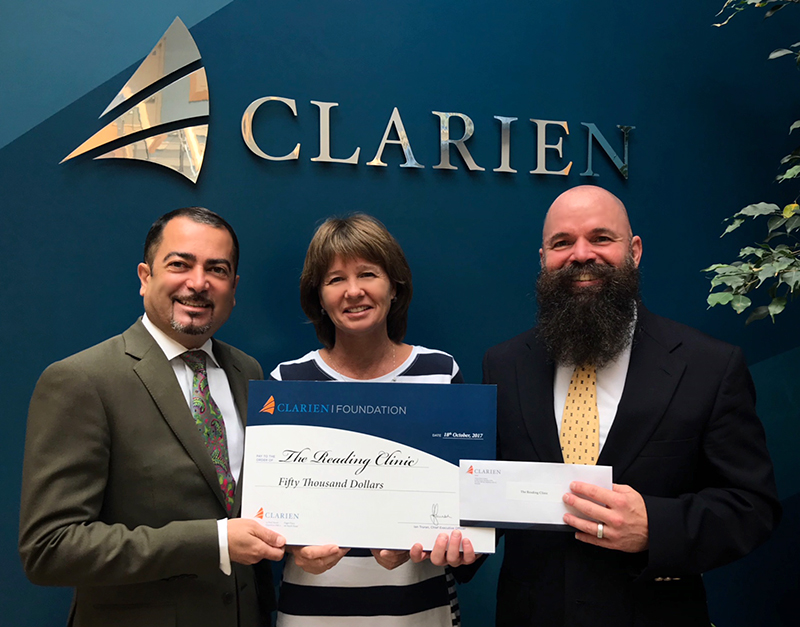 Michael DeCouto, Chief Marketing Officer of Clarien Bank said: "Clarien is proud and privileged to have been a sponsor of I-PLAY since 2013 and we are delighted to once again make a donation to support this important and vital programme.
"Bermuda depends on a well-educated and literate workforce. By developing good literacy skills and identifying and helping those with learning difficulties at an early age, I-PLAY helps ensure that children who might otherwise 'fall through the cracks' are not left behind."
Dr. Glenn Faries, Executive Director of The Reading Clinic said: "We are grateful to Clarien Bank as our Lead Sponsor for their ongoing support of this important programme. In addition to their very generous financial support, we greatly appreciate the volunteer hours donated by Clarien employees in reading to preschoolers twice a month. This activity has been shown to help improve literacy skills in the children being read to."

Read More About