Clarien Bank today [Nov 20] presented the Bermuda Sloop Foundation with a donation of $5,000. The donation was made through The Clarien Foundation, the Bank's charitable trust.
Michael DeCouto, Chief Marketing Officer of Clarien Bank said: "Clarien Bank has been a proud and committed supporter of the Bermuda Sloop Foundation for several years and today we are pleased to continue that support.
"For more than 10 years, the Spirit of Bermuda has provided a unique opportunity for Bermuda's youth as a 'floating classroom' that draws on the Island's maritime heritage to offer educational development and character-building experiences. Spirit continues to have a positive and often life-changing influence on young Bermudians."
Branwen Smith-King, Executive Director, Bermuda Sloop Foundation, and David Goodwin, Chairman, of the Foundation's Board of Directors [centre] receive a cheque for $5,000 from Clarien Bank's Michael DeCouto, Chief Marketing Officer, and Nancy Stephens, Senior Private Banker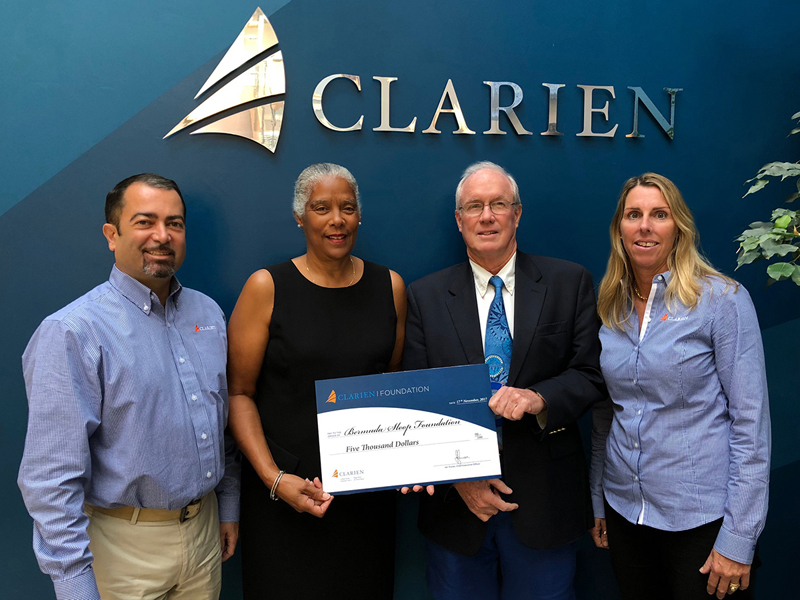 Branwen Smith-King, Executive Director of the Bermuda Sloop Foundation, said: "The Bermuda Sloop Foundation wishes to thank Clarien Bank for their sincere generosity and support.
"Clarien continues to be an exemplary community partner by helping us deliver this unique experiential, educational and character development programme to Bermuda's middle school students. This kind donation will be dedicated to the instructional and educational component on board our floating classroom, Sail Training Vessel [STV] Spirit of Bermuda."
Founded in 2006, the Sloop Foundation's mission is 'Changing Lives, One Voyage at a Time, Over Time' and has given more than 4,000 young Bermudians the opportunity to realise their potential. Spirit of Bermuda is a purpose-built sail training vessel based on civilian schooners constructed by Bermudians, enslaved and free, in the 19thcentury prior to the Emancipation of Slavery in the British Empire.
Bermuda Sloop Foundation recognises that children learn differently, and many of Bermuda's youths do not acquire information optimally in a traditional classroom setting. By providing an alternative learning environment, it strives to increase their positive life outcomes, and to create awareness of and pathways to technical, mechanical and marine-related careers for young Bermudians.
For more information about the Bermuda Sloop Foundation, visit www.bermudasloop.org
Read More About