The Duke of Edinburgh's International Award Bermuda has been chosen by Court House Squash and Wellness as the charity that will receive funds raised at the club's signature spinathon event.
Since opening in 2009, Court House has held a number of spinathon events to give back to the community. Bermuda Red Cross, Bermuda Diabetes Association, Friends of Hospice and Beyond Rugby are just a few local charities that have benefitted over the years, while others have been supported by the annual Court House Christmas Party where funds are raised through raffles and donated to charity.
This year's event is set to take place in The Courtyard at Victoria Place, Lower Level, 31 Victoria Street, on October 21st, 2017. The first ride will start at 9am and there will be high energy, music, and fun throughout the day until the last group at 5pm.
John Barritt & Son Ltd will keep the event hydrated by donating their Crystal Clear water to refill bottles and canned spring water that supports clean water projects worldwide through the global charity CannedWater4Kids. Victoria Grill is providing the sound system and healthy fruit plates to keep everyone pushing through.
18 bikes will be utilized for this year's spinathon with an additional bike for the instructor sponsored by Court House. Bikes can be sponsored for $300 by companies; individuals and team participants can donate $25 to ride for a 50-minute time slot.
Participants can also raise funds through pledge sheets and prizes are up for grabs for the individual and team that raise the most amount of sponsorship. All ages and levels of fitness ability are welcome to join in.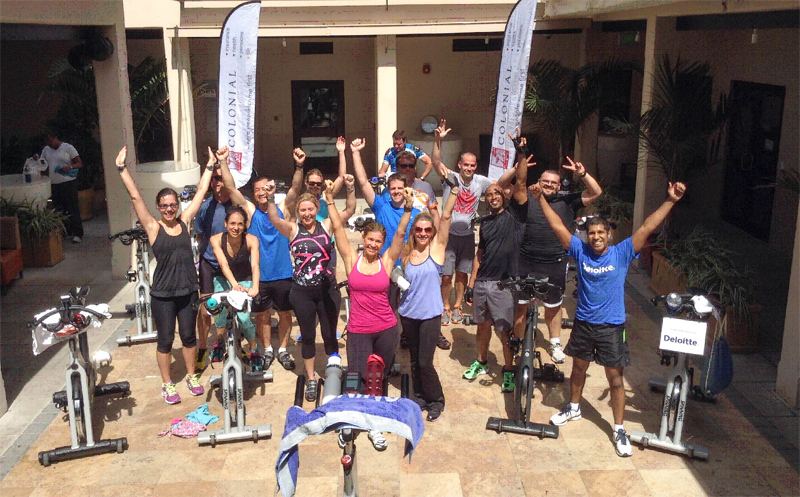 "Volunteering is about giving back and making a difference", said Alison Ince, Manager and instructor at Court House.
"I love The Duke of Edinburgh's Award because it is not just about one component. I grew up in the Brownies, Girl Guides and Outward Bound programs and I still draw from the things I learned then. I was initially drawn to the Award programme because of my love of outdoor activities and fitness.
"Much of my free time is now spent working with a wonderful team on The Standards and Training Committee so that we can keep delivering a quality international framework for the Award at a local level."
The Award helps young people between the ages of 14 to 25 discover, develop and achieve their greatest potential through activities involving community service, personal skills-development, physical recreation and adventurous journeys that are completed locally and overseas. Participation in this transformational programme helps to develop well-rounded global citizens who take pride in themselves and in their communities.
"We are grateful to the team at Court House for choosing us as their charity partner for this year's spinathon and we appreciate everyone for their contributions to making this a successful event", said Traci Burgess, National Director for the Award in Bermuda.
"Cycling is one of many 'modes of travel' our participants can choose for the adventurous journey component of their programme and physical fitness is one of three individual activities that is required to complete the Award, so the theme of spinning as a fundraising event, compliments several aspects of our programme.
"It costs an average of $400 per person to deliver the Award programme in Bermuda, unlike anywhere else in the world, participation is offered at no cost to the hundreds of local young people who take up the Award challenge every year.
"Funds from the Court House Spinathon will contribute significantly to ensuring that the Award in Bermuda remains available and accessible to all who wish to participate, and will enhance our programme expansion initiatives across the island in order to reach and serve a wider population of our youth."
Visit www.theaward.bm or call 537-4868 to learn more about the programme and how you can get involved and make a difference.
Court House said they "would like to invite spinning and outdoor cycling enthusiasts as well as the Award Alumni to participate in the upcoming fundraiser to help make a positive impact in the lives of youth in Bermuda.
"If your company is interested in sponsoring a bike or if you would like to participate as an individual or a team, please call Court House Central on 292-8357 or contact Alison Ince by email on aince@courthouse.bm."

Read More About