The dispute surrounding Dr Freddie Evans employment as the Education Commissioner continues, with the latest development seeing the Public Services Commission [PSC] write to Dr Evans saying that Governor terminated his appointment as Commissioner "effective immediately," with Dr Evans lawyer saying they regard this with "increasing incredulity," as you "cannot terminate someone's employment twice."
Background
On October 2nd, the Ministry of Education stated that they "can confirm that Dr. Freddie Evans has been relieved of his duties as Commissioner of Education," and an email was apparently sent out to educators by the Education Permanent Secretary stating the same.
Dr Evans — a veteran educator who was appointed to the post in March 2017 — then obtained legal representation, with his lawyer objecting to the statements, saying that his client never received a letter of termination or dismissal.
His lawyer Mark Diel stated that the only person who can terminate Dr Evans' employment is the Governor, and this can only be done during his probation period, which expired on 30 September 2017.
In a letter dated October 5th, the PSC said, "The letter to Dr. Evans dated 2nd October 2017 from the PSC contains an administrative error, and as a result Dr. Freddie Evans has not been terminated from the post of Commissioner of Education, nor has he been confirmed in post."
Following that, in subsequent correspondence, Mr Diel called on the Ministry to retract their statements and apologize to Dr Evans.
PSC: Governor Has 'Terminated Your Appointment' | Letter Dated October 12
Saying that as the PSC agreed to recommend Dr Evans for re-appointment to the post of Assistant Director it "was obvious your appointment as Commissioner of Education was being terminated," the PSC wrote to Dr Evans on October 12th, saying that "to ensure there is no further misunderstanding," they would like to inform Dr Evans that the Governor, upon the recommendation of the PSC, "has terminated your appointment to the above-mentioned post with the Bermuda Government effective immediately."
Screenshot from the letter from the PSC to Dr Evans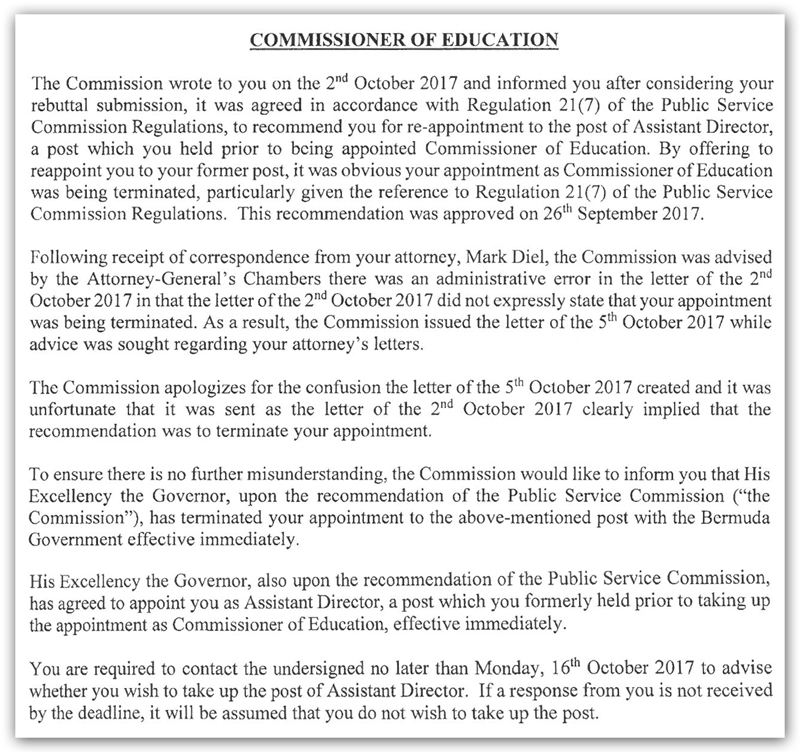 PSC's Lawyer Writes To Dr Evans Lawyer | Letter Dated October 13
The PSC is being represented by Wakefield Quin, who contacted Dr Evans lawyer saying, "As you know, your client received a letter on the 2nd October 2017 which although, as you rightfully point out, did not expressly state that his appointment was terminated, it clearly conveyed to your client that his appointment as Commissioner of Education was in fact terminated.
"The case law is clear on this issue, a letter does not have to expressly refer to 'termination' as long as the letter conveys that in fact this is the action taken.
"You have also pointed out that the probation period expired on the 30th September 2017. We would note that the probationary expiration date, namely the 30th September 2017, occurred on the weekend and your client was promptly provided with the Commission's letter of the 2nd October 2017 at approximately 10.00 am.
"This was the first working day following the end of his probation period and the letter clearly communicated to Dr. Evans that his appointment was being terminated.
"The letter of the 5th October 2017 obviously created uncertainty for your client and the PSC accepts that fact. They apologize to your client for the misunderstanding the letter generated. The PSC was acting in good faith and on the advice of the Attorney-General's Chambers when it sent that letter.
"You have indicated that your client will issue proceedings. Should Dr. Evans choose to do so, in light of the circumstances surrounding this case, you will no doubt advise him that the court will not reinstate him to the position of Commissioner of Education.
"While he could maintain a claim for damages, if he fails to accept the Assistant Director position, he will have failed to mitigate his loss and his claim for damages will be reduced accordingly."
Dr Evans Lawyer Responds  | Letter Dated October 16
In responding to the PSC's lawyer, Dr Evans lawyer Mark Diel said they "can only regard these letters with what can be described as increasing incredulity."
The lawyer said, "Your client's letter and yours actually manage to contradict each other in content and import. For the sake of yet further confusion, we will set out some salient points:-
1. Our client has now been terminated by the Governor with "immediate effect" [which for the avoidance of doubt must be as of 8.00 am on 13 October].
2. By simple extrapolation, neither your client nor the Governor thus terminated our client's employment at any point prior to that. It is of course trite that you cannot terminate someone's employment twice. Thus, your client's letter of 2 October 2017 was, as we have said all along, communicating nothing as it was not sent on behalf of the Governor nor was it even purporting to terminate our client's employment.
3. Your client's letter of the 5 October 2017 was, as your letter of the 13th makes clear, actually correct. Our client's employment was not terminated. If he had been terminated, what purpose did your letter of 13 October serve?
"Turning now to the actual contents of your letter of the 13th and your client's letter of the 12th, if we may address both letters together, the following is obvious:
1. The Governor had and has no basis to terminate our client's employment post the end September. We thought we had made this point clear. In any event the Governor has no basis at all to terminate our client's employment as of 13 October.
2. Worse still, your letter of termination purports to terminate our client effective immediately. The Governor does not even attempt to mention a period of notice. We set out [again] the provisions of our client's probationary period under his contract.
"Your appointment is subject to a six [6] month probationary period. Your performance will be reviewed with a formal report submitted to the Public Service Commission every two [2] months during this period. Subject to satisfactory performance and conduct, you will be confirmed in a post at the end of the probationary period. If necessary, your probation period may be extended.
"Upon the recommendation of the Public Service Commission, His Excellency the Governor may dismiss you from office at any time during the probation period, either, forthwith without any notice upon cause being shown, or with such reasonable period of notice, which the Governor in his absolute discretion deems appropriate, if the Commission advises him that you are not performing your duties satisfactorily.
"It is clear from a simple reading of this provision that our client can only be terminated "forthwith" for cause [and for the avoidance of doubt "cause" must mean something other than poor job performance [more of this below]. The Governor has not stated what "cause"our client has been terminated 'forthwith' nor can he as no cause exists.
"This is yet another example of the cavalier and improper approach that has pervaded this entire matter. Had the Governor attempted to terminate for unsatisfactory job performance [the merits of that is, as you know, seriously in dispute] he is obliged under the contract of employment to provide a period of notice. It is clear from your letter that he has not done so.
"The contention that the Permanent Secretary has found our client's job performance to be unsatisfactory has been mostly dealt with but to repeat the salient points:-
1. The PS has and had no ability either under the contract nor under the regulations to review our client's job performance.
2. The review itself was highly questionable with sections being whited out and new numbers inserted. An obvious point that appears to have slipped past the PSC in conducting their recommendation.
3. The only recommendation for termination by the PS was for the last month of our client's probationary period when for the previous 3.5 years he had performed this role with excellent reviews. This point also seemed lost on the PSC.
"The Governor has 'offered' our client the position of Assistant Director and given our client less than two business days to respond. We note in passing that it took the PSC four business days to respond to our correspondence but this too is indicative of the way our client has been treated.
"We are confident that there was no basis at all, either procedurally nor substantively, to terminate our client. The fact is that our client [as our letter of 11 October 2017 confirms] remains willing and able to perform his role.
"The result we anticipate will be that the Court will determine the actions of both the PSC and the Governor to be ultra vires their powers and thus void and our client will be entitled to full payment for his salary and benefits as Commissioner of Education.
"Consequently our client cannot accept any offer of a position below that of Commissioner due to the fact that, as a matter of law, he has not been terminated from this position. As stated in previous correspondence we anticipate the damages will be significant."
Education Ministry Has Not Commented
The Education Ministry has not commented on this matter since their initial statement on October 2nd, however we have asked again for a response to this latest development, and will update if able.
Read More About