On Friday December 1, the Bermuda National Trust will host their popular Christmas Walkabout event in the east end, with the event, which is sponsored by Butterfield, set to feature a variety of entertainment, refreshments, Santa and more.
The BNT said, "Thousands of people are expected to flock to St. George's on Friday evening [December 1] to once again enjoy the magic of the Annual Bermuda National Trust Christmas Walkabout.
"Now in its 39th year, the Walkabout has grown exponentially in size and popularity in this past decade and is the most profitable day of the year for St. George's merchants.
"For the second year, the National Trust has organized a ferry which will bring participants from Albouys Point in Hamilton to St George's so they can enjoy the Walkabout without spending time in traffic.
"After the success of the ferry last year, we are pleased to be able to offer this service again," said National Trust Development Director Kelly Way. "The ferry passengers reported that they had a wonderful voyage to and from St George's but it also reduced traffic congestion.
Slideshow of the 2015 Christmas Walkabout
.
"Therefore, with the cooperation of the Department of Marine and Ports, we are again offering the ferry from Hamilton to St. George's," she said. "The ferry will take a maximum of 350 people at 5pm from Hamilton to St. George's and will leave St George's at 9pm.
"In addition, the ferry will shuttle people from Marginal Wharf in St David's to St George's. In each case, a maximum of 350 tickets will be sold in advance and only people with tickets will be able to board the ferry."
"The last shuttle will leave St George's for Marginal Wharf at 8.15pm.
"For more information and to book tickets, people should check www.bnt.bm
"Once again musicians, dancers and carolers will entertain the crowds and refreshments will be available throughout the old town and marked on a map that will be distributed on the evening. Children can meet Santa and make Christmas crafts at the Edith Clair Spencer Hall.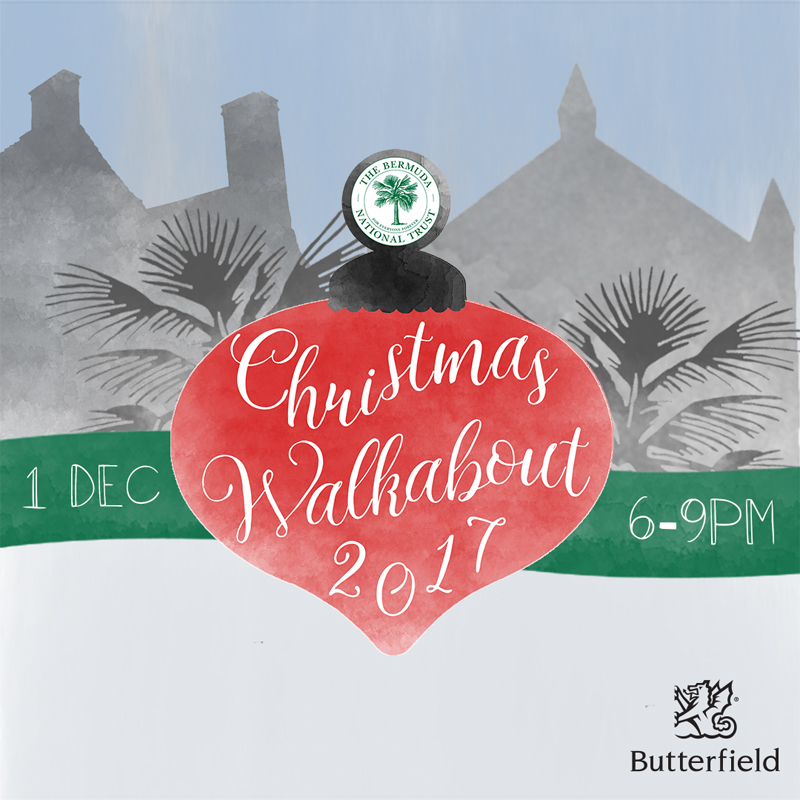 "We invite everyone to head east to explore some of the oldest continually occupied buildings in the New World which will be decorated and candle-lit for the event.
"Old Rectory, Bridge House, Stewart Hall. Buckingham, Tucker House, Reeve Court and the Globe Hotel will be festively decorated with each offering its own yesteryear experience.
"A new feature this year will be the opening of Smith's Garden on Barber's Alley by the Garden Club of Bermuda.
"The National Trust's members area will be located on the ground floor of the National Trust Museum at the Globe Hotel this year. As a special offer, non-members of the Trust can join for 50 percent on the night.
"Many of St George's shops, churches and other museums will also be open on the night.
"The Bermuda National Trust could not hold this event without a huge amount of community support, Trust volunteers and the generosity of sponsor, Butterfield, which is supporting the event for the 11th consecutive year.
"Sean Lee, Executive Vice President and head of retail banking at Butterfield said: "As a company, Butterfield started in St. George's more than 200 years ago and we've had a banking hall in the Old Town for more than 75 years, so supporting the Bermuda National Trust's Annual Walkabout is a natural fit for us.
"We encourage everyone to visit our historic Banking Centre and indulge in mulled wine, chocolate truffles and popcorn."
"We look forward to seeing you there and sharing the true spirit of Christmas!
Parking – Tiger Bay/Hunter's Wharf, St. George's Prep and St. George's Club Golf Course
Ferry – Beat the traffic and take a ferry service from Hamilton to St. George's or a shuttle ferry service between Marginal Wharf and Hunter's Wharf.
Ferry Schedule & Pricing
Leaves Hamilton Ferry terminal at 5pm and returns leaving St. George's at 9pm
Adult Hamilton to St. George's Return $15
Child Hamilton to St. George's Return $10
Shuttles from Marginal Wharf to Hunter's Wharf at 6:30pm and 7:00pm
Last shuttle back to Marginal Wharf 8:45pm
Shuttle Marginal Wharf to Hunter's Wharf $5
Evening Highlights
Historic St Peter's Church
6:00–6:30pm Christ Church Bell Choir
6:45– 7:30 Bermuda School of Music Choir
7:30pm The Christmas Crackers from BHS
7:45 pm Wine Woman and Song from BMDS
Butterfield
Please stop by their festively decorated, historic banking hall for mulled wine, chocolate truffles and popcorn.
King's Square
Master of Ceremonies – Town Crier David Frith
6:00–6:35pm Suzuki Strings [Rain Venue Stella Maris]
6:40-6:50pm Dignitary Speeches
7:00–7:30pm DanceSations
7:30-8:00pm Jackson School of Performing Arts
8:00–8:20pm In Motion School of Dance
8:20-8:30pm Somerset School of Dance
8:30pm Solo in the Square – Old City Bar
8:40pm Bermuda Islands Pipe Band
The Globe Hotel [built in 1699] and Trustworthy Gift Shop
6.45pm-7.30pm BHS Recorder Ensemble and Christmas Walkabout Ensemble "Flutes & Oboe & Clarinet & Sax"
Tucker House
John Cox signing his books, including "The Best of Bermuda".
Ebenezer Church
Ordnance island
Deliverance Replica and Food Vendors
Water Street Menuhin Foundation
Cello Ensemble 6.00-6.45pm
Adult String Ensemble 6.45-7.15pm
Check www.bnt.bm to buy tickets. Availability is limited.

Read More About
Category: All, Entertainment, News