The Bermuda Society of Interior Designers [BSID] is presenting a show of 38 wreaths that are being auctioned to raise funds to benefit the Coalition for the Protection of Children and the BSID Scholarship Fund, with bidding to continue until 7.00pm on November 30.
A spokesperson said, "The show, on exhibit just outside of Gibbons Home store in the upper level of the Washington Mall, features a record number of entries and features a broad spectrum of creative one-of-a-kind wreaths.
"They range from the traditional Holiday forms like "snowflakes" by Joan Murdoch to the more unusual and unique creations like the "Merry Moongate", an stunning wreath by Lisamarie Masters that is finely crafted from intricately cut paper depicting a moongate and St. Peters Church."
Jill Henneberger, BSID President, said, "It is always exciting to see the submissions and they never fail to disappoint. I am overwhelmed with this year's record response and with the creativity and originality of all wreaths."
"Entrants were also judged for originality, creativity, execution and use of materials, with prizes awarded for Best in Show, three Runners Up, and two honorable mention awards. This year's judges included Julie Mayor of Washington Properties, Sheelagh Cooper and Kelly Hunt of the Coalition for the Protection of Children and Ann Beaulne who's company Bermuda Interiors has been a major supporter of the event since inception.
"The judges were so overwhelmed by this year's entrants that they said that they found it hard to select just a few wreaths to receive awards. We take our job very seriously as we know how much work goes into creating these and it is never an easy task, but this year was defiantly a challenge.
"A fan favorite prize will also be given to the wreath with the most likes on Facebook, and this is generating a lot of interest and is fun for entrants to promote their creation with friends online. All prizes have been donated by BSID Industry Alliance members and Winners will be presented at the close of the show on November 30th."
Slideshow from last year's Wreath Show
.
"Interior Designers provide their clients with the innovative interiors and progressive workplaces and use standards and codes that make their facilities ergonomically efficient, aesthetically stimulating, and safe, environmentally friendly spaces.
"This knowledge requires a specialized degree from an accredited school and there are currently several Bermudian students studying the profession at recognized schools in the UK, USA and Canada as well as via specialized remote programs. The Bermuda Society of Interior Designers supports their efforts with their annual scholarship that this show partly benefits.
"The scholarship was launched in 1992 and has awarded over $150,000.00 since its inception. Chanika Jones, a three time recipient of a scholarship, is pleased to support the professional designers who support her, she has also created a wreath this year for the Show and Auction.
"The Coalition for the Protection of Children has been chosen as the joint beneficiary for the 4th year in a row. The Coalition provides services which address critical but unmet needs of children and their families and ensures that all children grow up in a safe and nurturing environment.
"This mission is complementary to the Interior Designers role as designers of safe and functional spaces for families, businesses and the community as well as their desire to support and mentor students."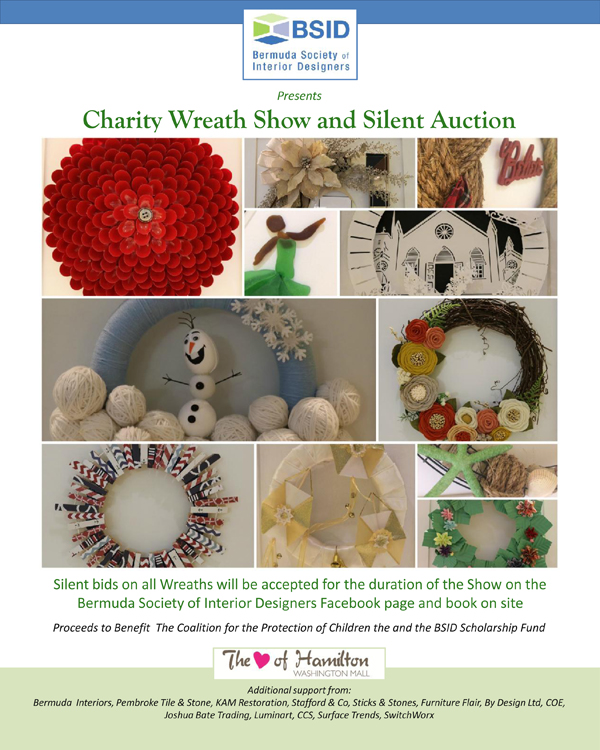 "In past years individual wreaths have fetched over $350 with the last few hours of the auction seeing bidding wars for favorite wreaths. For this reason, Jill Henneberger suggests placing your highest bid early and watch bidding carefully to insure you get the wreath you want as bids have been placed on many wreaths already.
"Bidding continues until 7 pm on November 30th and bids can be placed in the book at the exhibition or via the BSID Facebook. Remember to "Like" the page and receive updates on your wreath bid. Facebook access can also be gained thru our website bsid.bm.
To make a contribution or to request additional information, feel free to contact the BSID at info@bsid.bm. For more information on the BSID please visit us at bsid.bm or email us at info@bsid.bm.
"Sponsors include Washington Properties; Bermuda Interiors; Pembroke Tile and Stone; KAM Restoration; Stafford & Co.; Sticks and Stones Ltd.; Furniture Flair; COE; By Design Ltd.; Luminart Lighting; Surface Trends; Bate Trading; Switchworx; and CCS Group Ltd."

Read More About
Category: All, Entertainment