The International Consortium of Investigative Journalists [ICIJ] reported on former Premier Michael Dunkley's comments saying that Appleby may "not be a viable entity going forward," posting his comments on their website and in their email newsletter.
In reporting on various reactions to the Paradise Papers from around the world, the investigative journalism organisation said, "Bermuda: The former head of government, Michael Dunkley, predicted that Appleby would not survive after the Paradise Papers.
"'Sadly because of how badly they handled the hack I suggest that they will not be a viable entity going forward," Dunkley wrote in a Facebook post. "This is also a reputation issue for Bermuda."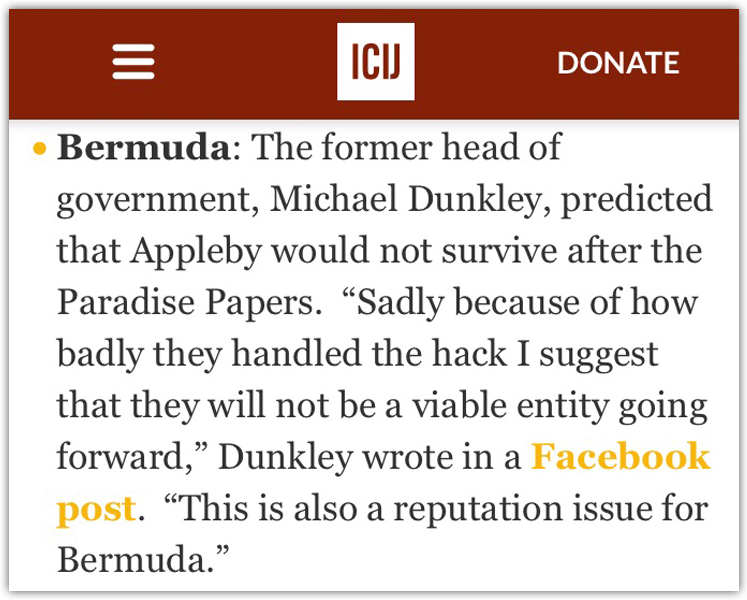 Mr Dunkley, who served as Premier and is now an MP, discussed the matter on Facebook and the post which was cited by the ICIJ said, "Sadly because of how badly they handled the hack I suggest that they will not be a viable entity going forward.
"This is also a reputation issue for Bermuda and we must do all we can to answer questions on the matter, explain how we do business and make any changes required to strengthen the openness and transparency, but at the same time protect privacy as appropriate."
The Paradise Papers were initially released on Sunday afternoon, and since then they have been widely covered, with the tax and business practices of politicians, celebrities and royalty being reported on by numerous major media worldwide.
The ICIJ said the files "include nearly 7 million loan agreements, financial statements, emails, trust deeds and other paperwork over nearly 50 years from inside Appleby, a prestigious offshore law firm with offices in Bermuda and beyond."
According to their website, Appleby is "an offshore law firm with around 470 people, including 60 partners, operating from 10 offices around the globe."
Last week, just prior to the Paradise Papers being released, the law firm confirmed they had a "data security incident last year which involved some of our data being compromised."
In a subsequent statement, Appleby said their "firm was not the subject of a leak but of a serious criminal act and our systems were accessed by an intruder who deployed the tactics of a professional hacker."
They also said, "We wish to apologise to our clients and to our colleagues for the difficulties which have arisen from this incident."
Following the ICIJ's report, Mr Dunkley told Bernews, "I am not at all surprised that the ICIJ has used the post, and since they have, let me provide some additional perspective.
"First, my colleagues and I support the Government in continuing to present the case of what Bermuda stands for and how we do business. Bermuda is constantly under attack but will always be able to support the way we do business.
"We are not a place to hide money, Bermuda is a leader in tax transparency, we share information with law enforcement agencies, have adopted international reporting standards, have no banking secrecy laws, have been recognized for country to country reporting and have been recognized for our transparency by regulators on both sides of the Atlantic.
"Bermuda's tax system is designed to support Bermuda and has been consumption based since the 1800′s. It has never had any form of direct tax on income. Our two most important sources of revenue are taxes on payroll and customs duties.
"Our economic model contributes to global economic development and supports close to half a million jobs globally. Our survival depends on strong financial regulations and we continue to strengthen them as we did in 2016 with more authority given to the BMA. Because of all of this, the Paradise Papers are very concerning.
"We have work to do to once again to defend who we are and what we do. We will rise to the challenge as we have in the past. Appleby has much work to do in dealing with the illegal hack and if they face this challenge head on, are open and transparent about what took place they can rebuild confidence in what they do."

Read More About