Former Finance Minister Bob Richards will be speaking at the OffshoreAlert Conference in Miami in April, the organisers announced today, with Mr Richards set to join former Premier Michael Dunkley who was already announced as one of the speakers.
The announcement said, "Richards, who is an investment manager by profession, will join former Bermuda Premier The Hon. Michael Dunkley, International Consortium of Investigative Journalists head Gerard Ryle and Frederik Obermaier, one of the German reporters to whom both the 'Paradise Papers' and 'Panama Papers' databases were directly leaked, in discussing the ICIJ's investigation into offshore finance, including Appleby, a major offshore law firm that originated in Bermuda."
The OffshoreAlert Conference will take place in Miami Beach from April 15-17, and the session Mr Dunkley and Mr Richards will speak at is entitled "The ICIJ v. OFCs: Witch-Hunt or Public Service?"
The event website describes it by saying, "With its Paradise Papers and Panama Papers projects, the International Consortium of Investigative Journalists has become Public Enemy Number One in the offshore world.
"This session will look at the ICIJ's investigations, what they have revealed about the offshore industry [good or bad], the organization's motives, and whether the offshore industry has been treated fairly or unfairly."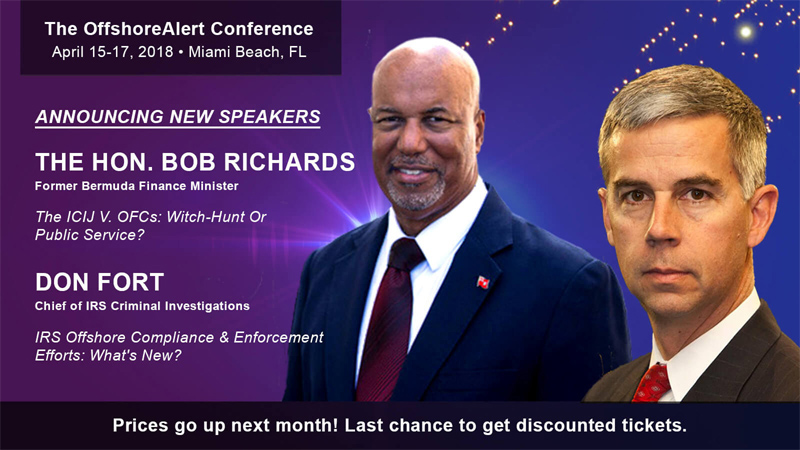 Read More About