"It is unfortunate that there remains individuals committed to dragging Bermuda's reputation through the mud," Minister of Economics Development and Tourism Jamahl Simmons said, adding that the Casino Gaming Amendment tabled "brings Bermuda in alignment with other jurisdictions."
Casino Gaming Amendment Tabled
On Friday, a Casino Gaming Amendment was tabled in the House which will allow the Government to give "general directions" to the Casino Gaming Commission, and allow the Minster to "revoke the appointment of a member."
Minister of Economic Development and Tourism Jamahl Simmons also confirmed that he has "asked for the resignation of the Chairman of the Gaming Commission on three occasions; August 10, September 27 and October 20, 2017."
"The Chairman of the Gaming Commission may want, crave, seek or desire a public fight," the Minister said, adding that "while others want public fights we seek a Bermuda that with greater economic growth and a diversified economy will bring new jobs and new industries."
The Minister's full statement in the House and a copy of the Bill is here.
Screenshot from the Amendment that was tabled: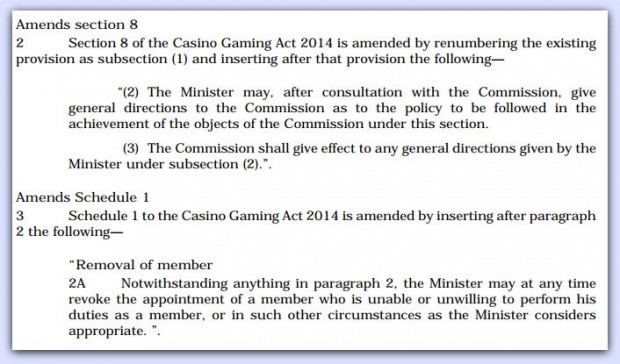 OBA Raises Concerns
Saying it "raises grave ethical concerns," OBA MP Leah Scott said she was "extremely disappointed in the Minister's decision to table a piece of legislation which now gives him the power to, in essence, interfere with the control and independence of the Casino Gaming Commission."
Ms Scott's full statement is here.
Minister's Subsquent Statement
Minister of Economic Development and Tourism Jamahl Simmons said, "The Casino Gaming Amendment 2017 tabled on Friday brings Bermuda in alignment with other jurisdictions in terms of allowing the government to provide policy direction and allow the Minister to remove members of the Commission who do not follow legal directions of the Government. This mirrors Singapore Gaming Legislation as seen in that jurisdictions Casino Control Act [Chapter 33A] Clause 11, Schedule 1.
"It is unfortunate that there remains individuals committed to dragging Bermuda's reputation through the mud, irrespective of the facts and irrespective of the damage such systematic misinformation campaigns could inflict upon Bermuda."
Commission Response
Since the Bill was tabled on Friday, we have asked both the Commission and the Commission Chairman for a response, and will update if able.
Read More About