Deputy Premier and Minister of Transport and Regulatory Affairs, Walter Roban led a delegation that greeted the Italian-flagged Viking Sun, on its inaugural cruise to Bermuda, arriving in Hamilton from the Azores.
The ship just built this year, spent the day in port and continues an 11-night cruise originating in Lisbon and ending in Miami. The port agent is Meyer Agencies.
Viking Cruises Ltd was incorporated in Bermuda nearly two decades ago. With growing global operations, Viking currently operates over 65 ships, has around 4500 employees and will host over 300,000 passengers in 2017.
Mayor of Hamilton Charles Gosling, Chief Operating Officer of Viking River Tours Ltd David Kippen, Minister  Roban, MS Viking Sun Captain Anders Steen, Bermuda Tourism Authority Chief Product and Experience Development Officer Pat Phillip-Fairn.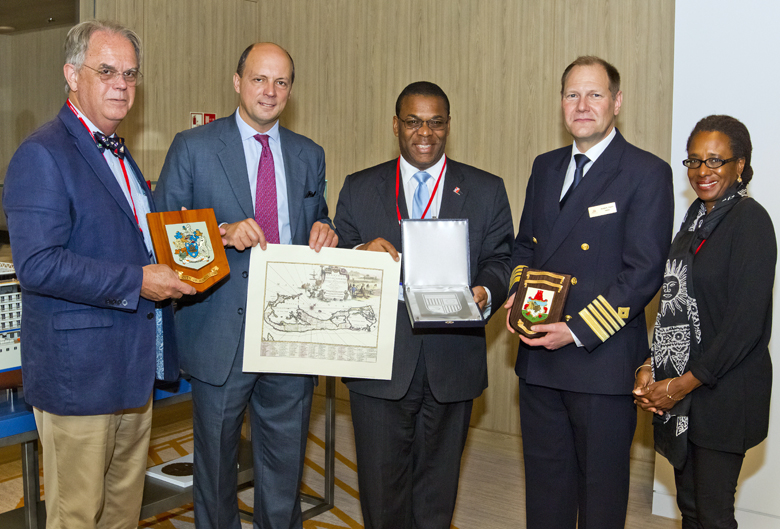 The Viking Sun set sail from Venice October 4, making her way through the Adriatic and Ionian Seas on her maiden voyage. The ship is now crossing the Atlantic to sail fall itineraries, and on December 15, she will embark on Viking's first-ever world cruise, arriving in Bermuda on Christmas Eve.
Over the course of 141 days, Viking Sun will journey around the world, visiting 35 countries and 66 ports, before the itinerary ends in London on May 5, 2018.
In 2019, Viking Sun will continue to sail the globe on the recently-announced second world cruise, which spans 128-days, five continents, 21 countries and 44 ports with 10 port overnights.
Minister of Transport and Regulatory Affairs, Walter Roban said, "Captain Anders Steen, Mayor Gosling, Officers, distinguished guests, and colleagues.
"It is my greatest pleasure to be here with you today to commemorate the inaugural visit to Bermuda of the brand new MS Viking Sun and to welcome you Captain, your crew and your guests to our beautiful island home.
"We are excited to be a stop-over on the Viking Sun's maiden voyage across the Atlantic. It is always a wonderful sight to see a cruise ship in Hamilton, especially one that is as beautiful and stunning as this new six star-class ship, even if it's only for 7 hours.
"I would also like to acknowledge the new relationship our Government has formed with Viking Cruises, it was a pleasure to meet your founder and Chairman Mr. Torstein Hagan on October 17 onboard the Viking Sea as well as Mr. David Kippen, who is here today, who is Viking Cruises representative in Bermuda.
"We look forward to a long and prosperous relationship with Viking Ocean Cruises and the Viking Sun's return visit to our shores on Christmas Eve in 2018.
"Captain, we know you only have limited time today and we do hope that your passengers have an enjoyable time and experience the charm and beauty that Bermuda is famous for.
"On behalf of the Government and People of Bermuda I extend a very warm and Bermudaful welcome to you and we are happy to mark this special occasion with an exchange of a commemorative plaque."

Read More About