Minister of Transport & Regulatory Affairs Walter Roban led a delegation aboard the MS Viking Sea this afternoon [Oct 17], at the invitation of the Founder, Chairman and Owner of Viking Cruises Torstein Hagen.
Some 40 stakeholders were invited for lunch and a tour of the Star Class vessel, docked in Hamilton, on its inaugural visit to the island.
It is the first time a Viking Cruises ship has ever sailed to Bermuda, although the company has been registered in Bermuda for two decades.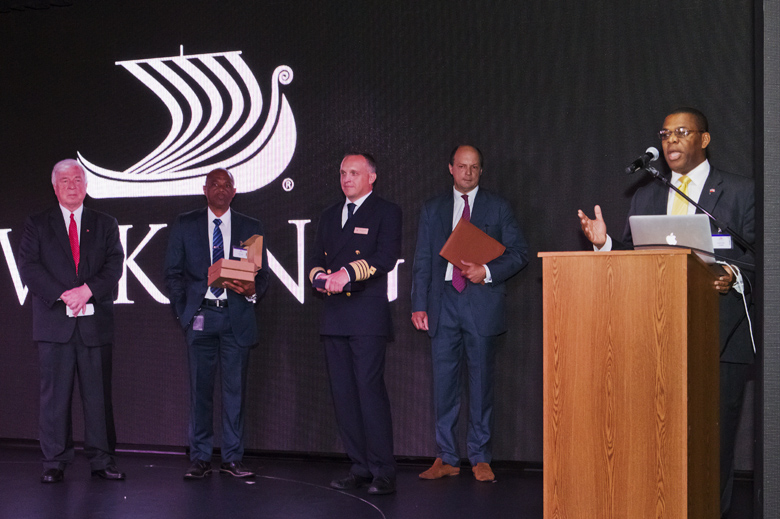 During a ceremony involving an exchange of plaques, the Deputy Premier had welcome remarks for Mr. Hagen, Viking Sea Captain Bent-Ivar Gangdal and crew.
In 2013, Viking added to their leading reputation for river cruises, by branching out into ocean cruises and launching their first ocean liner in 2015.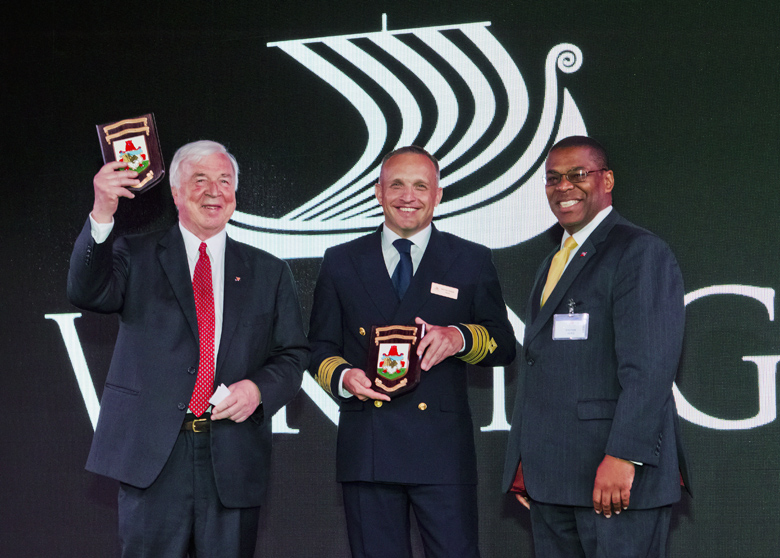 Following today's inaugural visit of the MS Viking Sea, Bermuda will also host two more Viking inaugural calls with the MS Viking Sky on October 31 and the MS Viking Sun on November 14.
The Viking model entails medium size, five-star design cruise vessels, together with excellent performance and comfort levels on ships holding less than a thousand passengers.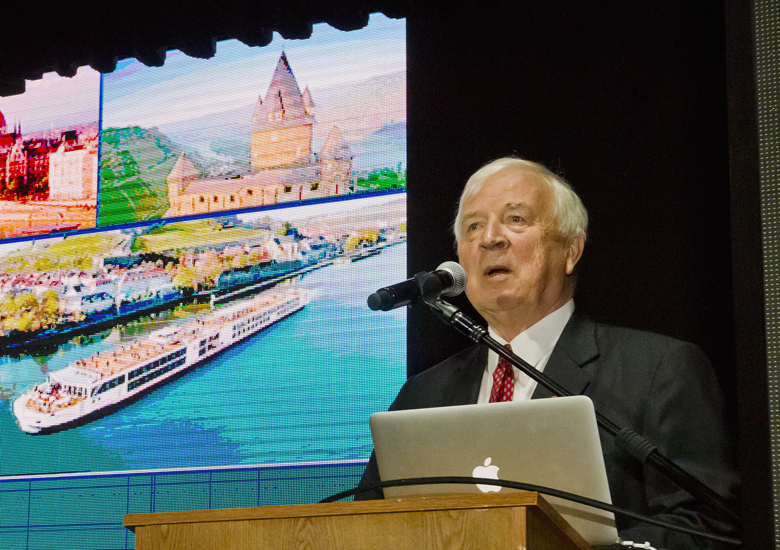 Speaking at today's event, Minister Roban said, "It is my great pleasure to be here with you today to commemorate the inaugural visit to Bermuda of the MS Viking Sea.
"This magnificent vessel is not just a Bermuda flagged ship, but it is owned by a Bermuda company, Viking Cruises Ltd., which was incorporated here nearly 20 years ago.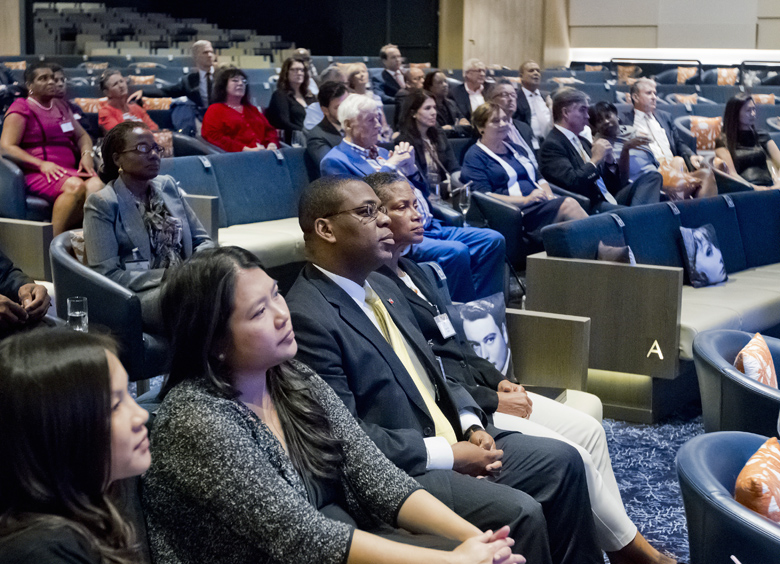 "So while we are delighted to finally welcome one of your great ships to the island – we have to ask: What took you so long? Honestly, we know why.
"Bermudians admire how you established your brand with the world's finest river cruises and how, in recent years, you entered, and quickly excelled at, the ocean cruises market.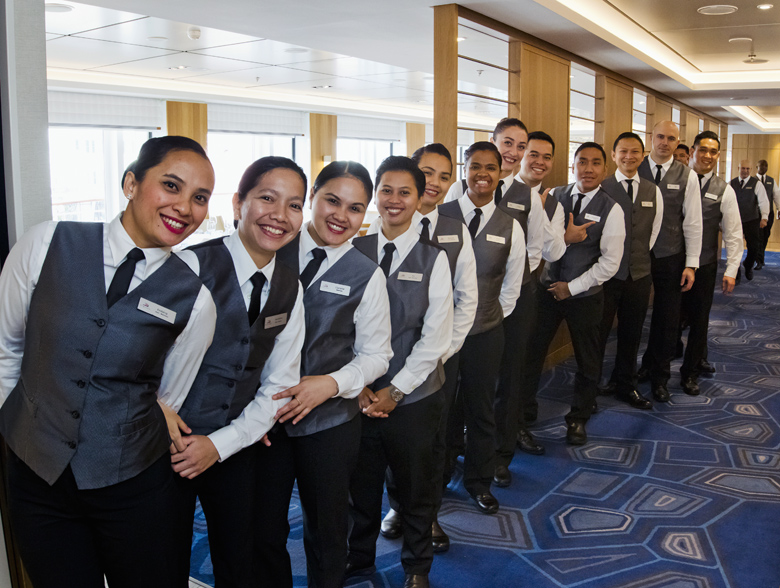 "Viking has once again been named the #1 Ocean Cruise Line and one of the Best River Cruise Lines by Travel and Leisure readers in the 2017 World's Best Awards. That is fantastic!
"Mr. Hagan, Captain, on behalf of the Government and the people of Bermuda, I would like to welcome you, your crew and your guests to our Capital city of Hamilton.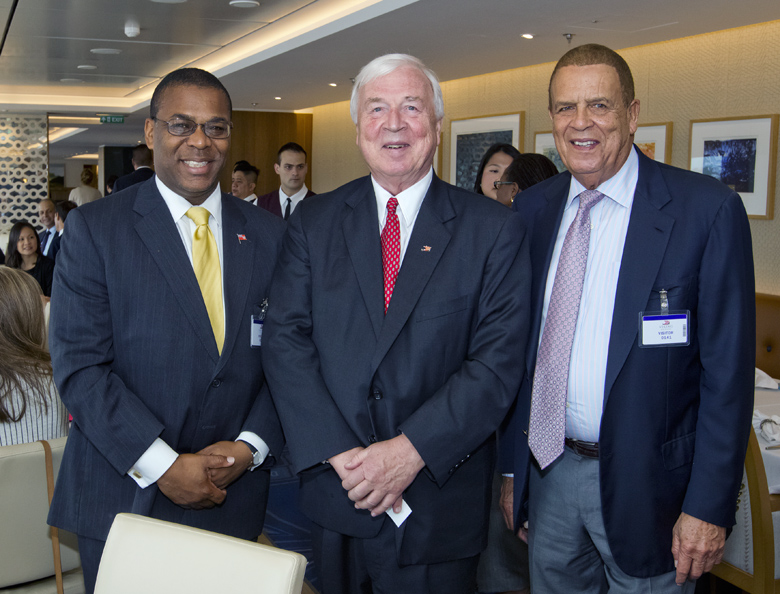 "I congratulate you and the crew of your growing list of luxury liners. Your participation in the modern development of the cruise business is also raising the bar in the industry.
"We look forward over the next three weeks to further visits from your Star Class Ocean vessels – the MS Viking Sky at the end of the month and the MS Viking Sun a week later – both also first time visitors. We salute you on your success and welcome you to Bermuda!"
Read More About