Bermuda Cancer and Health Centre [BCHC] announced today [Dec 15] that AON Group [Bermuda] Ltd. had gifted $10,000 to support BCHC's radiation therapy initiative.
This donation brings BCHC close to reaching the $10M radiation therapy capital campaign goal funding the design, build and medical equipment for the Radiation Therapy Unit which opened in May 2017.
"The Aon Bermuda Group of Companies are proud to support the Bermuda Cancer and Health Center, states Candace A. Franklin, COO&CFO at Aon Group [Bermuda] Ltd.
"Our donation is directed to their new Radiation Therapy Center, which provides cutting-edge detection and treatment options for those in our community dealing with Cancer.
"The Radiation Therapy Center provides the facilities for patients to receive on island treatment and care while supported by their loved ones right here at home."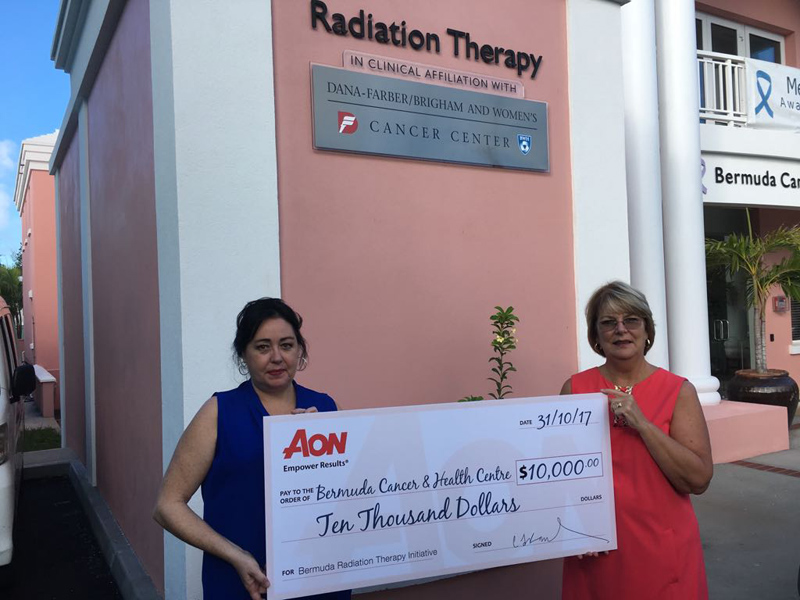 "AON's generous donation is really a gift to our community, by investing in BCHC's radiation treatment unit, AON directly supports the thousands of people affected by cancer each year whose loved ones can now stay on Island and receive life-saving treatment surrounded by their family and friends," says Deborah Titterton Narraway, Chief Marketing Officer at Bermuda Cancer and Health Centre
The 2017 Radiation Therapy Capital Campaign is the first time Bermuda Cancer and Health Centre has sought funding support from Corporate Bermuda in over a decade.
The charity made a strategic move after funding their building on Point Finger Road in 2004, to focus on their fundraising events to support the charity and not tax the corporate donors in the hopes that other charities could benefit from corporate donations.
"However, the good news is that the radiation therapy unit opened in May 2017 and over 120 patients have started on the patient pathway to receiving potentially life-saving treatment right here at home," BCHC said.
"Donations large and small will help those in our community needing radiation treatment gain access regardless of their level of health insurance or ability to pay. For more information on how you can support Bermuda Cancer and Health Centre's radiation therapy initiative, visit here or call 236-1001."

Read More About