Earlier this year, three incredible runners took to the street of London to run 26.2 miles at the Virgin Money London Marathon. Each step they took was a worthy cause; to help raise money for Bermuda Cancer and Health Centre's new radiation therapy unit.
As final donations have now been received, the Bermuda Cancer and Health Centre said would like to acknowledge Vanessa Conway, Andy McComb and Terri Durrant for raising an impressive $20,520.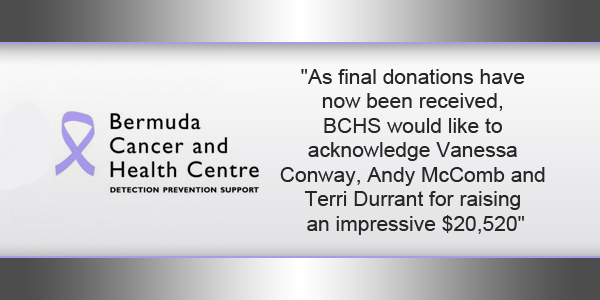 "The road to the run was not an easy one, with months upon months of training along with rallying friends and family to help them to fulfil their mission of raising money for the radiation therapy unit," BCHS said.
"Not only did they raise an impressive amount of money but their race times require honourable mention also. In the end, Andy finished with a time of 4:23:16, Terri with a time of 4:37:05 and Vanessa with a time of 4:46:59.
"This marathon journey was incredible. You learn what you're made of when you step out of your comfort zone and challenge yourself. I am forever grateful for my family, friends and colleagues support," Vanessa Conway said in the days after the run.
Terri Durrant said "Wow….what an amazing experience. I can't believe it's all over now. Months of training…many early nights and even earlier mornings. I made some great friends along the way, two of them being Vanessa and Andy who also chose to raise funds for Bermuda Cancer & Health.
"I'm sure my mum and dad [Mac & Mary Lou Holmes] and my two best friends [Jennie Beard and Janet LePage] were watching over me as I ran through the streets of London."
She went on, "I'd like to thank all of my family, friends and colleagues who have supported me in raising money for the Radiation Therapy Initiative. Also a huge thank you to Liz Craig and our running group, the Weekenders. I couldn't have done it without them plus Catherine Mello and MAAC for giving me the opportunity to run London."
Deborah Titterton-Narraway, Chief Marketing Officer at Bermuda Cancer and Health Centre, thanking the trio said, "The support shown by these three is more valuable than the $20,520 raised. The conversations they had with families and friends about the need for the radiation therapy unit was priceless."
Narraway continues "The Centre is still $2 million shy of raising the $10,000 needed to cover the cost of the build and equipment. However, the good news is that the radiation therapy unit opened in May 2017 over 120 patients have started on the patient pathway to receiving potentially life-saving treatment right here at home."
For more information on how you can support Bermuda Cancer and Health Centre's radiation therapy initiative, visit here or call 236-1001.

Read More About