[Christmas message from Governor John Rankin]
I have now served in Bermuda for a full year and I am grateful for the warm welcome I have received from all those whom I have met since my arrival, both officially and unofficially. A lot has happened in those 365 days; there have been times of celebration and some times of sorrow.
There have been many occasions to celebrate Bermuda and its people, including of course at the annual Bermuda Day Parade and at Cup Match. 2017 saw the successful hosting of the 35th America's Cup in the Great Sound which was attended by among others Her Royal Highness The Princess Royal, and in which Team BDA contested so well in the Youth events. There were also excellent performances from our athletes in other sporting arenas – at the Island Games in Gotland, Sweden; at the Central American and Caribbean Swimming Confederation Championships in Trinidad & Tobago and at the Caribbean Women's U17 soccer Qualifiers in Haiti.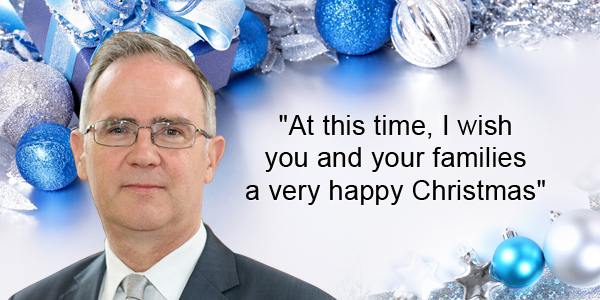 I also know that much of the island celebrated when Nahki Wells helped promote his then team, Huddersfield Town, to the Premier League and when Flora Duffy won her fourth consecutive World Triathlon Championship title in October. Both of these athletes are fine examples to the young people of Bermuda of how far hard work and commitment, combined of course with great skill, can take you.
Commitment, hard work and achievement were also recognised during the visit of His Royal Highness The Earl of Wessex in March. While here His Royal Highness met some of the many young people who participate in The Duke of Edinburgh's International Award programme on the island each year and presented them with their Award certificates.
In a year of hurricanes, Bermuda has been fortunate to have only had a few close calls. The same could not be said of our neighbours to the East, in Texas and Florida, and the South. While Bermuda was spared the wrath of Hurricanes Irma and Maria, our sister islands of Anguilla, the British Virgin Islands and the Turks & Caicos Islands, among others, were not as fortunate.
All of Bermuda can be proud of the way that the members of our Royal Bermuda Regiment and the Bermuda Police Service volunteered to deploy to the affected islands and help with much needed hurricane relief. They endured very difficult conditions, but made a real difference in helping so many people whose homes and lives had been very badly affected by Hurricanes Irma and Maria. At a thank you reception held at Government House soon after their return home, I had a chance to speak with many of the volunteers who all said how rewarding they had found the experience and how invaluable their training in Bermuda had been, allowing them to provide the help that was needed.
Here at home in Bermuda also, I have been struck by the excellent work done by so many charities and volunteers in helping those in need. Organisations such as PALS, providing support and assistance to cancer patients; the Family Centre, working with vulnerable children and families; and SCARS, tackling child sex abuse, can and do make a real difference. I applaud all those who voluntarily spend so much of their time and resources in support of such charitable work.
While having much to celebrate within our community over the past year, the island has also suffered losses. We have lost too many members of our community to road traffic accidents, while others have suffered serious injury. Many of these accidents are as a result of behaviour that can be changed. We all must do our best to discourage impaired driving and speeding and encourage people to slow down and drive safely.
We have also lost far too many members of the community, in particular young men, to the scour of drugs and gang related atrocities. I welcome the efforts of all those who are working to address this issue.
If all of us do our part, perhaps we may see a change for the better in 2018. My thoughts and prayers go out to anyone who has lost a family member this year, as a result of violent crime, a road traffic accident or through some other fashion.
There are many responsibilities connected to my role as Governor of Bermuda, including defence, policing and internal security. I also have responsibilities for external affairs and it is my duty to help ensure the observance of international obligations. In that context I was pleased that in March of this year Bermuda's commitment to gender equality was marked by the extension to this country of the UN Convention on Elimination of Discrimination Against Women.
I also, of course, work closely with the elected Government. In July, I experienced my first General Election here and saw the proper and peaceful transition of power from one political party to the other and had the honour to swear in the new Government. In some parts of the world such peaceful transitions cannot be taken for granted. Bermuda remains a fine example of the continued respect for the tradition of Parliamentary democracy which we must all hold dear.
There are two specific occasions which I also find particularly meaningful. First, Remembrance Day, when we remember all those veterans who have served our country in war, including those who made the ultimate sacrifice to maintain the human rights and freedoms that we enjoy today. I was pleased to meet the Service men and women who took part in the Remembrance Day parade and it is right to recognise their contribution.
The second event which I find particularly important is the hosting of Honours and Awards ceremonies at Government House. At these ceremonies I have the privilege to present the Queen's Certificate and Badge of Honour to those who have been recognised in Her Majesty The Queen's New Year or Birthday Honours Lists, as well as long service medals to members of our four services – Bermuda's Regiment, Police, Fire and Corrections. These award recipients are deservingly recognised for their dedication and commitment in support of our community.
Both occasions also provide a further opportunity for me to meet Bermudians from all different backgrounds and to learn more about what they do and why.
In 2018 I look forward to meeting many more of you and learning what you do to help your fellow men, women and children on this island.
At this time, I wish you and your families a very happy Christmas.

Read More About