[Christmas message from Opposition Leader Jeanne Atherden]
It is my honour as Opposition Leader of the One Bermuda Alliance, to offer my very best wishes for Christmas and the New Year to Bermudians near and far and to all Bermuda residents.
Christmas provides the perfect opportunity for us all to pause, reflect, and celebrate the things that we cherish. It is a time when we turn our minds to what is important – family, friendships, good citizenship and helping others. Christmas is an auspicious time to brighten the spirits of those in need in our community and giving the gift of time and attention is one of the most beautiful gifts of all.
At this time especially, those of us who are fortunate enough to have a festive Christmas should be mindful of the need to reach out to others who – due to loss, illness or financial circumstances, are going through a challenging time. If one has more than enough, share some of your good fortune with others so that they too can have at least enough.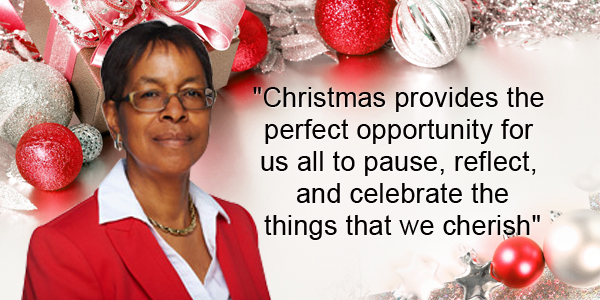 The holidays are also an important time to reflect on the 'health' of our community; the "Bermuda Community". We are a diverse community composed not only of different ethnicities, races, and religions, but of different social backgrounds, and life experiences as well.
Are we our brother's [sister's] keeper and looking out and supporting one another? It is too easy to fall into negative patterns that can have far reaching impacts. We must remember that, as a small country, it is more important than ever to show goodwill towards one other and to strive for peace and unity. It is crucial that we build unity by engaging in acts of kindness, caring and tolerance toward others.
We must lift each other up by being respectful, encouraging and understanding, quick to forgive, by staying positive and humble and sharing our knowledge and experiences.
Christmas is also the perfect time to remember the unsung heroes, of which Bermuda has so many. Teachers, caregivers, protective services, our first responders and medical personnel to name a few; the list is long, but it is the perfect time to thank them for all they do throughout the year.
Our recent sporting and other successes on the world stage show that there is much to be proud of as a country, and much to build on, as we prepare for the New Year and look ahead with hope and courage to realizing all the possibilities that it presents.
Looking towards the future, we, as your opposition party, fully appreciate the need to listen more closely to what is being said. It's about championing causes and supporting legislation which reflect the best interest of the people of Bermuda because indeed we are one Bermuda.
In 2018, my New Year's wish is that we think about and reconnect to the values that we want Bermuda to be known for, here and abroad, helpfulness, friendliness, family values, looking out for each other. Make a resolution to put these vales in practice. Let the words "Proud to be Bermudian" be our call to action. If we have the will, we have the power.
On behalf of the One Bermuda Alliance and my family, I would like to wish everyone a very happy and peaceful Christmas and a New Year full of harmony, promise, good health and fulfilment.

Read More About