November 30th marked the 'official' end of the 2017 Atlantic hurricane season, and while Bermuda was not affected by any major storms, other jurisdictions were not so lucky, and the season matched NOAA's seasonal predictions for being "extremely active."
The season produced 17 named storms of which 10 became hurricanes including six major hurricanes [Category 3, 4 or 5] – including the first two major hurricanes to hit the continental U.S. in 12 years.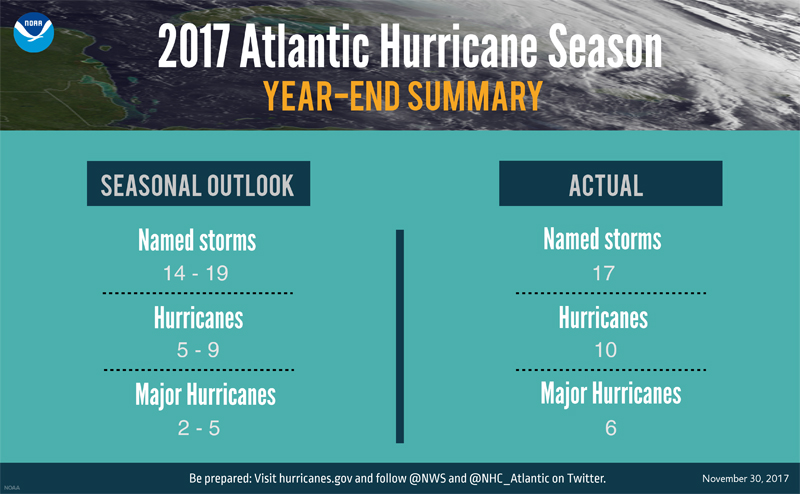 "Based on the Accumulated Cyclone Energy index, which measures the combined intensity and duration of the storms during the season and is used to classify the strength of the entire hurricane season, 2017 was the seventh most active season in the historical record dating to 1851 and was the most active season since 2005," NOAA said.
"Though it was a furious season, NOAA issued early and reliable forecasts to communities in the path of this year's storms. NOAA's preliminary data show that the National Hurricane Center issued forecasts with record-setting accuracy. And track forecasts for the three most damaging hurricanes were about 25 percent more accurate than average.
"This year, three devastating major hurricanes made landfall [Harvey in Texas; Irma in the Caribbean and southeastern U.S.; and Maria in the Caribbean and Puerto Rico]. Harvey was also the first major hurricane to hit the U.S. since Wilma struck Florida in October 2005. Additionally, four other storms hit the U.S., including Cindy in Texas, Emily and Phillipe in Florida, and Nate in Mississippi."
"This was a hurricane season that wouldn't quit," said retired Navy Rear Adm. Timothy Gallaudet, Ph.D., acting NOAA administrator. "The season started early with a storm in April and the peak of the season featured an onslaught of ten successive hurricanes. NOAA forecasters rose to this challenge to keep emergency officials and the public aware of anticipated hazards."
"In six short months, the next hurricane season will be upon us," added Gallaudet. "This is a good time to review and strengthen your preparedness plans at home as we continue to build a Weather-Ready Nation."
The 2018 Atlantic hurricane season officially begins on June 1 and NOAA's Climate Prediction Center will provide its initial seasonal outlook in May.

Read More About