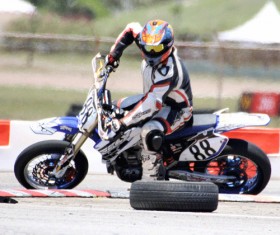 For a second year in a row the island's motorsports clubs have joined forces to host a two-day open house at the Rubis Southside Raceway in St David's on Saturday January 27th and Sunday January 28th.
Takara Dill President of the Bermuda Motorcycle Racing Club and Scott Barnes President of the Bermuda Karting Club are inviting the public to come and be entertained and also try out a vehicle of choice.
The second Bermuda Motorsports Expo is the culmination of the Bermuda Karting Club, Bermuda Motorcycle Racing Club, Bermuda Motocross Club and Bermuda Power Boat Association coming together to put on an event where the public can watch demonstrations, take part themselves and find out more about getting involved.
Each discipline will have a display and there will be fun-kart and minibike demonstrations. The expo takes place from noon to 5pm, on Saturday is free and also features a fun castle and food vendors.
"It's the second time we've all come together for this," said Barnes. "I want to see all the clubs grow." Dill said, "We can help people get the speed thrill out in a safe and friendly environment."

Read More About