People are being urged to sign up for a running race raising funds to help the development of Bermuda's young people.
The Bermuda Union of Teachers [BUT] has organized the race, which is now sponsored by the Freisenbruch Meyer Group, for 30 years and has raised more than $180,000.
BUT President Shannon James said: "All the money goes to our Youth Development Fund which is used to send our young athletes to the Caribbean Union of Teachers annual games as well as helping the Island's young people to attend summer development opportunities.
"In the past this has seen us being able to send young people to the John's Hopkins Summer Internship Programme, another young Bermudian was able to go on a cricket summer development opportunity, some young footballers had help towards the cost of a football training opportunity in the UK and we helped send a group of young men from the Berkeley Institute on a life changing mission trip to the Dominican Republic.
"All these things help to give our young people very positive experiences that help stand them in good stead as they grow older."
The race takes place on Sunday, February 4 and is open to adults, primary, middle and senior school students. People can sign up on www.racedayworld.com.
Mr James added: "It is a really fun day and I would encourage everyone to come along and take part and help raise money for the young people of Bermuda."
Michael Freisenbruch, President of Freisenbruch Meyer Group, said the fundraising aims of the race fitted perfectly with the firm's ethos of helping young Bermudians.
"When we decided to sponsor this event, we were struck by the things the money raised was used for, such as the Dominican trip, which must have been an incredible adventure for the young people involved. It is important that they get this kind of experience and we are delighted to be able to help in that regard," added Mr Freisenbruch.
The deadline for on-line entries is 11pm, February 3. Paper entries can be dropped off at Sportseller and deadline is 4.45pm, Wednesday January 31. There are categories for Primary and Middle Schools, with a 2.7K race, and senior students and adults, with a 5K race.
BUT 5K Run & Walk Entry form [PDF here]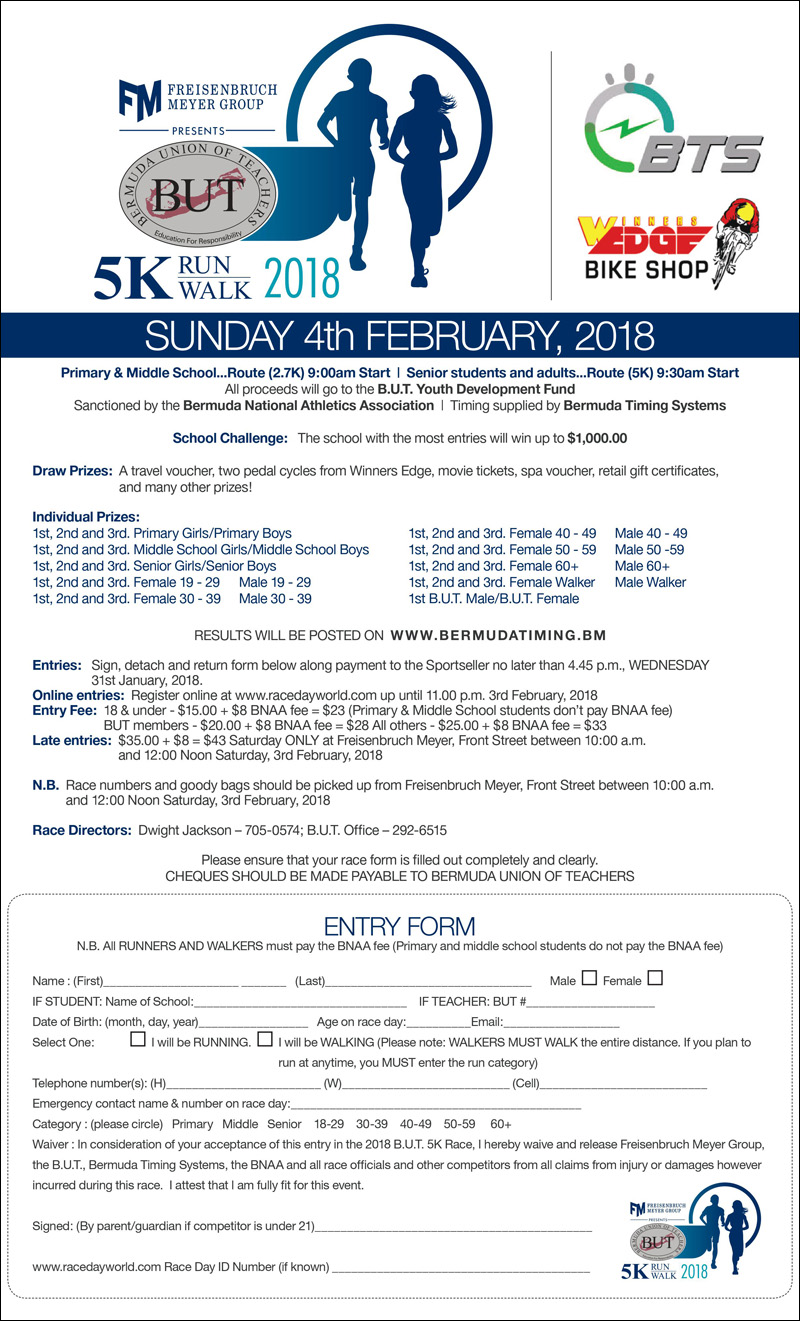 Read More About