New Reformed Productions [NRP] founder, Noel Hodgson is no stranger to the entertainment scene in Bermuda having worked in the hospitality industry all of his working life in hotels and various clubs, and he decided to start hosting events but with a purpose beyond just entertaining people.
For over 20 years Mr Hodgson has been holding the Annual Solid Gold Old School Party with proceeds of events going to various charities over the years including Gina Spence Foundation, The Chewstick Foundation, The Bermuda Society for the Blind and The Kandice Foundation.
The latest event was held November 4, 2017. Party goers were entertained on two levels of the Spinning Wheel Night Club by the Sound Stone Love Movement featuring DJ Rory from Jamaica, the World's #1 Blind DJ, DJ Touchtone from Philadelphia, USA and popular local DJs- Magnum Force with Fadda Maggie and DJ Jada, DJ Radigun, DJ Cavon and the Playboy Sound with DJ Trevor and Kid Fresh.
DMBHA Social Worker/FOHA Director Julie Lynn with Noel Hodgson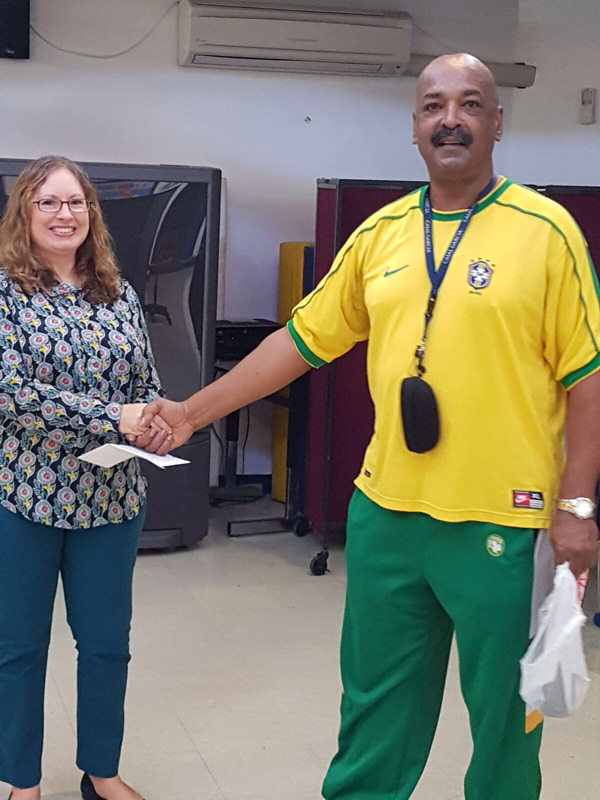 The Friends of Hope Academy [FOHA] were the latest recipients of NRP's generosity. FOHA, a Bermuda Registered charity, assisting children and families at the local Special Needs school, Dame Marjorie Bean Hope Academy [DMBHA] as well as provides support to the wider special needs community with the primary objectives of providing support to DMBHA in the implementation of its school improvement plan; implementation of its curriculum and extra-curricular activities; support or assistance to other individuals or organizations for purposes beneficial to the education and care of children with special needs; and to assist with community projects that promote awareness, education and improving the lives of children with special needs.
Mr Hodgson said, "I chose FOHA after many conversations with my longtime friend who has a special needs daughter. The needs for individuals and groups within the Special Needs community are huge and I knew I needed to do something to assist.
"Organizing events like these are a huge undertaking but the gracious assistance from my public and anonymous sponsors, Spinning Wheel, bartenders, ticket ladies, Graphic designer and DJS, support of those who attend and the ability to help others at the same time makes every effort to get the night running smoothly worth it.
"I had the opportunity to visit the school and meet the students and teachers. The kids are inspirational and the passion of the staff there has led me to make them recipients again for future events.
"I'd encourage anyone looking for an entertaining night out for a mature crowd most importantly with a purpose to help others to attend future events in 2018 and beyond."
Read More About
Category: All, Entertainment