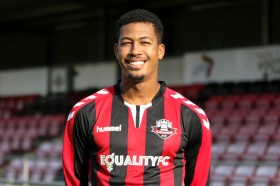 Bermudian footballer Jonte Smith recently met with other athletes in London to discuss how to change sports for the better, with Smith describing the racism he experienced while playing in Vietnam, having been told he had to warm up and sit away from the team with the African players.
A story in the Guardian said, "Sport is going through a profound existential crisis. There have been allegations of sexism in the cycling and football world; there is rampant inequality [in November it was revealed that the combined pay of women footballers in the top seven football leagues in the world equals that of Brazilian forward Neymar's].
"Racism persists: in 2016, England footballer Eniola Aluko made a complaint that the national team's coach Mark Sampson had told her to make sure her Nigerian family did not bring ebola to Wembley.
"Today, a group of athletes determined to change sport for the better – former javelin thrower Goldie Sayers, badminton player and silver medallist Gail Emms, Paralympic wheelchair racer Anne Wafula Strike, and Lewes FC footballers Jonté Smith and Faye Baker – meet at Lee Valley Athletics Centre in London to discuss the way forward.
The Guardian notes that Smith and Baker play for Lewes FC, a semi-professional football team that is the first in the country to pay its male and female teams equally, and the two footballers were asked if they have suffered any discrimination.
Smith recalled, "I got an offer to play in Vietnam when I was 20, 21 for a ridiculous amount of money – £15,000 a month after tax. I left after four days. The very first day I went to warm up with the rest of the team, and I was told I had to warm up over there with two other African players."
"It gets worse," Smith says. "After the game, I pick up my food and sit down with them and they say no, you have to sit over there with the African players. I wouldn't have stayed for anything."
"Now he is paid around £200 a week for Lewes FC. Both he and Baker are proud of the club's commitment to equality," the report notes.
"A lot of people still feel it's a man's sport," says Baker, who is also a lawyer. "It's just nice to be at a club where you're on an equal playing field, and for the men's team not to have their nose out of joint about it."
"Collectively, these athletes are doing their bit to make sport more honest," the Guardian states. "Smith says you can already see the impact of Lewes FC's equal pay initiative, announced last July. "There are now more young girls coming in to train. And that's how you start."
You can read the full story here on the Guardian's website.

Read More About