The UK's Channel 4 news channel has featured a story on Lewes Football Club becoming the first football club to pay male and female players equally, with their broadcast featuring Bermudian Jonte Smith, who said that from "non-league to professional, it should be equal and that's pretty much the end of the discussion."
Speaking on the broadcast, Smith, who plays for Lewes FC, said, "A few of the directors sort of sat down with the men's team and basically told us what was going to be happening with the equal pay and what their mission and what their drive was for this."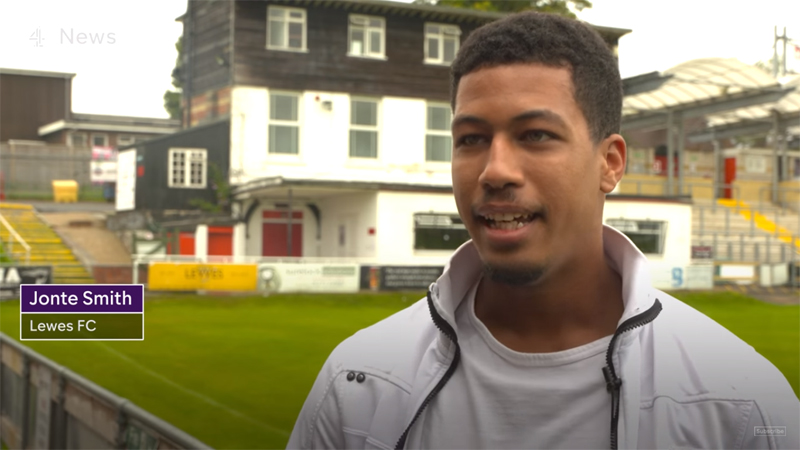 "Overall, I think of the team pretty much agreed that it was a good idea and that we as a club and a community – because it is a community club – would get behind that.
"Some players may have been questioning of what type of effect is it going to have on us, which a lot of people may have their concern, but from non-league to professional, it should be equal and that's pretty much the end of the discussion."
Lewes FC have launched a campaign, Equality FC, to raise awareness about gender inequality in football. The campaign also aims to encourage more support for women's and girls' football across the UK and around the world.
Jacquie Agnew, Lewes FC Director, said: "At Lewes FC we believe that there should be a level playing field for women in football.
"By committing to paying our women's and men's teams equally, and providing equal resource for coaching, training and facilities, we hope to spark a change across the UK that will help put an end to the excuses for why such a deep pay disparity has persisted in our sport.
"Together with our owners, donors and sponsors, Lewes FC can show that equal pay can be implemented to the benefit of both women and men in sport and beyond."

Read More About