International Professional Squash returns to Bermuda next month with the Men's and Women's Bermuda Open 2018, an official stop on the PSA Pro World Tour.
The Bermuda Squash Racquets Association launched the event today with news that 35 professional players from all over the world will be in Bermuda competing from February 26 to March 2 for $10, 000 in prize money.
BSRA Director of Squash, Patrick Foster commented, "We are all really excited. It started off as a simple idea to host a small men's event to support our two touring Bermudian pro squash players Micah Franklin and Noah Browne however, the idea just took off!
"The financial support kept coming in and the next thing you know we are able to host a larger men's event than expected and a women's event too! The standard of play will be amazing. We have never had a pro women's event in Bermuda so are really excited by that. The whole week is just going to be phenomenal for squash"
Top seed for 16 player Women's draw is Canadian World #53 Nikki Todd who will face strong competition from a field of players including Alex Fuller of South Africa, Catalina Pelaez of Columbia, Emilia Soini from Finland, Scottish star Alison Thompson as well as players from Brazil, Nederland's, Guyana and Egypt.
Bermuda's sole representative in the Women's draw is WR# 208 Rachel Barnes who is drawn against WR#95 Anna Kimberley of England in the opening round on February 27 at 7.00pm. She was upbeat about her chances;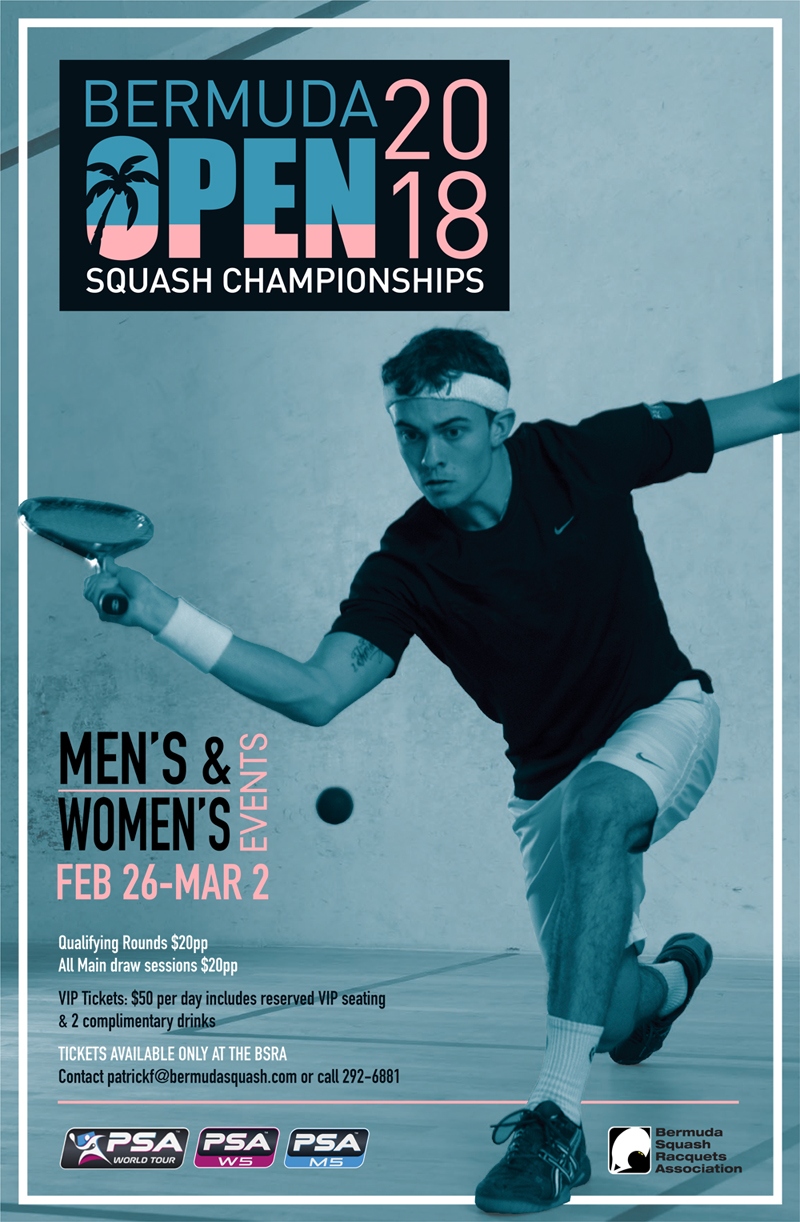 "I'm nervous but excited. It didn't really matter who I was drawn against as they are all great players. I'm just working hard and hoping to put up a good performance and see if I can pick off a couple of higher ranked players"
The larger draw size in the Men's event sees play start on February 26 with a 16 man qualifying draw. This qualifying draw has 8 top local players including BSRA & Courthouse Pro's Patrick Foster and Kristen Johnson compete against 8 PSA World ranked players from countries such as England, USA, Nigeria, Malaysia and Mexico. The winners of the initial matches must play again in a second round of qualifying to earn one of four spaces in the main draw.
The Bermuda Open 2018 Men's main draw already has two Bermudian players confirmed in WR#188 Micah Franklin and WR#234 Noah Browne who secured their places based on impressive World rankings. Browne takes on WR#179 Kale Wilson from Trinidad for a place in the last 8 whilst Franklin must wait to find out which of the qualifiers he must face in the first round.
The Bermuda Open 2018 will be held entirely at the BSRA, Devonshire with matches start times varying through the week. Men's Qualifying will be held throughout the day on February 26 with most of the remainder of the weeks play being held in the evening. For full details please visit www.bermudasquash.com
Tickets are available for all sessions for just $20pp per night and are available only at the BSRA. Visit the official Bermuda Open 2018 website for all event information www.bermudasquash.com

Read More About