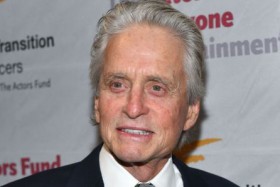 Michael Douglas' accuser Susan Braudy is now speaking out publicly, alleging that the award winning actor used inappropriate language and performed a sex act in front of her.
Mr Douglas has already denied the allegations, as after being contacted by a reporter saying a woman had made allegations about him, he said he had the choice of waiting for a story to come out or try to share his "thoughts and concerns" with the public in advance.
He said, "How am I, in a 50 year career in this industry, dealing with an employee 33 years ago who perhaps is disgruntled that I let her go, even though I have never heard from her in 32 years. And a legitimate trade publication is going to try and print this story? There is no corroboration, just that they found out somebody else might run the story."
"I had the choice of waiting for a story to come out, one that will clearly get picked up by other newspapers and magazines, and then I have to sit there and try to defend myself. Or, try to share with the public, a little ahead of the story, my thoughts and concerns."
A story in the Hollywood Reporter said, "While Douglas, whose star in the late '80s was rising thanks to the hits Fatal Attraction and Wall Street, was not often in New York, when he was, Braudy writes, she "did my best to shrug off the cloud of sexual aggression that Michael reflexively emitted." She says he openly discussed affairs with co-star Kathleen Turner and a European heiress.
"I knew something was off but had no name for it," she writes. "I'd never heard there was a phenomenon called sexual harassment and didn't know the term until the Anita Hill hearings in 1991."
"There were incidents with Douglas she says she found especially alarming. In a one-on-one meeting on her first day, he used a crude term for female genitalia. Later, "one screenwriter I hired asked if he could bring his daughter to meet Michael," she writes.
"She asked Michael for a banana. Michael strode to me and said so that only I could hear, 'Yes. And then you can tell your friends you licked Michael Douglas' banana.' I was appalled."
"To stop his commenting about her body, "I began wearing long, loose layers of black," she writes. "He asked a producer, 'Why does Susan dress like a pregnant nun?' Another time I laughed loudly and he shouted to a group of agents, 'Oh yeah, she's a screamer! I bet she screams in the sack.' I protested, 'Please, don't talk like that. It's inappropriate.' This made him laugh until he got pink splotches on his cheeks."
"At script meetings in his apartment, "Michael was usually barefoot, his blue oxford shirt unbuttoned to his navel," she writes. "I sat across the room on the yellow silk couch taking notes." Then one afternoon in early 1989, as they brainstormed an idea about an E.T.-like character, she recalls him sliding down the back of his chair and onto the floor.
"Michael unzipped his chinos and I registered something amiss. Still complimenting my additions to our E.T. imitation, his voice lowered at least half an octave. I peered at him and saw he'd inserted both hands into his unzipped pants."
You can read the full Hollywood Reporter story here and Mr Douglas full interview here on Deadline.
Read More About