Speciality Cinema and Grill is getting set to present "Bermudians in Hollywood" on Monday, February 12 from 6.30pm to 8.00pm, with the event to be hosted by Nadanja, featuring Hannah Eggen and Gianluca Gibbons.
A spokesperson said, "This event presented by Speciality Cinema, and hosted by Nadanja, will highlight the talent of two Bermudian entertainers who are making major leaps in the entertainment industry.
"The night will consist of a film premier 'Romancery' featuring Gianluca Gibbons, the screening of unreleased music videos, comedy, live music, and an inside scoop on show business from the Bermudian perspective."
"This featured duo is made up of Hannah on guitar and vocals, and Gianluca Gibbons on saxophone. Both Bermudian performers have spent the last few years of their lives in Los Angeles.
"The pair have performed all around the world, and have made a name for themselves sharing the stage with acts such as Carlos Santana, Wyclef Jean, The Madden Brothers, Wayne Wonder, Nico & Vinz, Natasha Bedingfield and more.
"In addition to music they have got their hands in the movie business, dance, motivational speaking and more."
Ticket cost $15 at the door; for reservation visit the website.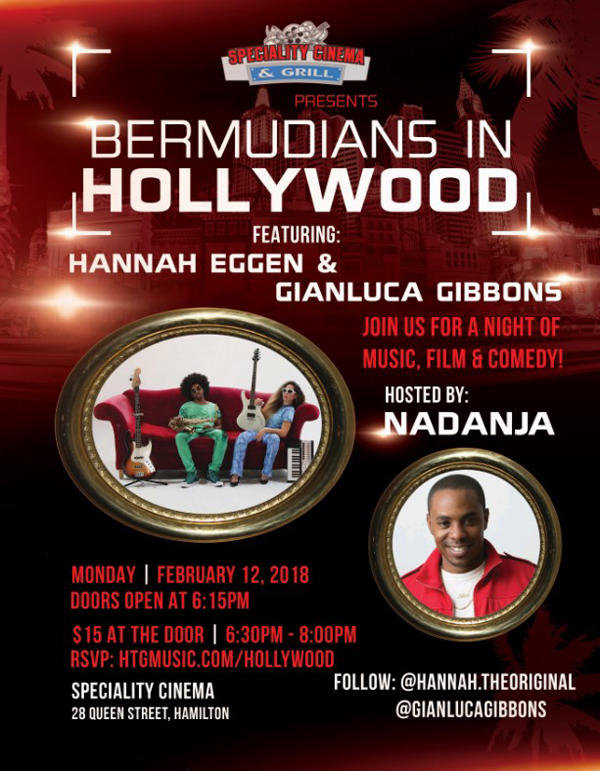 Read More About
Category: All, Entertainment, Films/Movies, Music