Bermuda-based PartnerRe announced a deal with Farmers Edge, a global leader in decision agriculture, that will help insurers to close the insurance gap among farmers across all continents.
"This exclusive, four-year agreement between Farmers Edge and PartnerRe brings together precision farming technology and agriculture insurance in a landmark deal that will fundamentally advance the $5 trillion global food and agriculture industry," PartnerRe said.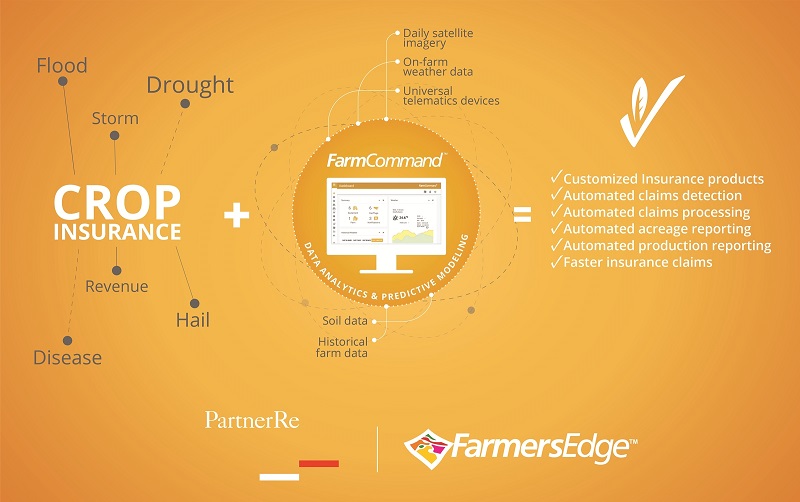 "Under the terms of the agreement, PartnerRe and Farmers Edge will jointly develop new agriculture insurance products in main crop growing areas worldwide, aimed at addressing the specific needs and challenges of farmers.
"For farmers, the insurance product with integrated precision-farming capabilities will improve the efficiency and sustainability of their operations, and will enable them to obtain insurance, which is customized to their individual needs and parameters. Insurers will also benefit from a more efficient loss adjustment process.
"The Farmers Edge platform is a comprehensive turnkey system that includes: Variable Rate Technology, soil sampling and analysis, field-centric weather monitoring, in-field telematics and data transfer, daily satellite imagery, data analytics, predictive modelling, access to integrated farm management platform and real boots on the ground.
"Leading the development and application of new technologies on the farm, Farmers Edge allows farmers to collect, store and transfer data, enabling them to make advanced management decisions and measure results."
Emmanuel Clarke, President and CEO of PartnerRe welcomed the deal, saying, "At PartnerRe, we are committed to finding innovative ways to create relevant and impactful reinsurance solutions that support our clients' business goals. We are delighted to be at the forefront of this exciting and innovative new initiative with Farmers Edge and look forward to partnering with our insurance clients to bring it to market."
"This first-of-a-kind deal with PartnerRe will have a tremendous impact on farmers as they will gain greater, customized insurance options based on better, more accurate data and simultaneously open up new financing options farmers need to grow their businesses," said Wade Barnes, president and CEO of Farmers Edge.
"Through this partnership, Farmers Edge is making digital agronomy a reality and empowering farmers all over the globe with data-driven insights so they can maximize crop yields, make better decisions and secure tailor made insurance solutions that make sense for their market."
Rinat Bektleuov, Head of Agriculture at PartnerRe, said, "In recent years, precision farming has moved from a niche business to the mainstream as a stand-alone agritech industry, with great potential to become the new standard in crop production in the mid to long term.
"By marrying cutting edge technology with insurance market expertise, insurers will have a unique opportunity to get closer to their customers in terms of risk selection, product design, crop growth monitoring and claims adjustment – to create very tailored solutions that meet each farmer's specific needs."
Read More About
Category: All, Business, technology