ThickMiss BDA is planning to send five plus-size Bermudian women to New York City to audition for Fuller Figure Fashion Week, with the group selecting Regina Paynter, Sherri Vanderpool, Ashjuanna Thomas, Jennifer Shirley, and Tahirah Grant following their recent auditions.
Vanessa Lake-Waldon, the owner and operator of ThickMiss BDA, told Bernews, "The purpose of ThickMiss BDA is to help groom these women and provide them with the tools they need to get their modelling careers up and running and to also give them an added boost of support."
The models selected by Ms Lake-Waldon and her team – Serena Brangman and plus size designer Chaela Perinchief – will receive help formulating a portfolio with the assistance of photographers Jermaine Flood and Javaughn Simons, and they will also be provided with model training sessions with the support of Jakoma Productions.
Serena Brangman, Chaela Perinchief, Vanessa Lake-Waldon of ThickMiss BDA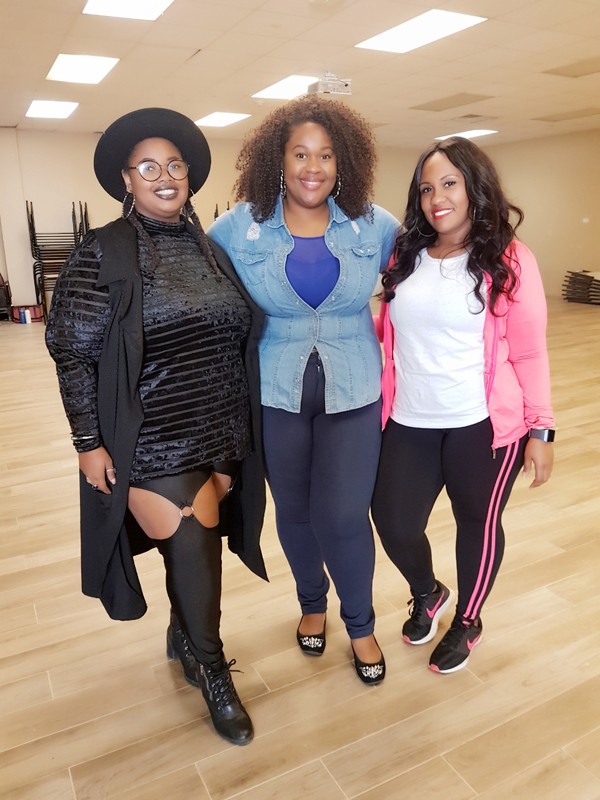 Ms Lake-Waldon told Bernews, "I feel that Bermuda, in general, has lacked an acceptance of plus-size women on a runway. We lack the total acceptance that comes with being a smaller framed model."
Ms Lake-Waldon went on to comment on the lack of representation of "fuller figured" models in Bermudian advertisements and the use of "baggy or oversized clothing" on plus-size models in fashion shows.
"It is very rare that we get to wear clothing that we may actually wear, while the slimmer models have on the up-to-date-styles, the cuter and all-around more interesting outfits," she said, adding, "Bermuda needs to do more to incorporate us into events, shows, and advertisements."
"I hope that by starting ThickMiss BDA and doing more for and with the beautiful plus-size ladies of Bermuda our island can become more plus-friendly."
According to their website, Full Figured Fashion Week [FFFWeek] has expanded to include over 100 partners, including sponsors, independent designers, retailers, boutiques, fashion bloggers, small businesses, and other industry professionals.
It features over 20 events and runway shows highlighting an array of fashion from top retailers, boutiques and designers, and the website says the "success of the event has led it to become the number one networking opportunity for all businesses with products and services for plus size women."
The next Full Figured Fashion Week will be held in New York City from June 18 to June 23; for more information, contact ThickMiss BDA at thickmissbda@gmail.com or via their Facebook or Instagram accounts.

Read More About
Category: All, Business, Entertainment, News, Style & Beauty