Hamilton Underwriting Limited, the managing agency of Syndicate 3334 and the Lloyd's operations of Hamilton Insurance Group, announced the details of a reorganization of its underwriting team.
Pending approval from Lloyd's, the following promotions will take effect:
Head of Specialty Adrian Daws and Head of Direct & Facultative Property Miles Osorio will each assume the position of Active Underwriter, reporting directly to Hamilton Underwriting Limited CEO Dermot O'Donohoe;
Head of Space Sima Adhya will assume the additional position of Deputy Active Underwriter, reporting to Mr. Osorio; and
Senior Underwriter, Direct & Facultative Property Sinead Cormican will assume the position of Head of Property, also reporting to Mr. Osorio.
Head of Professional Indemnity Daniel Prince will report directly to Mr. Daws.
Adrian Daws, Miles Osorio, Sima Adhya, and Sinead Cormican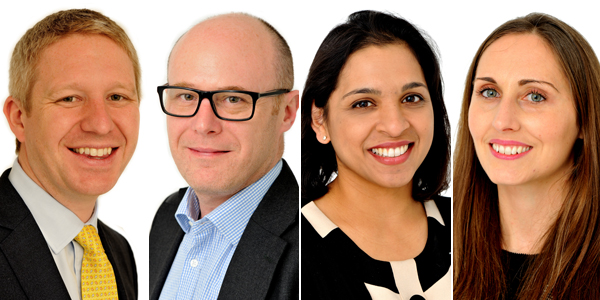 The developments at Hamilton Underwriting Limited follow the resignation of Active Underwriter and Head of Treaty Trevor Carvey and the departure of Deputy Active Underwriter Stuart Quinlan. A search for a Head of Treaty is currently underway.
"Recent changes in the leadership of our underwriting team have presented us with an opportunity to leverage the talent, hard work and commitment at Hamilton," said Mr. O'Donohoe. "We have significant bench strength, and it wasn't difficult to determine where the skills of our underwriters align with our plans for growth and development.
"Trevor has given us six months' notice so we're going to have the benefit of his counsel during the transition period. This will ensure a smooth transition for our brokers and clients and will give those receiving promotions a chance to adjust to their new responsibilities in a timely fashion.
"I want to extend our appreciation to Stuart for his contribution to Hamilton during a period of rapid growth. We wish him well in his future endeavours."

Read More About