MS Amlin AG Bermuda Branch, a global re/insurer with offices in Bermuda, will be the title sponsors of the ITU World Triathlon Series in Bermuda on April 28th, with the event to be branded as the 'MS Amlin World Triathlon Bermuda'.
The prestigious ITU event in Bermuda is the second of eight stops on the World Triathlon Series circuit before the finals in September, 2018.
"With ITU events taking place across the globe and in many countries where MS Amlin has offices and clients, sponsorship of this event appears to be the natural next step for MS Amlin," the company said.
"Elite athletes in the Series will win points to work their way toward the Tokyo Olympics in 2020 where MS&AD, MS Amlin's parent company and a global top-ten insurer, is based."
Rob Wyatt, Pat Phillip-Fairn, Sergio Lottimore, Catherine Wight, Erica Parsons, Natalie Cossar, Sharon Simmons, Richard Neame, Andrew Phelan, Zac Ziegler and Justin Morley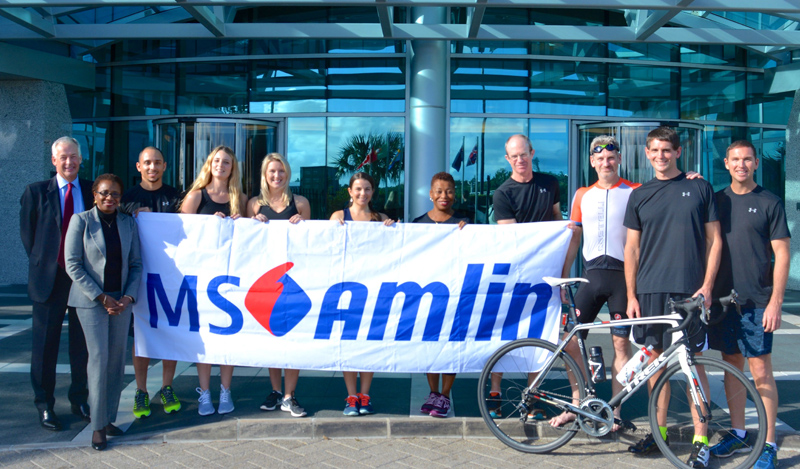 Rob Wyatt, CEO of MS Amlin AG Bermuda Branch, commented: "We are honoured to have been chosen as the Title Sponsor for the first ITU World Triathlon being held here in Bermuda.
"As an active office keen on sport, we are delighted to be lending our support to such a fantastic event – particularly one that resonates with Bermudians thanks to the success of triathletes such as Flora Duffy.
"We hope the event again showcases Bermuda as a wonderful venue for top level sporting activities, inspiring those of all ages to swim, bike and run."
"We are delighted to be partnering with MS Amlin," said Phil Schmidt, Local Organizing Committee Chairman of World Triathlon Bermuda. "MS Amlin stands for quality and fairness in the [re]insurance industry, which are key values for any athlete."
Pat Phillip-Fairn of the Bermuda Tourism Authority also commented: "We look forward to welcoming the world's top athletes and triathlon enthusiasts to experience all that Bermudahas to offer.
"The 'MS Amlin World Triathlon Bermuda' will become a pinnacle event in the triathlon calendar. We are extremely grateful for the generous support of MS Amlin, and we thank them for their partnership, demonstrating their wider, ongoing support for Bermuda."
The event will be hosted in Hamilton on 28th April, 2018, showcasing the island's naturally crystal clear waters and colourful buildings. Bermuda
residents are being encouraged to be out in full force, to proudly support Bermuda's achievement as host and to support reigning eight-time World Champion and Olympian, Bermudian Flora Duffy.
The day will comprise of both the Elite race and the Age Group amateur race, which will attract hundreds of runners. A team of employees from MS Amlin will participate in the amateur Age Group triathlon race, while others in the MS Amlin family will volunteer at the event.
Front Street, Hamilton will be the focus of all racing and MS Amlin's Bermuda offices which will also house the event office, is well positioned on the course. Organisers welcome sports enthusiasts of other disciplines to register and train for the April event, which does not require a qualifying time.

Read More About