Government will reduce payroll tax for those earning less than $96,000, eliminate the employer portion of payroll tax for any disabled employee, and reform the 'notional salaries' payroll tax concept, Premier and Minister of Finance David Burt announced.
Payroll Taxes Are 'Enemy Of Job Creation'
In delivering the 2018 Budget in the House of Assembly, the Premier said, "For as long as I have been speaking in this House, I have been clear that I regard payroll taxes to be the enemy of job creation. Since 2013, the Progressive Labour Party has been consistent in its desire to broaden the tax base away from taxes on labour income only.
Not Implement Tax Increase
"Given this Government's clear desire to increase the number of jobs in Bermuda, the Government will not implement the second phase of the payroll tax increase put forward by the former Government. Accordingly, all employer rates will remain unchanged and will not increase as planned," Premier Burt said.
Tax Reductions For Those Earning Under $96,000
Saying that workers have suffered through wage stagnation and increases in the cost of living, the Premier said "to provide relief to those workers, the Government will adjust the payroll tax employee rate bands to provide tax reductions to those earning less than $96,000.
"The lowest employee band will be reduced from 4.75% to 4% resulting in a working couple earning $48,000 each, or a combined total of $96,000 annually, receiving an increase in their take-home pay of $720.
"Anyone making less than $96,000 will see a reduction in taxes; anyone earning more than $96,000 will not see any change in their payroll taxes."
Chart extracted from Budget showing tax savings under the new rates for select salaries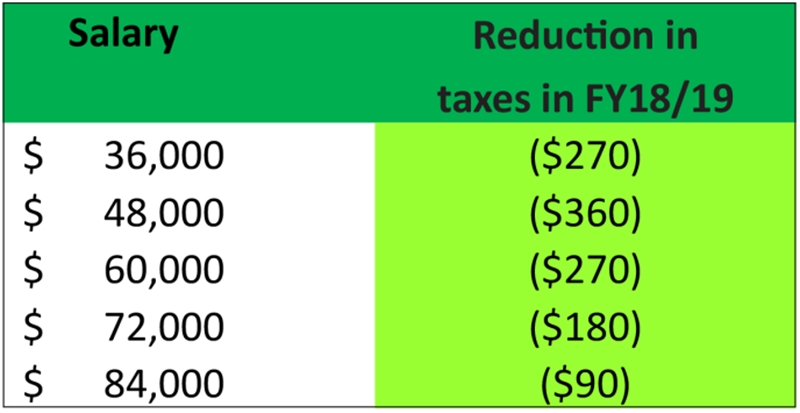 This Change Will Reduce Tax Yield By $5.1 Million
"This reduction in taxes will reduce the Government's payroll tax yield by approximately $5.1 million," the Premier said.

41.7% of Total Government Revenues
Payroll taxes make up a substantial portion of the Government's revenue, with the Premier saying the yield from payroll tax is estimated at $454 million in 2018/19, 41.7% of total Government revenues.
Eliminate Portion Of Payroll Tax for Disabled Employee
Saying the Government "recognises the challenges that persons with disability in Bermuda face," the Premier said to "assist persons with disability in gaining access to employment and to reward those employers who have already hired disabled Bermudians, we will eliminate the employer portion of payroll tax for any disabled employee."
Tax Break For Entrepreneurs In First Year
The Premier said new entrepreneurs who register and meet the criteria established by the Bermuda Economic Development Corporation in the creation of a new business will be exempt from the employer portion of payroll tax for themselves and any employees for the first year of business.
Payroll Tax Reform for Notional Salaries
Premier Burt said, "An often-abused part of the payroll tax system is the application of notional salaries [notionals] for payroll tax purposes in owner-managed businesses. These notionals are applied to 'Deemed Employees' who earn income partly or wholly through sharing the profits of the business instead of only through salaried remuneration.
"As an example, partners in local law and accounting firms may declare a notional salary of $200,000 while they may actually earn $1,000,000 from their business. In this instance, the partner only pays payroll tax on the $200,000 while not paying tax on their remaining earnings.
"The Office of the Tax Commissioner [OTC] has already taken steps to tackle systemic abuses of the declaration and payment of tax based on notional income levels.
"To further address this problem, the Government will amend the Payroll Tax Act 1995 to provide that for all Deemed Employees, the notional salaries will be replaced with a requirement to declare all income received, on a cash basis.
Change Estimated To Increase Payroll Tax Revenues By At Least $10 Million
"This measure would cover all Deemed Employees to ensure that no one group is singled out," Premier Burt said. "This change will improve transparency, assist enforcement, and largely eliminate the risk of under-declaration and under-payment.
"It is estimated that this change will increase payroll tax revenues by at least $10 million."
The 2018 Budget follows below [PDF here]:

Read More About