Bermuda's national debt — which currently stands at approximately $2.5 billion — is the biggest internal pressure we face, according to three local experts.
Bermuda College Economics Senior Lecturer Craig Simmons, Chamber of Commerce President John Wight, and former Business Bermuda CEO Cheryl Packwood recently sat down with Bernews for a panel discussion for the upcoming 2018/19 budget.
To start the discussion, host Jeremy Deacon asked them what they view as the biggest internal pressure the island faces, with all three agreeing that it is the debt.
Chart extracted from the Government's Pre-Budget Report released in January: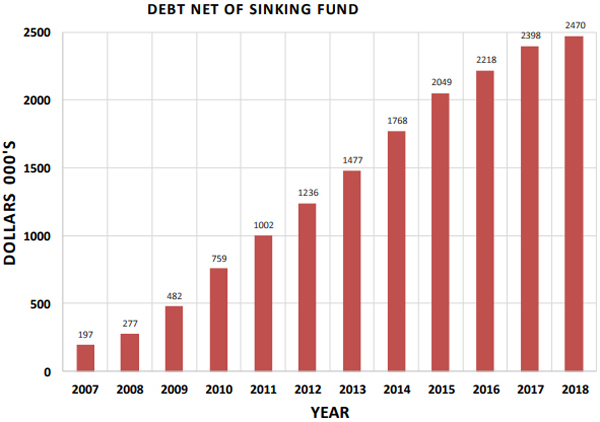 Craig Simmons said, "I would say the debt, because that constrains Government in terms of the social programs that it can offer.
"The recovery has been anemic at best, and I would tend to think that a lot of Governments would like to spend some money, but with our debt to GDP ratio hovering around 40 – 45%, your ability to spend is severely limited. So that's why I would say that the debt is the biggest internal restriction."
"I agree, I think that the debt is the biggest challenge we have," said John Wight. "$500,000 per day we pay for interest on the debt, before we even pay back the debt.
"So I think the challenge for Government will be to grow the economy, while at the same time understanding that we don't have a lot of excess cash to be able to fund some projects."
Extract from the live stream showing the discussion on the debt:
Cheryl Packwood also agreed, saying, "The debt is restraining us from doing the things that we need to do in terms of social programs."
"Debt is not in and of itself a bad thing," she added."If you can service your debt, your debt was supposedly used to do things, build schools, build roads, provide social programs."
"I think part of our biggest challenge is trying to find that vision of how are we going to get out of the crisis we're in," she said, adding that our economy has been constricted and has not grown, and if "we grow this economy, then the debt is no longer a problem."

The video above was extracted from the live video of Bernews panel discussion where the trio discussed the upcoming 2018/19 budget, which is set to be delivered this Friday [Feb 16].You can watch the full video here, view all our coverage of the 2018/19 Budget here, and we will post additional excerpts/transcripts from the panel discussion as able.

Read More About