Officials who put on superyacht racing during the 35th America's Cup last year are back in Bermuda this week to explore new superyacht opportunities on the island.
"The people who put on the Superyacht Regatta and the J Class Regatta during the America's Cup have been looking for the right opportunity to come back to Bermuda almost since the moment they left," said Bermuda Tourism Authority Chief Product & Experiences Development Officer Pat Phillip-Fairn.
"It's great to have them back out here this week re-engaging with stakeholders and learning about Bermuda's strategy as it relates to superyacht tourism. If there's a partnership with Boat International and the J Class Association that makes sense for Bermuda, we could see superyachts dotting our harbours and marinas once again."
ACEA photo of superyachts at the America's Cup Village in 2017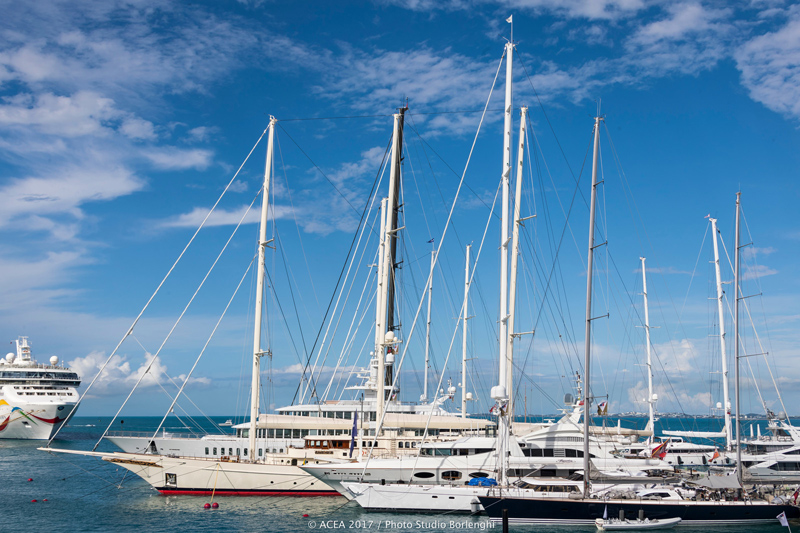 The BTA said, "Earlier this month, the Bermuda Tourism Authority and the Government of Bermuda made a public presentation on the planned way forward for a superyacht tourism industry in Bermuda, which includes proposed legislative changes to make the island more competitive when compared to other jurisdictions.
"Since last summer, there has been extensive community engagement on the subject and dialogue with superyacht captains who visited for the America's Cup.
A look at the America's Cup Superyacht Regatta in 2017
"One-hundred superyachts [vessels >30 meters] visited Bermuda during the 35th America's Cup [May 26 to June 30, 2017].
"Of that amount, there were eight J-Class boats that travelled to Bermuda, a remarkable number given there are only ten of them in the world. J-Class is the majestic class of sailboat that raced in the America's Cup back in the 1930s and 40s.
"According to a PwC economic report on the America's Cup, superyachts and other visiting vessels infused more than $14 million into the local economy."

Read More About