Bermuda has been featured as a "playground" for the superyachting community by JamaqueParadis Magazine, a publication known for its placement in hotels and VIP lounges in the Caribbean, with the article noting that the luxury boat owners were "particularly appreciative of the privacy that Bermuda offers" and the "lifestyle of understated luxury."
The article opens by saying, "Many of the world's largest luxury yachts gathered in Bermuda, attracted by the 35th America's Cup and what has been described as the event's most beautiful host venue ever."
Screenshot from the magazine article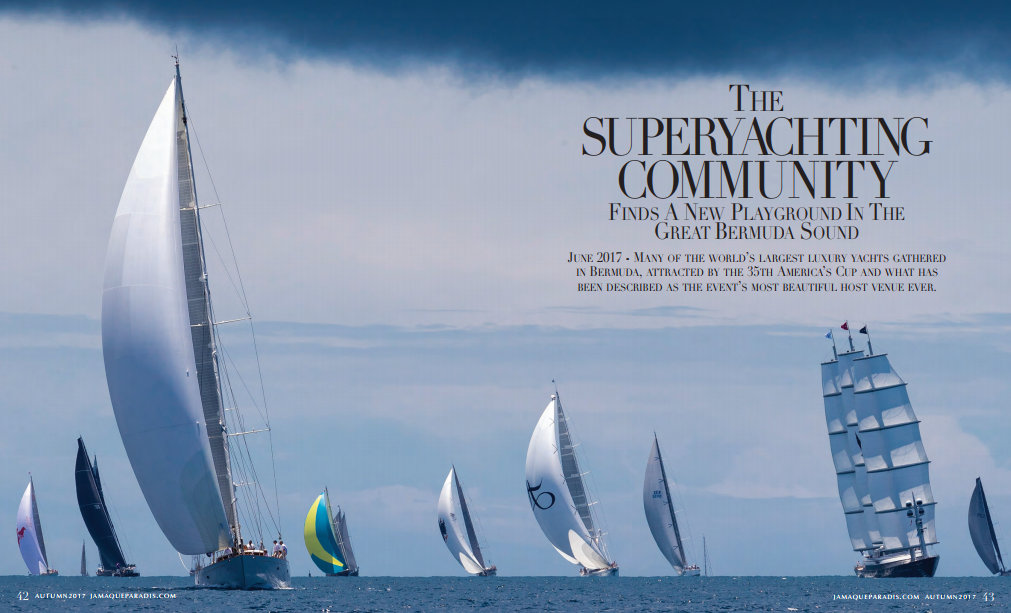 "The marina facilities were reported as well equipped with knowledgeable staff, the Hamilton Princess Marina had resoundingly high reviews and a temporary dock space during the staging of the America's Cup at Hamilton Harbour on Front Street was also popular," the article notes.
"Owners were particularly appreciative of the privacy that Bermuda offers, a lifestyle of understated luxury where residents respect the privacy of high net worth individuals.
"Captains say they discovered the ease of moving around the island and they were pleasantly surprised by the distinctively different experiences available in the ports of Dockyard, Hamilton, and St. George's.
"They were of course also enamoured with the good sailing conditions, flat water, deep harbours, and the depth of experience of local race management personnel."
The magazine's description says, "Published quarterly, this luxury lifestyle magazine is distributed to global connoisseurs, tastemakers and people of influence — connecting, captivating, and celebrating the 'elevated lifestyles' of the Caribbean and global luxury.
"Paradis is available acrosss the French, Dutch, Spanish and English speaking Caribbean at 5 Diamond Resorts, VIP and First Class Lounges in Panama, St. Lucia, Curacao, Jamaica, Barbados, and private banking office across the Caribbean. It is also available in VIP Lounges at Luxury Trade Fairs around the world."
The magazine's cover and article on Bermuda follows below [PDF here]:

Read More About