While speaking at the recent Offshore Alert conference, former Finance Minister Bob Richards pointed out the "inherent inconsistency" that the ICIJ's positioned itself as the "arbiter of the privacy rights" of the people in the Paradise Papers, but at the same time protected the privacy of the source who obtained the documents.
This is according to an editorial from the Cayman Compass, who had some strong words about the matter, saying "such hypocrisy is nothing short of stunning."
Mr Richards, recently spoke at the conference in Miami, as did former Premier Michael Dunkley, who made a similar point in a tweet.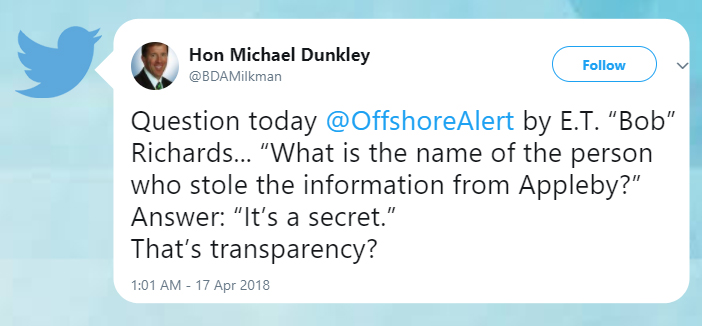 The Cayman Compass editorial said, "The 'Panama Papers' and 'Paradise Papers' exposés generated headlines around the world and garnered prestigious awards, including last year's Pulitzer Prize.
"Amid a near-universal chorus of self-congratulatory applause from within the media industry, we at the Cayman Compass have remained with our hands folded politely in our laps.
"As a news organization based in one of these so-called 'nefarious tax havens,' we dissent from our journalistic brethren and, further, deplore and condemn the practice of publishing stolen privileged documents and correspondence between law firms and their clients. Appleby, a victim of the latest theft, appropriately is suing.
"One of the most shocking aspects of the reports on the Panama Papers – and the Paradise Papers – is the dearth of demonstrable illegal activity that has been uncovered," they added, saying, "much of the investigatory reported consisted of 'outing' celebrities, wealthy individuals and organizations as innocuous clients in the global financial system."
"In our opinion, the most secretive, outrageous and underreported part of the story is the so-called 'leak' – or as Appleby's Global Managing Partner Michael O'Connell phrased it, 'an illegal theft' – of the documents in the first place.
"At a panel including two key figures from the ICIJ at the recent OffshoreAlert Conference in Miami, former Bermuda Finance Minister Bob Richards pointed out the inherent inconsistency of the ICIJ's position – that it had positioned itself as the arbiter of the privacy rights of the hundreds of individuals and companies appearing in the 'purloined papers,' but at the same time had elected to protect the privacy of the source from whom it had obtained the documents.
"The ICIJ panelists responded that exposing the 'secrecy' of the offshore world was in the 'public interest' [the most murky and subjective of phrases], but somehow the source of the documents was not. Such hypocrisy is nothing short of stunning."
You can read the full editorial here on the the Cayman Compass.

Read More About