Lamont Marshall and Nikki Butterfield are the 2018 Bermuda Day Half Marathon Derby Male and Female Champions.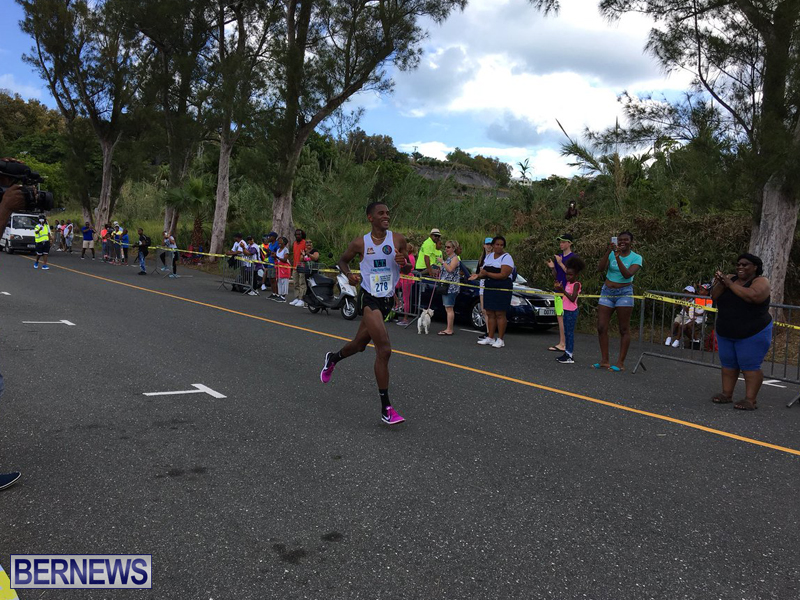 Marshall was clocked in a time of 1:14:41, Sean Trott was second in a time of 1:19:08, and Seamus Fearon rounded out the top three clocking 1:20.40.
Butterfield finished at the first woman and 22nd overall with a time of 1:33.20, Butterfield was followed across the line by Christine Dailey who was 27th overall clocking 1:234:07 and Martina Olcheski-Bell was the third female finisher and 30th overall with a time of 1:35:12.
The full Bermuda Day Half-Marathon results follow below:
Individual Race
1 (*****) Lamont Marshall 1:14:41
2 (*****) Sean Trott 1:19:08
3 (*****) Seamus Fearon 1:20:40
4 (1) Christopher Harris 1:23:00
5 (1) Dennis Mbelenzi 1:23:54
6 (2) Moses Mufandaedza 1:26:53
7 (3) Lucas Barton 1:27:43
8 (4) Artur Paulino 1:28:16
9 (5) Maritz Theron 1:28:21
10 (6) Sammy Degraff 1:28:51
11 (1) Glen Wilks 1:28:54
12 (7) Andrew Simons 1:28:54
13 (8) Kris Hedges 1:29:05
14 (9) Jason Williams 1:29:32
15 (10) Kanaz Tuzo 1:31:48
16 (2) Omari Hart 1:31:53
17 (3) Peter Gracey 1:32:16
18 (11) Chayce Smith 1:32:34
19 (12) Massimo Tarulli 1:32:44
20 (4) Alvaro Lutucuta 1:32:58
21 (13) Tom Cooper 1:33:15
22 (*****) Nikki Butterfield 1:33:20
23 (14) Allan Fox 1:33:26
24 (5) Tom Booth 1:33:46
25 (15) Chris Fosker 1:33:55
26 (6) Darryl Herrick 1:34:03
27 (*****) Christine Dailey 1:34:07
28 (16) Jonas Muir Wood 1:35:05
29 (17) Reilly McGreen 1:35:08
30 (*****) Martina Olcheski-Bell 1:35:12
31 (18) Adrian Stromberg 1:36:03
32 (19) Ryan Gibbons 1:36:17
33 (20) Nathaniel Hartwig 1:36:40
34 (21) Teddy Shum 1:36:40
35 (7) David Gazzard 1:37:01
36 (22) Kyle Harvey 1:37:06
37 (1) Gayle Lindsay 1:37:18
38 (23) Warren Miller 1:37:23
39 (24) Domico Watson 1:37:46
40 (1) Akim Johnston 1:38:07
41 (1) Deon Breary 1:38:16
42 (25) Jonathan Ball 1:38:19
43 (26) David McHugh 1:38:21
44 (27) Ciaran Keaveny 1:38:30
45 (28) Alexander Winfield 1:38:32
46 (8) James Roberts 1:38:33
47 (29) Michael Toyer 1:38:42
48 (30) Will Green 1:39:05
49 (31) Sam Butler 1:40:00
50 (32) Mike Schindel 1:40:07
51 (9) Philip Mace 1:40:07
52 (1) Sonya Burrows 1:40:08
53 (33) Michael Ward 1:40:47
54 (34) Zico Majors 1:40:59
55 (10) Phil Alvey 1:41:05
56 (1) Stanley Greenslade 1:41:07
57 (2) Geoffrey Blee 1:41:32
58 (35) Damon Ming 1:41:38
59 (36) Eugene Simmons 1:41:45
60 (37) Joseph Obadha 1:42:10
61 (38) Frank Morgan 1:42:20
62 (39) Ricky Sousa 1:42:54
63 (2) Victoria Fiddick 1:43:05
64 (40) Micah Franklin 1:43:09
65 (41) Richard Fulton 1:43:12
66 (3) Ricky Sousa 1:43:21
67 (42) Nicholas Tenorio 1:43:30
68 (43) Jack Higson 1:43:43
69 (11) Frederick Phillips 1:43:47
70 (12) Benjamin Lau 1:43:56
71 (44) Nicholas Taylor 1:44:06
72 (13) Gerald Gakundi 1:44:08
73 (45) Vaughan Van Oudtshoorn 1:44:11
74 (46) Raul Villalba Van Dijk 1:44:21
75 (47) Neil Burt 1:44:30
76 (48) Tracey Steede 1:44:45
77 (49) Jonathan Briers 1:44:56
78 (50) Shay Brown 1:44:58
79 (4) Derek Thomas 1:45:26
80 (51) Chris Nusum 1:45:50
81 (14) Stephen Paynter 1:45:53
82 (5) Alex McLaughlin 1:45:59
83 (2) Vivienne Lochhead 1:46:02
84 (2) Gemma Holden 1:46:26
85 (3) Anna Laura Hocking 1:46:42
86 (52) Chris Parry 1:46:48
87 (4) Tracey Sutherland 1:46:51
88 (53) Dustin Luck 1:47:07
89 (15) Nirobi Smith 1:47:20
90 (16) Timothy Patterson 1:48:23
91 (6) Jay Riihiluoma 1:48:37
92 (7) Calvin Steede 1:48:40
93 (17) Jeremy Burnham 1:48:43
94 (54) Damian Pitcher 1:48:48
95 (18) Chase Toogood 1:48:51
96 (19) Philip Matthews 1:48:51
97 (3) Stepanka Sprincova 1:49:13
98 (20) Dave Wolffe 1:49:22
99 (21) Colm Homan 1:49:24
100 (55) Damian Cooper 1:49:30
101 (56) Jamarley Samuels 1:49:38
102 (4) Suzanne Socki 1:49:40
103 (5) Liz Coates 1:49:51
104 (22) Mark Harris 1:49:56
105 (57) Darin Cassidy 1:50:04
106 (5) Nicole Andreasen 1:50:04
107 (2) Larry Hodge 1:50:09
108 (2) Marcus Brangman 1:50:14
109 (23) Craig Rothwell 1:50:20
110 (8) Carlo Pinardi 1:50:24
111 (6) Sarah Thompson 1:50:26
112 (58) Price Smith 1:50:31
113 (59) Scott Cobon 1:50:53
114 (9) Rolondo Wilson 1:51:00
115 (7) Shariene Sousa 1:51:19
116 (1) Christina Westholm-Schroder 1:51:31
117 (8) Sharon Hammond 1:51:37
118 (3) Frederick Steede 1:51:38
119 (24) Stafford Lowe 1:51:40
120 (6) Catherine Matthews 1:51:44
121 (3) Claire De Ste Croix 1:51:48
122 (60) Scott Parish 1:51:51
123 (9) Laurie Orchard 1:51:58
124 (25) Chris Allington 1:52:06
125 (7) Giselle Yeung 1:52:11
126 (61) Paolo Fiandesio 1:52:12
127 (26) Steven Pegg 1:52:52
128 (1) Kayla Raymond 1:52:58
129 (62) Azende Furbert 1:53:02
130 (63) Shawn Swainson 1:53:18
131 (8) Leana Coetsee 1:53:19
132 (9) Christina Brigati 1:53:19
133 (27) David Soutter 1:53:25
134 (64) Evan Faulkenberry 1:53:27
135 (10) Melissa Drea 1:53:35
136 (65) Benjamin Zoellner 1:53:47
137 (3) Psalmj Darrell 1:53:57
138 (28) Stelian Dragan 1:54:36
139 (1) Antun Duzevic 1:54:38
140 (66) Steven McGuinness 1:54:44
141 (10) Laura Knox-Clingerman 1:54:52
142 (67) Paul Harris 1:54:55
143 (4) Yuko Ebata 1:55:02
144 (10) Scott Neil 1:55:18
145 (11) Renuka Darjee 1:55:34
146 (68) Nicholas Butterfield 1:55:40
147 (12) Kathleen Thompson 1:55:49
148 (69) Bruno Teixeira 1:55:55
149 (4) Anthony Prentice 1:55:55
150 (29) Jun Quero 1:55:56
151 (70) Lee Timothy 1:55:57
152 (13) Jennifer Lahey 1:56:01
153 (71) Jonas Schroder 1:56:16
154 (72) Aidan Gorman 1:56:17
155 (5) Mark Albouy 1:56:21
156 (73) Nigel Lee 1:56:29
157 (74) Trent Daniels 1:56:29
158 (75) Chris Desilva 1:56:34
159 (14) Alejandra Castano 1:56:41
160 (15) Elizabeth Madeiros 1:56:48
161 (76) Brian Amaro 1:56:58
162 (16) Jenni Simpson 1:57:01
163 (77) Andrew Kirkpatrick 1:57:03
164 (78) Sergio Edness 1:57:11
165 (79) Florin Teleman 1:57:24
166 (80) Patrick Graham 1:57:28
167 (17) Allie Parry 1:57:52
168 (81) Shane Dietz 1:57:54
169 (82) Justin Hunt 1:58:00
170 (30) Jayson Dill 1:58:04
171 (83) Shannon Kelly 1:58:05
172 (18) Tammy Hall 1:58:18
173 (31) Brian McGonagle 1:58:40
174 (11) Gianina Tescu 1:58:44
175 (19) Lauren Gross 1:58:53
176 (84) Shawn Hassell 1:59:02
177 (12) Jamie Donnelly 1:59:04
178 (85) Coolidge Durham 1:59:19
179 (32) Neal Trott 1:59:22
180 (86) Dylan Marshall 1:59:26
181 (87) Christopher Ford 1:59:26
182 (20) Sioned Butler 1:59:29
183 (88) David Stewart 1:59:31
184 (33) Rodrick Newman 1:59:53
185 (13) Jenene Douglas 1:59:54
186 (21) Sheikia Ming 1:59:55
187 (22) Caroline Hewitt 2:00:06
188 (34) Kevin Glave 2:00:17
189 (35) Jermaine Hayward 2:00:18
190 (14) Elizabeth Harris 2:00:25
191 (5) Maureen O'Higgins 2:00:38
192 (11) Mark Lima 2:01:10
193 (36) Ronan O'Connell 2:01:18
194 (23) Kimberly McIvor 2:01:25
195 (12) Reuben Mallory 2:01:27
196 (13) Martin Hassell 2:01:42
197 (14) William Sayasith 2:01:57
198 (24) Magda Ward 2:02:04
199 (89) Ernest Signor 2:02:13
200 (90) Neal Towlson 2:02:22
201 (91) Nadir Wade 2:02:25
202 (37) Gavin O'Connor 2:02:28
203 (15) William Desilva Jr 2:02:34
204 (38) Jonathan Bashforth 2:03:03
205 (25) Leila Wadson 2:03:05
206 (92) Tyree Armstrong 2:03:08
207 (15) Deirdre O'Hanlon 2:03:10
208 (26) Latroya Darrell 2:03:25
209 (93) Riley McLaughlin 2:03:25
210 (39) Raschid Alami-Merrouni 2:03:27
211 (16) Mitchell Trott 2:03:33
212 (40) James Dodgson 2:03:35
213 (17) Clarence Hofheins 2:03:51
214 (94) Jean-Franois Huertas 2:04:01
215 (41) Brian McDevitt 2:04:04
216 (95) Loxly Ricketts 2:04:06
217 (27) Gemma McGeever 2:04:16
218 (28) Alexandra Mellor 2:04:52
219 (96) Pierre Smith 2:04:56
220 (97) Adam Laing 2:05:07
221 (98) Michael Lindsay-Bayley 2:05:12
222 (99) Jc Matthee 2:05:19
223 (42) Usseff Eve 2:05:33
224 (43) Teru Shimbara 2:05:38
225 (100) Edwin Kariuki 2:05:42
226 (18) John Mills 2:05:57
227 (44) David Friston 2:05:59
228 (45) Edmund Furbert 2:06:11
229 (19) Edward Harris 2:06:19
230 (4) Sion Symonds 2:06:29
231 (6) Kate Tomkins 2:06:34
232 (46) Ricardo Maybury 2:06:36
233 (101) Edward Mishambi 2:06:42
234 (47) Robin Holder 2:06:46
235 (7) Tanya Johnson 2:06:52
236 (102) Campbell Duffy 2:06:53
237 (29) Jessica McLennan 2:07:04
238 (16) Nadia Dattilo 2:07:17
239 (17) Megan Denos 2:07:19
240 (103) James Gadsby-Bruce 2:07:28
241 (104) Aaron Fenn 2:07:30
242 (30) Ayana Harvey 2:07:36
243 (20) Eddie Benjamin 2:08:36
244 (48) Richard Hazel 2:08:38
245 (105) Dean MacMillan 2:08:57
246 (49) Raphael Simons 2:08:58
247 (106) Stephen Wallace 2:09:13
248 (21) Milan Oleksak 2:09:20
249 (50) Marc Johnson 2:09:38
250 (31) Ashley Pimentel 2:09:42
251 (6) Rodney Caines 2:09:46
252 (22) Joe Barbosa 2:10:08
253 (107) Alex Brogden 2:10:10
254 (18) Sandra Whalley 2:10:16
255 (108) Timothy Kandie 2:10:17
256 (109) Kevin Arruda 2:10:34
257 (110) David Wilkinson 2:10:41
258 (19) Kymette Rossouw 2:10:52
259 (111) Kentone Trott 2:10:58
260 (20) Fiona Lines 2:11:04
261 (112) Eugene Stoneham 2:11:05
262 (21) Anna Neilson-Williams 2:11:09
263 (113) Justus Anderson 2:11:20
264 (23) Wendell Anderson 2:11:21
265 (24) David Cooke 2:11:39
266 (32) Catherine Cooke 2:11:39
267 (51) Tim Stewart 2:11:48
268 (114) Florin Radu 2:11:55
269 (115) Jonathan Cabral 2:11:59
270 (52) Andrew Exell 2:12:11
271 (53) Raul Khan 2:12:31
272 (33) Melody Greenslade 2:12:32
273 (54) Jasan Smith 2:12:48
274 (116) Brian McDaniel 2:13:03
275 (22) Tina Rowse 2:13:17
276 (34) Keishae Robinson 2:13:21
277 (35) Kate Winters 2:13:27
278 (117) Nuri Hunter Latham 2:13:30
279 (25) Brian McNamara 2:13:31
280 (36) Chinue Lambert 2:13:37
281 (37) Lucy Hollis 2:13:43
282 (26) Jheri Wade 2:13:47
283 (7) Ian Hind 2:13:50
284 (38) Carmen D'Urzo 2:13:57
285 (118) Michael Williams 2:14:01
286 (39) Jayne Henderson 2:14:07
287 (40) Gretchen Goodbody-Gringley 2:14:10
288 (41) Ali Hochberg 2:14:10
289 (8) Zina Jones 2:14:17
290 (2) David Williams 2:14:17
291 (55) Christopher Myles 2:14:40
292 (42) Jasmineblaire Butterfield 2:14:48
293 (56) Chris Naylor 2:14:53
294 (57) Jamal Albuoy 2:15:13
295 (43) Kirsten Wideman 2:15:16
296 (58) David Collette 2:15:31
297 (59) Michael Daniel 2:15:51
298 (5) Judah Chapman 2:16:07
299 (9) Glennis Butterfield 2:16:12
300 (44) Caroline Davies 2:16:15
301 (45) Ioana Fanuica 2:16:20
302 (46) Denisa Ilea 2:16:20
303 (47) Sarah Dunstan 2:16:20
304 (27) Anthony Raynor 2:16:24
305 (119) Andre Bolotenko 2:16:26
306 (28) Rene Notter 2:16:37
307 (23) Huda Eraif 2:16:48
308 (24) Alexandra Porter 2:16:49
309 (120) Jose Gonzalez 2:17:02
310 (29) Mark P. Schulze 2:17:19
311 (60) Charles Llewellyn-Jones 2:17:21
312 (25) Anna Kerr 2:17:30
313 (121) Ronald Denbrook 2:18:02
314 (26) Dee-Ah Iris 2:18:33
315 (27) Sheila Gazzard 2:18:34
316 (122) Abera Outerbridge 2:18:36
317 (30) Christopher Taylor 2:18:42
318 (48) Rachael Ward 2:18:45
319 (49) Diana Li 2:18:54
320 (123) Matthew Beasley 2:19:09
321 (50) Elizabeth Ellis 2:19:10
322 (28) Cindy Fisher 2:19:17
323 (124) Trevor Nelson 2:19:33
324 (51) Rachel Ahereza 2:19:39
325 (52) Yvette Djani 2:19:39
326 (53) Catherine Wight 2:19:48
327 (54) Sarah Wight 2:19:48
328 (31) John Wight 2:19:48
329 (29) Catherine Burns 2:19:50
330 (55) Heather Nicholds 2:20:02
331 (125) Andre Philpott 2:20:09
332 (126) Ryan Davies 2:20:13
333 (56) Hillary Rand 2:20:14
334 (57) Sally Teixeira 2:20:32
335 (127) Michael Bartley 2:20:35
336 (10) Dodi Mason 2:20:37
337 (58) Frances Smith 2:20:51
338 (128) Matthew Hollis Smith 2:20:58
339 (32) Carlton Richardson 2:21:18
340 (129) Thomas Smith 2:21:21
341 (59) Melinda Decosta 2:21:26
342 (60) Rebecca Higgins 2:21:32
343 (2) Barbara Clemens 2:21:54
344 (61) Jennifer Pitcher 2:22:05
345 (130) Juan Pablo Cordova 2:22:08
346 (62) Feven Binega-Northcott 2:22:15
347 (8) Struan Smith 2:22:16
348 (11) Michelle Berkeley 2:22:18
349 (61) Dwight Jackson 2:22:24
350 (131) Jahvon Mallory 2:22:25
351 (62) Kofi Takyi 2:22:27
352 (30) Elizabeth Deacon 2:22:36
353 (132) Grant Emery 2:22:37
354 (63) Paul Higgins 2:22:37
355 (63) Chantelle McArthur 2:22:46
356 (9) Leroy Wilson 2:23:07
357 (64) Elizabeth Valencia 2:23:11
358 (65) Lalita Vaswani 2:23:14
359 (66) Dalila Monterrosa 2:23:24
360 (6) Kyrun Zuill 2:23:26
361 (67) Jacqueline Hudspeth 2:23:34
362 (64) Jacob Smith 2:23:39
363 (33) Kevin Davies 2:23:42
364 (34) Larry Mussenden 2:23:47
365 (68) Jennifer Gazzard 2:23:50
366 (133) Unday Smith 2:23:56
367 (134) Andrew Cottingham 2:24:01
368 (135) Rafael Emmi 2:24:08
369 (69) Megan Mahoney 2:24:21
370 (12) Myrian Balitian-Dill 2:24:23
371 (13) Marla Smith 2:24:38
372 (35) Philip Roque 2:24:40
373 (36) Paul Gilmour 2:24:49
374 (136) James Gilmour 2:24:50
375 (137) Malik Cann 2:24:51
376 (138) Ankoma Cannonier 2:24:52
377 (37) Bil Krauss 2:25:28
378 (65) Gary Bright 2:25:47
379 (38) Timothy Paul 2:26:01
380 (70) Nicole Palle 2:26:06
381 (39) Michael Looby 2:26:18
382 (66) Jack Finlay 2:26:27
383 (139) Mark Dunlop 2:26:30
384 (71) Jordan Bascome 2:26:31
385 (67) Eric Bean 2:26:31
386 (3) D. Barbara J Smith 2:26:34
387 (68) Ellington Weldon 2:26:36
388 (140) Kyle Deroza 2:27:20
389 (40) Shawn Simmons 2:27:38
390 (31) Samantha Price 2:27:50
391 (72) Marissa Trott 2:28:17
392 (141) Laurence McNaughton 2:28:18
393 (69) Alun Thomas 2:28:20
394 (73) Cindy Jarvis 2:28:42
395 (142) Brendon Welsh 2:28:58
396 (143) Mike Viotti 2:29:03
397 (70) Najee Woods 2:29:05
398 (32) Natalie Dyrli 2:29:09
399 (33) Alshia Lugo 2:29:18
400 (144) Khayriek Woolridge 2:29:39
401 (34) Kim Raymond 2:29:57
402 (145) Ryann De Vera 2:30:04
403 (146) Liam Evans 2:30:12
404 (74) Hester Breen 2:30:14
405 (14) Aprille Deshield 2:30:24
406 (35) Liza Taylor 2:30:26
407 (4) Mayberline Black 2:30:39
408 (71) Henry Adderley 2:31:10
409 (41) Jose Andrade 2:31:21
410 (147) Jacob Muchiri 2:32:08
411 (148) Van Dyke M. Bean 2:32:11
412 (36) Nancy Andrews-Sousa 2:32:13
413 (37) Tina Adderley 2:32:18
414 (42) Vincent Belboda 2:32:30
415 (38) Caroline Stockdale 2:32:42
416 (7) Alnique Simmons 2:32:42
417 (3) Raymond Swan 2:32:55
418 (72) Javier Otamendi 2:33:08
419 (43) Glenn Simons 2:33:40
420 (5) Edwina Arorash 2:33:50
421 (149) Dantae Williams 2:33:52
422 (75) Naomi Taylor 2:34:18
423 (150) Keith Szmierek 2:34:18
424 (10) George H. Gibbons 2:34:54
425 (151) Roderick Nesbitt 2:34:56
426 (152) Alexander Davis 2:35:27
427 (39) Lisa Murray 2:35:31
428 (153) Cody Stoneham 2:35:34
429 (154) Kellan Desilva 2:35:38
430 (76) Krystal Williams 2:36:03
431 (11) Charles Harvey 2:36:28
432 (2) Freyja Kermode 2:36:42
433 (40) Anne Kermode 2:36:42
434 (15) Rochelle Wilkinson 2:37:04
435 (41) Christine Joell 2:37:12
436 (42) Elanor Daniel 2:37:25
437 (6) Florence Sharpe 2:38:43
438 (77) Ashley Johnson 2:38:53
439 (155) Jordan Johnson 2:38:53
440 (16) Carol Griffith 2:38:59
441 (44) Andrew Howden 2:39:16
442 (43) Nicole Rozon 2:39:16
443 (44) Donna Howden 2:39:16
444 (45) Claire Harness 2:39:16
445 (78) Cassy Blake 2:40:48
446 (79) Rachael Waldron 2:41:48
447 (80) Famella Haryanto 2:41:48
448 (46) M N Nathalie Moura 2:41:49
449 (73) Warwick Bear 2:42:35
450 (47) Suzanne Moniz 2:42:42
451 (3) Danielle Foote 2:43:09
452 (81) Geeta Darjee 2:43:17
453 (12) Joseph Matthew 2:44:14
454 (156) Nick Smith 2:44:15
455 (82) Monidipa Chatterjee 2:44:22
456 (83) Jana Outerbridge 2:44:53
457 (45) Murali Dharan 2:45:22
458 (157) Sivakumar Senthamaraikannan 2:45:39
459 (48) Rachel Ball 2:45:46
460 (74) Jeffrey Tyrrell 2:46:09
461 (13) Edwin P. Smith 2:46:26
462 (75) Nashon Burrows 2:47:09
463 (158) Eduardo Villalobos 2:47:25
464 (17) Lola Ogunyemi 2:47:46
465 (8) Yassine Chentouf 2:47:46
466 (76) Najib Chentouf 2:47:49
467 (4) Zoe Skinner 2:48:13
468 (46) Jp Skinner 2:48:13
469 (49) Teresa Gallant 2:49:04
470 (159) Zed Scott 2:49:07
471 (47) Michael Wellman 2:49:43
472 (84) Nicole Toppin 2:50:10
473 (85) Sharmaine Landy 2:50:20
474 (77) Chris Fagg 2:50:55
475 (86) Alice Cedenio 2:51:28
476 (78) Jaime Cedenio 2:51:28
477 (50) Carol Redahan 2:52:07
478 (7) Gina Bradshaw 2:52:07
479 (4) Ray Medeiros 2:52:07
480 (18) Sherry Tucker 2:52:14
481 (14) Stanley Murphy 2:53:06
482 (19) Karen Pearman 2:53:06
483 (87) Iesha Musson 2:53:07
484 (15) Edward Rawlins 2:53:57
485 (16) Brent Simmons 2:54:10
486 (88) Kayla Gronkowski 2:55:29
487 (8) Gilda Cann 2:56:17
488 (20) Rose Kavalineas 2:56:31
489 (21) Charlie Oleksak 2:56:31
490 (89) Kristelle Alvarez 2:56:32
491 (22) Keitha Wallace 2:56:41
492 (90) Janae Smith 2:57:19
493 (91) Michelle Monish 2:57:26
494 (79) Paul Lambert 2:57:34
495 (51) Richelene Woolridge 2:58:14
496 (92) Nina Ndebele 2:58:35
497 (160) James Robinson 2:58:54
498 (5) Deonna Hill 2:58:55
499 (80) Ralshon Douglas 2:59:25
500 (52) Shelley Lewis 3:00:31
501 (23) Cherylle Swan-Simons 3:01:10
502 (53) Vanessa Taylor 3:01:14
503 (93) Laura Sanderson 3:02:32
504 (94) Susan Robinson 3:05:03
505 (9) Kimberley Smith 3:05:04
506 (24) Andrene Pitcher 3:05:04
507 (9) Jade Spencer 3:07:59
508 (81) Malcolm Dill 3:08:14
509 (82) Kevin Hands 3:10:00
510 (10) Marsha L. Burrows 3:10:06
511 (83) Kendrick Zuill 3:15:57
512 (25) Marie Trott 3:16:02
513 (95) Keshia Blake 3:19:02
514 (5) Millard A. Lightbourne 3:19:20
515 (48) Fitzgerald Richardson 3:20:42
516 (17) Andre Lee Symonds 3:21:02
517 (26) Beverly Marshall 3:22:13
518 (96) Victoria Eldridge 3:22:35
519 (49) Mark Eldridge 3:22:35
520 (161) Ibrahim Yousef 3:23:09
521 (97) Michelle E. 3:25:01
522 (84) Brendon Harris 3:26:51
523 (11) Donna Mae Arorash 3:28:16
524 (1) Brenda Drayton 3:30:12
525 (54) Linnell Williams 3:33:05
526 (98) Emily Kiruki 3:33:38
527 (18) Paul Hodgson 3:34:19
528 (85) Delano Talbot 3:36:52
529 (162) Tareek Somner 3:36:53
530 (27) Ruby Dill 3:38:14
531 (28) Kimaire Burns 3:38:28
532 (19) Raymond Ivan Ming 3:55:04
533 (50) Larry Spence 3:58:24
534 (55) Theresa Bean 4:15:03
Open Teams
1 Thicker Than a Snicker 1:23:01
2 Berkeley Alum III 1:33:35
3 #Tremendous 1:34:21
4 Legends 1:37:54
5 Feeling Hopeful! 1:45:56
6 The last minute 1:47:20
7 The Theme from Jurassic Park 1:48:33
8 Hardtman 3 plus 1 1:49:03
9 Gang Gang 1:49:37
10 The Mankinis 1:50:47
11 HKJT 1:54:37
12 Berkeley Alumni I 1:57:01
13 Miles to Martinis 1:58:11
14 Berkeley Alumni II 1:58:45
15 4 B-Active 1:58:50
16 The Quick & the Dead 2:00:15
17 Butterfield & Vallis 2:01:54
18 Girls on the Run 2:02:34
19 #Not Tremendous 2:02:50
20 Sumfin Guwud 2:03:13
21 Suns Out Buns Out 2:03:32
22 Non-Racers 2:05:35
23 Holistic Fitness BDA 2:06:12
24 The Young and the Ageless 2:08:48
25 Old and slow 2:09:06
26 Run Like The Winded 2:10:06
27 Friends of Hope 1 2:11:43
28 Ryan's Racers 2:12:40
29 Will run for Prosecco 2:17:31
30 Thomas' Family 2:18:20
31 Girls On A Run 2:19:07
32 Happy feet 2:19:42
33 KKiSS 2:23:02
34 Team Port Royal/BEN 2:23:17
35 3 ladies and a bass player 2:25:48
36 Phenomenal Women 2:28:43
37 Kiskadees 2:37:50
38 Not fast, Just furious 2:37:57
39 Sweet Sole Sisters 2:50:37
40 Moms Run Too 3:01:56
Club/Corporate Team
1 Bermuda Pacers Track Club 1:22:45
2 Bermuda Refs 1:41:25
3 Orbis 1 1:44:20
4 Food and Drug Interactions 1:47:38
5 Renegades RFC 1:48:58
6 Team CFBDA_SU 1:51:01
7 JLT 1:51:36
8 Lindos 1:52:27
9 EY 2 1:52:49
10 Ariel-GC Re 1:58:14
11 Markel CATCo 1:59:08
12 Orbis 2 1:59:26
13 #Tremendous-er 1:59:36
14 The Sports Source 1:59:48
15 Centaurions 2:00:31
16 ATH-letes 2:02:26
17 Fed Cup 2:02:27
18 The Lung and the Breathless 2:05:52
19 EY- Catch me if you can 2:06:45
20 TRFC – Conor & Sons 2:09:45
21 EY 2:09:46
22 HSBC Bank Bermuda 2:11:53
23 Now you HSBC us, now you don't! 2:12:58
24 BUT FOUNDERS 2:14:02
25 Warwick Bears 2:14:56
26 Teachers Rugby United Nations 2:15:46
27 HINDSSIGHT 2 2:17:16
28 HINDSSIGHT 3 2:17:31
29 HINDSSIGHT 2:20:36
30 Teachers Ladies 2:22:45
31 MAWI – TEAM A 2:28:30
32 Smiles inc 1 2:37:11
33 MAWI – TEAM B 2:39:56
34 EY Monsters 2:40:03
35 BHB Bengay Warriors 2:40:21
36 Run ESC 2:41:26
37 Smiles Inc 2 2:47:39
38 Smiles Inc 3 2:47:40
39 Rosewood Runners 2:58:36
Masters Teams
1 Chafe your Dreams 2:01:54
2 Sailors 2:05:07
3 Spirited Sisters Encore 2:20:23
4 UNSTOPABLES 2:27:35
5 THE "LAB" DIVAS 2:31:17
6 The Golden Rockets 3:03:55
School Teams
1 Saltus Knights 1:36:19
2 Saltus Salty Skinny Legs 1:37:39
3 Warwick Academy Cubs 2:00:02
4 BI Rocket Sprockets 2:01:00
5 BHS 2:02:36
6 Somersfield 2018 Grads 2:03:01
7 BI Blazers 2:10:02
8 BI Youngsters 2:25:43
9 BI The Flames 2:34:00
10 BI Alumn 2:45:23
11 BI Endurance 2:50:29

Read More About