Sunday circuit racing is back with the Bermuda Motorcycle Racing Club [BMRC] starting on Sunday, May 20, with the BMRC kicking off their summer series with their season opener at the RUBiS Southside Raceway.
Gates are set to open at 11.30am, with the first class hitting the grid for a 1.00pm start.
A spokesperson said, "Admission into the spectator stands is free with a $5 pit entry fee for general admission to anyone interested in getting even closer to the action. Pit admission will be free to seniors and children aged 12 and under.
"This Sunday's opener will be accompanied by music from Fire Marshall of Hollywood Sound. Drifter trikes will allow the crowd to try out their own riding skills and will be available for rent starting at $10. The club's Spark Program will have a concession stand open with snacks and cold drinks.
"The BMRC's 2018 series is expected to be bigger and better than last year. Minibikes and scooters will boast the biggest classes once again with an estimated 8-10 racers in each class battling it out over each day's 3 heats.
"New racers are always welcome to join. They encourage members of the public with a 'need for speed' who want to truly test or develop their riding skills to contact them and learn how they can train and race within the safety of a closed circuit in the specially-designed facility."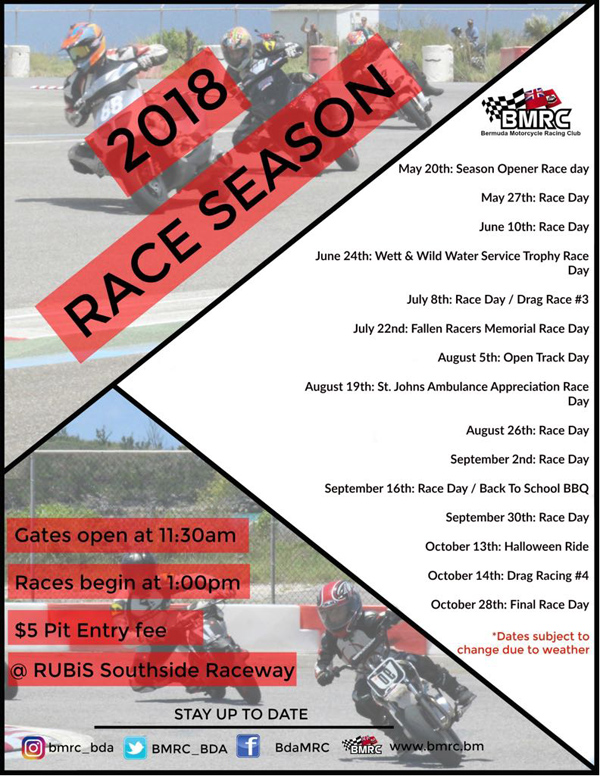 "We want to challenge young riders to bring their skills and bikes to our raceway and move away from a culture of public road racing. When bringing that riding culture to our track, that is where you really can determine who can ride and who can't. With the right gear and training, these skills can be developed into something positive including the potential for an actual race career.
"The upcoming season has multiple race classes set including Scooters, Minibikes, Formula and Street Bikes. The first race day is also welcoming drag racers to join in for their own set of heats. To learn more about the specifications for each class, visit bmrc.bm."
The BMRC's race schedule is as follows:
May 20th: Season Opener with Combined Drag Race Day
May 27th
June 10th
June 24th: Wett & Wild Water Service Trophy Race Day
July 8th: Combined Circuit & Drag Race Day
July 22nd: Racers Memorial Race Day
August 19th: St. John's Ambulance Appreciation Race Day
August 26th
September 2nd
September 16th: Back to School BBQ & Race Day
October 14th: Combined Circuit & Drag Race Day
October 28th: Season Finale
"To find out more, contact the club at info.bmrc@gmail.com or visit their website. Be sure to follow them on Facebook, Instagram and Twitter to keep updated on the race season and other special events."

Read More About