The Council of the European Union has released "commitment letters" from a number of jurisdictions, including Bermuda, with the letter noting Bermuda's "long standing and constructive relationship with the EU" and committing to address the concerns about "defacto lack of substance for entities doing business in or through Bermuda."
Last year the Council named 17 jurisdictions as "non-cooperative tax jurisdictions"; American Samoa, Bahrain, Barbados, Grenada, Guam, South Korea, Macau, Marshall Islands, Mongolia, Namibia, Palau, Panama, Saint Lucia, Samoa, Trinidad and Tobago, Tunisia and the United Arab Emirates. The list has subsequently changed, and the graph from their website below shows the evolution of the list.
Graph via the EU website: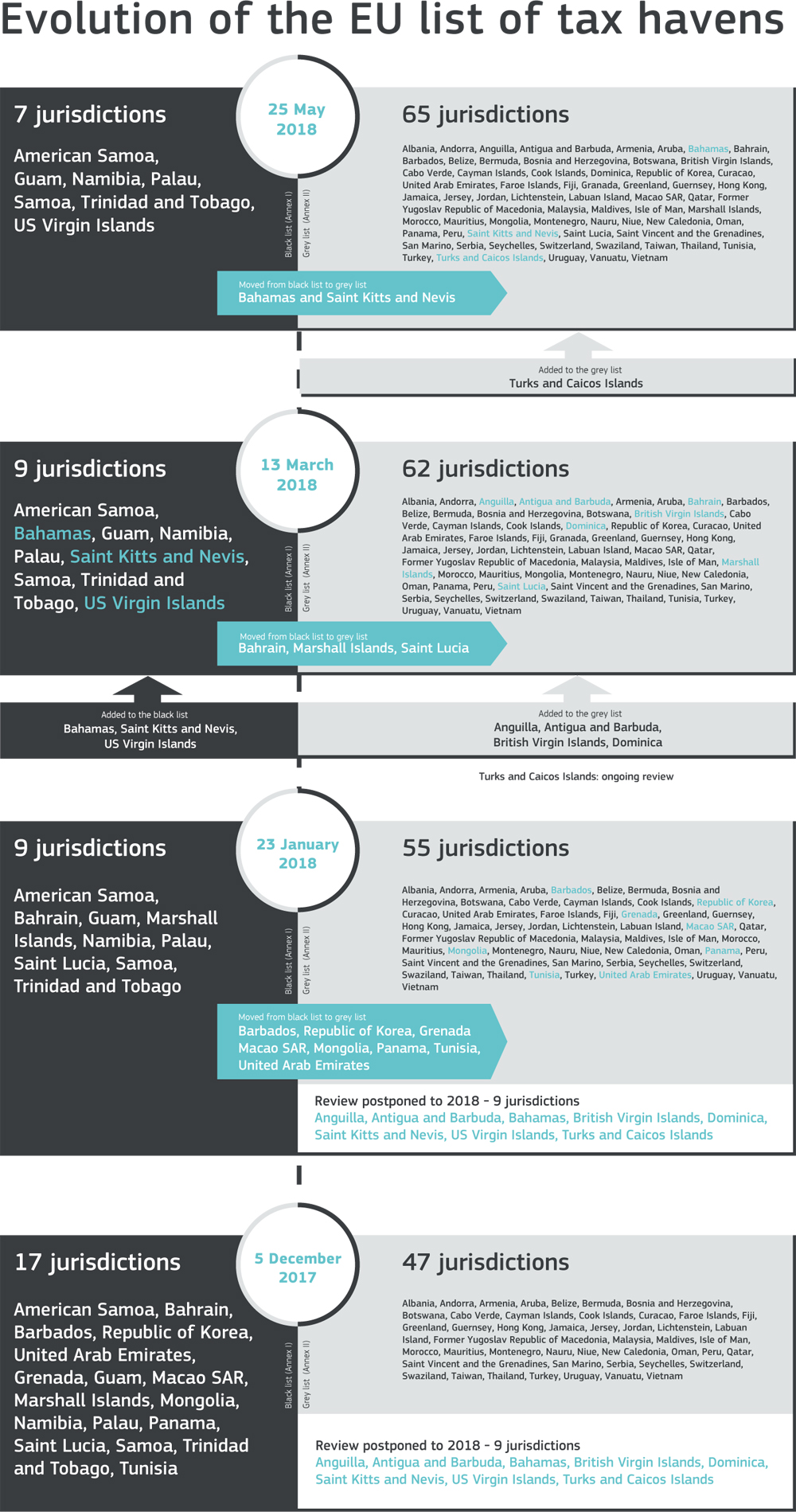 Bermuda, while not listed as a "non-cooperative jurisdiction," was placed on a secondary list along with over 60 other nations and territories.
Citing the "existence of tax regimes that facilitate offshore structures which attract profits without real economic activity," the Council's initial report said "the following jurisdictions are committed to addressing the concerns relating to economic substance by 2018: Bermuda, Cayman Islands, Guernsey, Isle of Man, Jersey and Vanuatu."
Following the release of the letter by the EU, a Ministry of Finance spokesperson told Bernews, "Bermuda's commitment letter follows a format similar to the UK Crown Dependencies and many others posted on the EU website found at the following link. All jurisdictions are still in dialogue with the EU regarding appropriate steps that will be on a level playing field with all similar jurisdictions."
Timeline chart extracted from Bermuda's letter: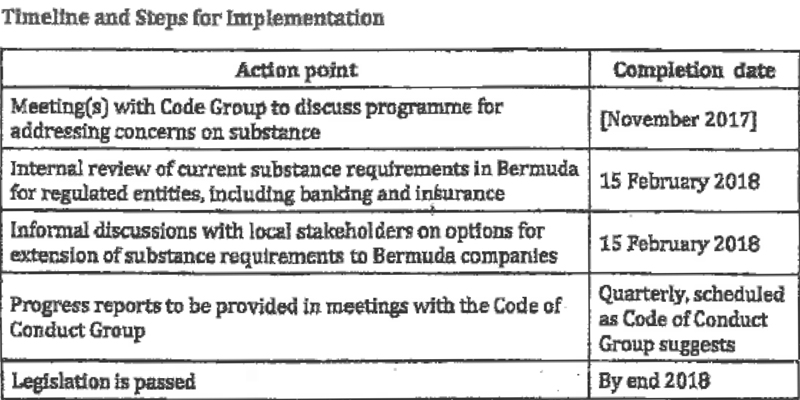 There are "commitment letters" from other nations available on the website, including letters from Switzerland, Botswana, Jamaica, Mongolia, Jordan, Maldives, Marshall Islands, Montenegro, Vanuatu, Bahrain, Antigua and Barbuda, Thailand, Seychelles, Andorra, Curaçao, Hong Kong, Guernsey, Isle of Man, Morocco, New Caledonia, Panama, Qatar, Serbia, Tunisia, Uruguay, Aruba, Belize, Cook Islands, Jersey, Mauritius, San Marino, Greenland, Albania, Faroe Islands, Former Yugoslav Republic of Macedonia, Liechtenstein, Nauru, Oman, Peru, Bosnia & Herzegovina and Armenia.
The full letter follows below [PDF here]:
Read More About