[Written by Don Burgess]
An ocean life researcher is lamenting the loss of three Galapagos sharks which were apparently caught off of Warwick Long Bay.
Choy Aming, who works for the Bermuda Shark Project, said it is not illegal to catch these sharks, but the species is near threatened, has a slow reproductive rate, has a high mortality rate, and it is heavily fished. He added they are also an important part of the ocean ecosystem.
Mr Aming stated only the whale shark is protected in Bermuda.
This week, he was sent a photo of the three sharks in front of a sign to South Shore Park, Warwick Long Bay. Mr Aming said locally they are sometimes called dusky sharks or puppy sharks, but the correct scientific name is Galapagos sharks.
"When I saw the three dead sharks I was disappointed that they had caught them just off the beach," Mr Aming said. "They had boasted about swimming in the water, and they had implied there was a threat.
"We don't see a whole lot of Galapagos sharks, which makes this quite sad, especially since they killed three."
Photo posted by Mr Aming: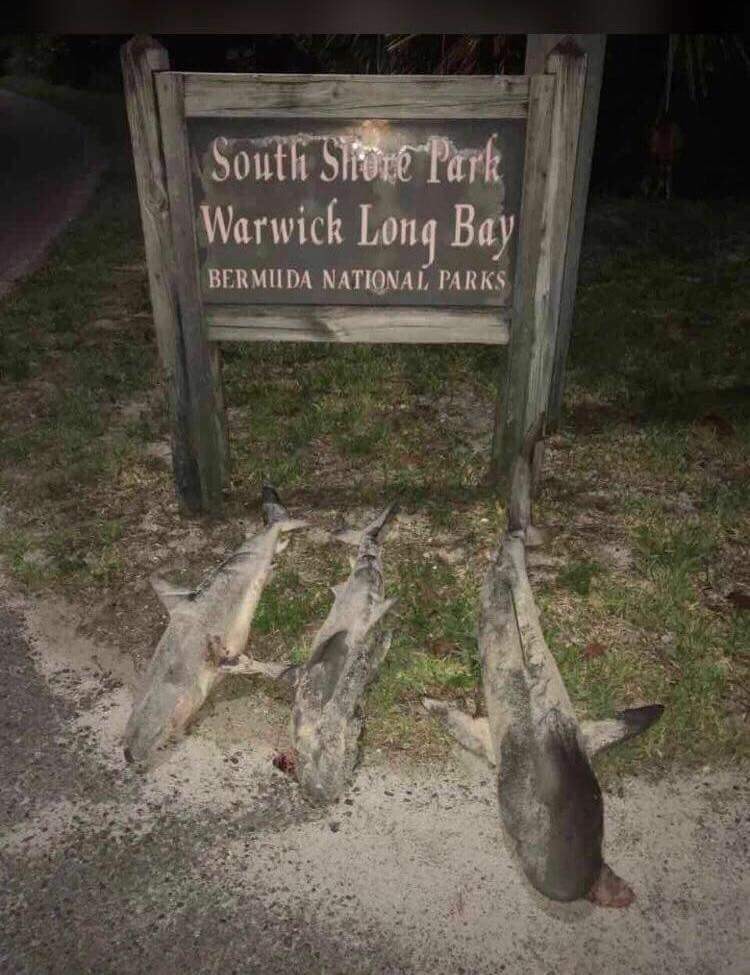 He added since it was founded, the Bermuda Shark Project has tagged around 50 sharks. "Locally, the Galapagos shark can be quite rare. We can go years without seeing any."
Mr Aming pointed out that Thad Murdoch has done 250 reef surveys, and has yet to spot one of this kind of shark.
"So I was surprised they found three of them in one night," Mr Aming said. "But they do travel in small groups. He might have got the entire group."
He said guessing from the size of the sharks as compared to the sign, they were about four to five years old.
"There is a demand for shark hash. I imagine the three of them will be made into shark hash because there is a market for it at this time of the year," he said.
He said Galapagos sharks would have helped the island's ocean environments because Bermuda has seen a dwindling number of predator fish.
"One of the reasons we shouldn't be doing this because of eco husbandry is a bad thing," Mr Aming said. "The predator fish hunt the reef fish and keep the population in control and in check. When you start messing with the ecosystem that has taken millions of years to evolve you don't know how it is going to go."
Read More About
Category: All, Environment, News