Yesterday's Bermuda Motorcycle Racing Club race day was dedicated to Navell Ricky "Beetle" Darrell, a well loved and devoted senior racer of the club who passed away in a motorcycle accident recently.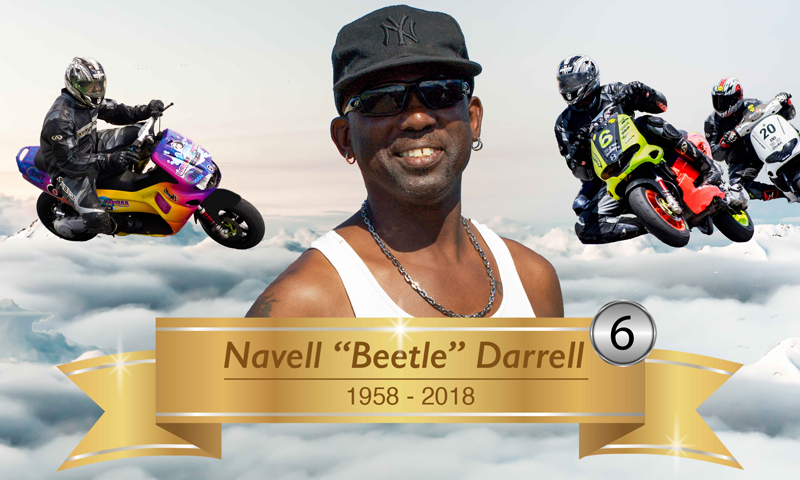 "The race day commenced with a memorial ride for Beetle where all racers from across the club's four classes joined together and took to the track in unison. Close friend and fellow racer, Devon "Red" Bailey, led the racers on one slow and one fast tribute lap in his honor," the Club said.
"Beetle introduced talented racers including Devon Bailey and Kenneth DeSilva to the street-style racing circuit and was instrumental in the introduction and development of some of the BMRC's current top riders on the grid today.
"Races began shortly after 1pm. The next race day will be held on Sunday, July 22, 2018."
Heat 1: Minibikes
1. Jediah Cumbermack
2. Aiden Lopes
3. Aeziah Divine
4. Prince Battersbee
Heat 2: Minibikes
1. Jediah Cumbermack
2. Aiden Lopes
3. Aeziah Divine
4. Prince Battersbee
Heat 3: Minibikes
1. Jediah Cumbermack
2. Aiden Lopes
3. Aeziah Divine
4. Prince Battersbee
Heat 1: Scooter 70
1. Devon 'Red' Bailey
2. Kenneth DeSilva
3. Ricky Wade
4. Nasaje Anderson
5. Blair Jones
Heat 2: Scooter 70
1. Kenneth DeSilva
2. Nasaje Anderson
3. Blair Jones
4. Ricky Wade
5. Jecoa Burrows
Devon 'Red' Bailey DNF
Heat 3: Scooter 70
1. Kenneth DeSilva
2. Nasaje Anderson
3. Blair Jones
4. Jecoa Burrows
Ricky Wade DNF
Heat 1: Scooter 4T
1. Jason Pacheco
2. Dandre Outerbridge
Heat 2: Scooter 4T
1. Jason Pacheco
Dandre Outerbridge DNF
Heat 3: Scooter 4T
Heat 1: Formula Xtreme
1. Jason Pacheco
2. Nathaniel Binega-Northcott
Heat 2: Formula Xtreme
1. Devon 'Red' Bailey
2. Jason Pacheco
3. Nathaniel Binega-Northcott
Heat 3: Formula Xtreme
1. Nathaniel Binega-Northcott
2. Jason Pacheco
Point Standings to Date:
Minibikes
Kymaree Pitt: 197
Jediah Cumbermack: 182
Prince Battersbee: 147
Aeziah Divine: 140
Sheun Simmons: 81
Norre Robinson: 69
Ryan Chequer: 63
Aiden Lopes: 60
Alex Blakeney: 48
Nathaniel Binega-Northcott: 32
Scooter 70
Nasaje Anderson: 198
Kenneth DeSilva: 120
Ricky Wade: 119
Blair Jones: 95
Jecoa Burrows: 64
Devon 'Red' Bailey: 25
Scooter 4T
Jason Pacheco: 231
Edward Cook: 225
Dandre Outerbridge: 156
Formula Xtreme
Sheun Simmons: 136
Jason Pacheco: 135
Nathaniel Binega-Northcott: 81
Jeremiah Samuels: 75

Read More About