A long but good night was described by Bermuda's Chef-de-Mission Jon Beard as the Opening Ceremony for the CAC Games was held in Colombia.
Swimmer Jesse Washington proudly carried the Bermuda flag during the Opening Ceremony, with a packed stadium in Barranquilla showing their gratitude for all 37 countries taking part.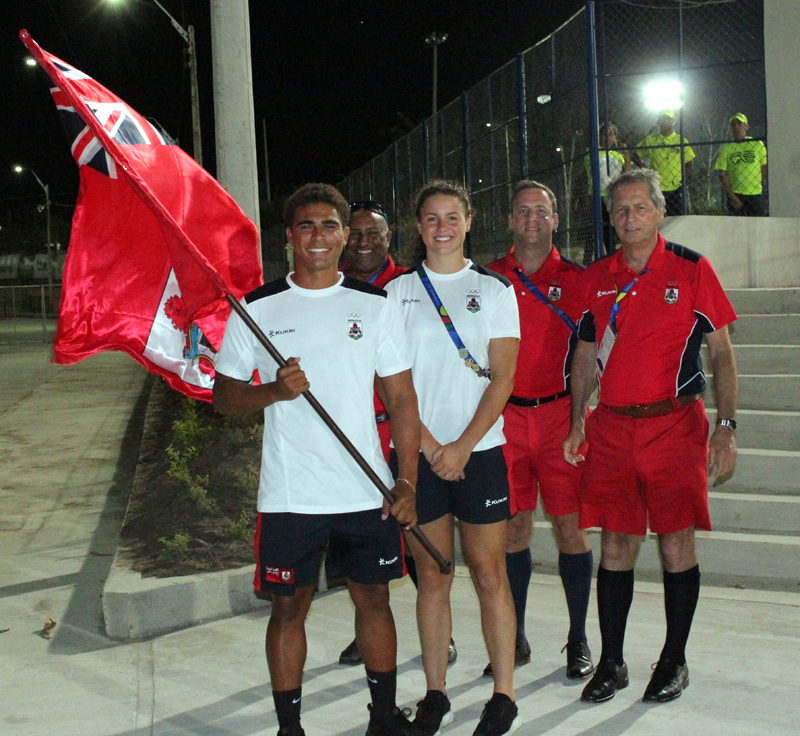 The 2018 Central American & Caribbean [CAC] Games are being held in Barranquilla, Colombia from 19 July through 3 August, and 24 Bermuda athletes will compete in Athletics, Bowling, Boxing, Equestrian, Squash, Cycling, Sailing, Triathlon and Swimming.
Bermuda's CAC Games team:
Sakari Famous – Athletics [High Jump]
Tyrone Smith – Athletics [Long Jump]
Dage Minors – Athletics [800m]
Tiara DeRosa – Athletics [Discus]
Taahira Butterfield – Athletics [100m]
Duane Akeem Talbot – Bowling
Damien Matthews – Bowling
David Maycock – Bowling
Lamar Richardson – Bowling
Levinc Samuels – Bowling
Rickai Binns – Bowling
Andre Lamb – Boxing
Tyler Christopher – Boxing
Ki-Juan Minors – Equestrian [Show Jumping]
Micah Franklin – Squash [Individual, Doubles and Team]
Noah Browne – Squash [Individual, Doubles and Team]
Nick Kyme – Squash [Team]
Nicole Mitchell – Cycling [Road]
Cameron Pimentel – Sailing [Laser]
Malcolm Ben Smith – Sailing [Laser]
Jesse Washington – Swimming
Madelyn Moore – Swimming
Erica Hawley – Triathlon
Tyler Smith – Triathlon

Read More About