At the end of June 2018, the Pembroke Rotary Club [PRC] celebrated the end of the 2017/18 Rotary Year by donating $2,000 to SCARS, and $1,500 each to The Bermuda Sloop Foundation, The Reading Clinic, Agape House, Salvation Army and St. John Ambulance.
In addition, the Club gave $1,980 to the Adult Education Centre and $400 to Final Steps.
This brought the total amount donated by the Pembroke Rotary Club over the course of the Rotary Year to just over $100,000.
 Governor John Rankin and Pembroke Rotary Club President Jason Taylor plant a Bermuda Cedar on the grounds of Government House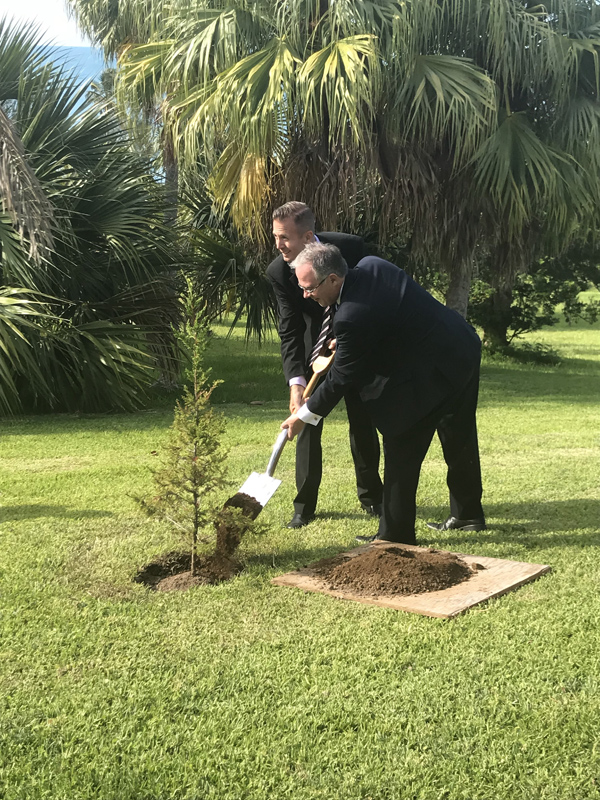 The outgoing Pembroke Rotary Club President Jason Taylor offered his thanks to all of the Club members who had given their time and effort to support the Club's fundraising activities.
In particular, he thanked the students, staff and PTA supporters of the Public Primary Schools who supported the Club and their schools by selling raffle tickets for the Club's Annual Children's Fair.
President Taylor also noted that the Governor of Bermuda, Mr. John Rankin, had spoken at one of the PRC meetings and learned that the President of Rotary International had encouraged all Rotary members around the world to plant a tree.
To help Pembroke Rotary fulfill that obligation, the Governor invited Rotarians to join him at Government House to plant a Bermuda cedar.
To mark the end of the Rotary Year, the Pembroke Rotary Club, joined by members of the other Rotary Clubs on the island, attended Government House and assisted Mr. Rankin to plant the cedar on the grounds of the Governor's residence.
Read More About