Talented young rugby player Alex Doyling will continue his rugby career at the University of Kutztown, in Pennsylvania this August.
Doyling, who represented Bermuda in the Rugby American North Caribbean Championships last November, will be joining the Kutztown Bears on both their 15s and 7s rugby teams.
The talented 18 year-old, participated in the third annual Bermuda 7s Tournament, sponsored by Ariel Re, this past March showcasing his skills on the pitch and helping the Bermuda Men's team to a second place finish.
After encouragement from Beyond Rugby coach, Darren Woods, Doyling approached the Kutztown coaches about any potential opportunities, only to find out that he had already caught their attention with his sporting ability and talent on the pitch.
Alex Doyling is second from the left on the bottom row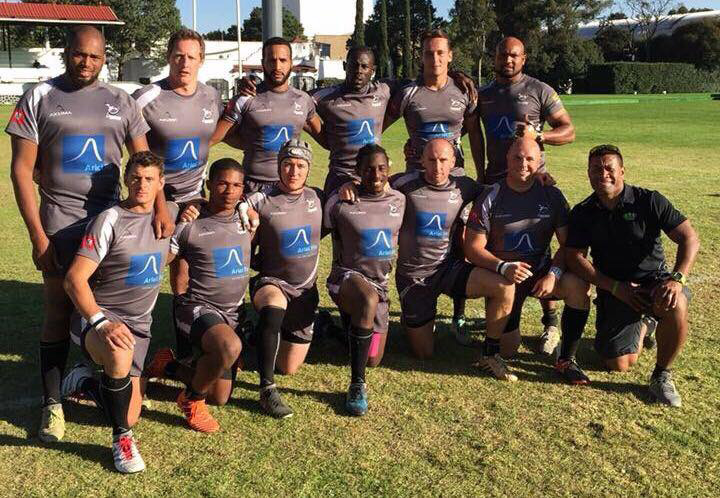 As he prepares to depart Bermuda, Doyling elaborated on what this scholarship means to him, saying, "Having to be in an environment like Kutztown where rugby is one of my top priorities is something I've always dreamed about.
"I'm looking forward to Kutztown's rugby program and training sessions. The intense training and fitness will develop me as a rugby player and an athlete. Also, playing in America's highest division for collegiate rugby will help develop my rugby skills and habits on the field.
"While playing rugby at Kutztown, I hope to be able to continue their winning legacy and bring another championship to Kutztown. I would also like to continue to play for Bermuda Rugby in the Men's 7s program and help them to bring some silverware home."
Tournament organizers Tom Healy and Jonathan Cassidy are extremely proud of Doyling and his achievements.
"Alex is proof that if you want something bad enough and commit to attaining it, you can achieve almost any goal" remarked Mr. Healy.
Mr. Cassidy added, "Everyone in Bermuda Rugby is very proud of what Alex has achieved. Alex is a great role model for other young athletes. He set a goal and worked hard to achieve it. We look forward to seeing him continue to excel not only on the rugby pitch, but in the classroom as well."
Sean Field-Lament, President of the Bermuda Rugby Football Union added, "The BRFU is extremely proud of Alex Doying. Receiving the Kutztown scholarship is an amazing achievement and clearly demonstrates what opportunities are available to local youth rugby players if they show the right level of aptitude, commitment and desire. We wish him all the best and know he will be a fine ambassador for Bermuda."
Doyling said, "Firstly, I would like to thank God for giving me my talent and continuously blessing me. I would also like to thank my family and parents for always being there to support me and will continue to make them proud.
"I would also like to thank my coaches who have helped me to develop as a person and a player. Finally I would like to thank the BRFU and the Bermuda 7s Tournament coordinators, Jonathan Cassidy and Tom Healy, for providing me with the opportunity to play in tournaments like these that have helped me to develop my skills and allowed me to be recruited by colleges.
"I would also like to thank Kutztown for the scholarship that they have awarded to me which will help me to pursue my goals in my education and on the rugby pitch."

Read More About