A series of Bermuda posts and stories are on display this summer to the 11 million followers of Beautiful Destinations on Instagram, the BTA said today, with one photo alone attaining over 220,000 likes, while another video has in excess of 300,000 views.
"An instastory posted on July 21st reached more than 6.5 million users and generated an exceptionally high level of user engagement. The story was the highest performing Beautiful Destinations client post for July," the BTA said.
"The story consisted of 19 segments with six different polls which asked the audience to choose the next experience – from cliff jumping and horseback riding to local joints or celebrity chefs.
Screenshot from the Beautiful Destinations page showing a Bermuda photo with over 220,000 likes: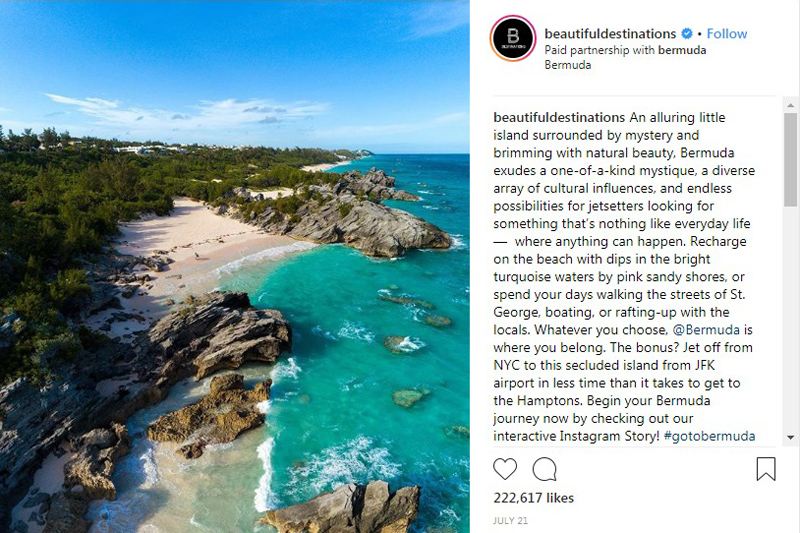 "The goal of the paid partnership with Beautiful Destinations was to immerse targeted travellers in the distinct local experiences out here in Bermuda," said Bermuda Tourism Authority Chief Sales and Marketing Officer Victoria Isley.
"In addition to what's available on-island, the video content cleverly highlights the short 90-minute flight from New York City and also promotes our popular Bermuda Summer Fridays offer."
"Bermudian talent was instrumental in the creation of the new content in front of and behind the camera. The one-minute video can be seen in a YouTube post on the Bermuda Tourism Authority YouTube Channel," the BTA said, with the video also available below.
"Along with the instastory, a July 31st video post by Beautiful Destinations generated an additional reach of 1.6 million with 312,000 views and a great deal of engagement from consumers – some spoke actively of booking their trip to Bermuda. Similar comments followed a July 21st photo post of a Bermuda beach," the BTA noted.
"All content in the series was part of a paid partnership with Beautiful Destinations. It's the first time the Bermuda Tourism Authority has worked with the media house which says it's the 'largest travel community on social media', reaching more than 13.5 million people in 180 countries on Instagram, Facebook and Snapchat."

Read More About
Category: All, News, technology